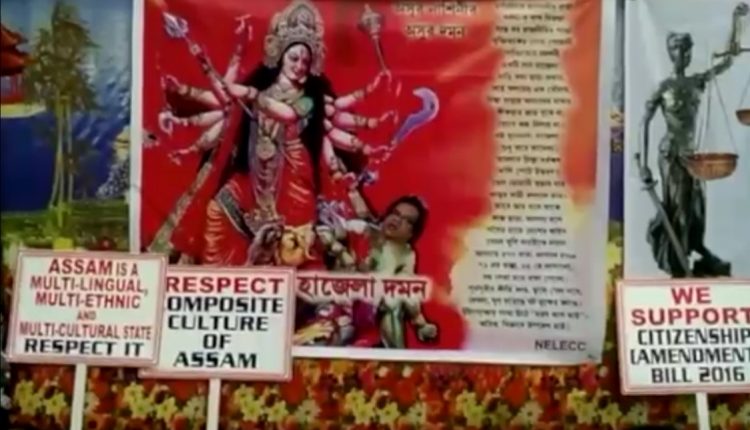 Maa Durga is destroying Hajela in NELECC's Mahalaya banner; Sparks controversy in Brahmaputra Valley
Procession, demonstrations, picketing, human-chain, controversial pamphlets, columns are common form of protests that India has been witnessing since its existence.
Every time we want to garner attention or bring in a change we raise slogans standing in public and crowded places to get noticed and start a conversation.
Today was no different in Silchar. On the day of Mahalaya, Sadarghat bridge attracts a lot of crowd. The fragile shaky flyover over river Barak transformed to Jantar Mantar of Delhi, as it homed hundreds of protestors coming from all over the Valley. Many organisations and associations organised processions and placards were demonstrated. The issue was none other than NRC. Of all the protest, the one that caught most number of eyeballs was North East Linguistic & Ethnic Coordination Committee's (NELECC). 
Mahalaya is the occasion when most of the Bengali channel airs the mythological story of goddess Maa Durga defeating and destroying devil Mahishashur with her trishul. The imagery of this can be seen throughout the four days  of Durga Puja in each and every pandals.
In NELECC's poster, Goddess Durga is seen destroying Pratik Hajela the chief coordinator of NRC. Instead of Oshur Daman (Devil's destruction) the flex said, Hajela Daman (Hajela's destruction).
A stage was built metres away from Sadarghat bridge and was the centre of attention. Apart from Maa Durga-Hajela Daman imegery, the flex had slogans like "Assam is a multi-lingual, multi-ethnic and multi-cultural state respect it", "Respect composite culture of Assam" and "We support citizenship amendment bill (2016)" printed on them.
The witty and catchy mode of protest was not taken sportingly in Brahmaputra Valley. The controversial banner has indeed spurred a debate.
Did NELECC cross the line? Well, creative liberty is a part of freedom of expression so it should be left for the people to judge if it was offensive or not.