"Maa Manosha, Mic and Mod" where is the connect? Is lawlessness the new form of puja-celebration
"Breaking the law" in order to celebrate an occasion is nothing new. Think about the most interesting Football matches you have watched on television. You would easily recollect the striker scoring goal in stoppage time and removing his jersey and celebrating with the fans. It is an offence in football and the player gets booked with a Yellow card each time he does that. That is a moment when ecstasy takes over and the player forgets everything else, 9 out of 10 times, the player does it after he has won his team the match. So, the managers/coaches/club-owners never really question the act… instead deal with the repercussions.
Two points to note here – the players only celebrate after they have achieved something meaningful, and the referee does book the player each time he removes his jersey.
But what explains ecstasy taking over during a Maa Manasha idol immersion. It cannot be an achievement for sure, neither is it a religious compulsion nor Maa Manasha, the goddess of snakes was really fond of ecstatic celebration like Shiva or Kali was. Manasha appears first as a Hindu goddess in Atharvaveda. Maa Manasha is also known as Bishahara (destroyer of poison), Nitya (eternal) and Padmavati (Devi sitting on lotus). A tribal community in the Northeastern region (mostly Hajong) worships Manasha as Kanau Devi (the blind god).
Manasha was first worshiped out of fear, which according to Hindu mythology, was induced by Goddess herself. Some scriptures suggest that Manasha was not accepted as a God because of her mixed parentage and that made her very angry. So she would be kind to her devotees and harsh on people who refused to worship her. One started to worship Maa Manasha to escape death from snakebites and even infertility. While in Southern India it is believed that she saved Lord Shiva from death after he consumed poison. Her power to save Lord Shiva emerged as a new opposite to the cult of the god of destruction. Basically opposite of what Shiva stood for.
এই ভাসানের জন্য কি সরকার থেকে অনুমতি নেওয়া হয়েছে!!আমার গাড়ির তেল শেষ হয়ে যে কোনো মূহুর্তে বন্ধ হয়ে যেতে পারে।বাজি পুড়িয়ে বিসর্জনের উদ্দাম আনন্দ চলছে।মা সেই কখন থেকে স্টেশনে একা দাঁড়িয়ে আছে😠

Posted by Saswati Bhattacharjee on Wednesday, August 21, 2019
So it's not that if you do not dance on Lungi Dance in the middle of the road, Maa Manasha would send her snakes to kill you or she would destroy your dreams to ever give birth to children? The brahmins/Pandits who perform the Puja say there is no such religious compulsion which states that one needs to dance to the beats of a DJ to celebrate Maa Manasha's immersion.
"The religious compulsion is that you need to do an Aabahan (welcome) and Visarjan (immersion) now we pandits do Abahan and Visarjan of the Ghot (earthen pot). Not all keep idols of Maa Manasha but the ones do should immerse it instead of keeping it roadside for the idol to decay. There isn't a religious compulsion for that either," says a Pundit.
Now let us look at what is happening in Silchar town. Group of people are booking a truck, fitting a high decibel audio system on it, playing disco songs, dancing in the middle of the road as they walk to Silchar Sadarghat's Bisarjan Ghat. Added to it are the cans of beer and soft drinks, plastic water-bottles which are thrown the moment they are empty, not in bins but wherever they get empty. All this starts at dusk, the time when road traffic is at its peak. People on their way back from office are left with no other option but to watch the tamasha unfold in front of their eyes. A video posted on Social Media a couple of days back shows how breaking the law is the new way of celebrating Puja.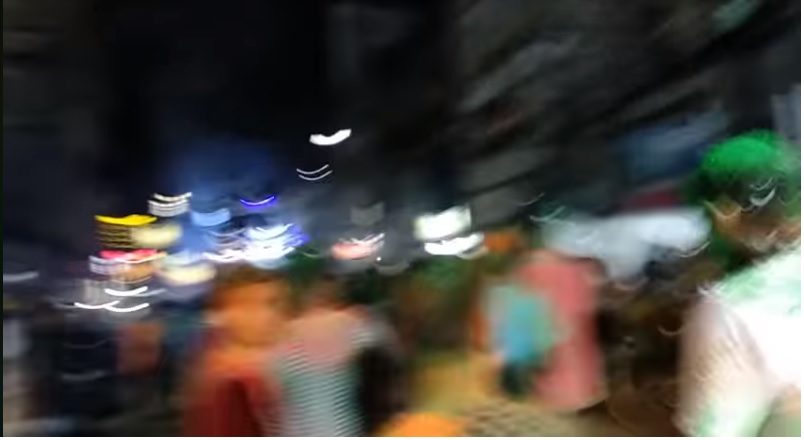 But is there a law that prohibits people to do that in the middle of the road during peak hours. Yes there is. Chairman of Silchar Municipality Board, Niharendra Narayan Tagore issued a notice last year which stated, "Apart from Durga and Kali no other immersions will be allowed in Sadarghat's Bisarjan ghat after 6:00 PM unless there is a special permission." He had stated that the decision was taken after the district administration received a huge number of complaints after Manasha Puja. "We needed to take some steps and this is what we thought is apt at this stage. Unplanned processions cause a lot of problems, so in case there is a need to immerse idol after 6 PM, the associations or individuals must seek prior permission so that we too have enough time to take necessary decisions," Tagore said last year while speaking with Barak Bulletin.
With such a clear notice already issued, why is the district administration allowing the groups to block roads. Why is the gate of Bisarjan ghat not locked at 6:00. On a working day, how is the celebration in the middle of the road justified?
With its eviction drives, the district administration had sent a strong message that it is not going to compromise with lawlessness, but its stand on the Maa Manasha idol immersion is contradictory. The administration's job is to ensure that the daily life of a common citizen is not abrupted, Sorry madam deputy commissioner but, spending three hours in traffic because someone wants to drink and dance in the middle of the road cannot be normal. It is the lawlessness that you choose to ignore and with due respect I hereby remind you that it is against the oath you have taken.
The author of this Article Avijit Purkayastha is a resident of Silchar. The views expressed in the article is his personal.