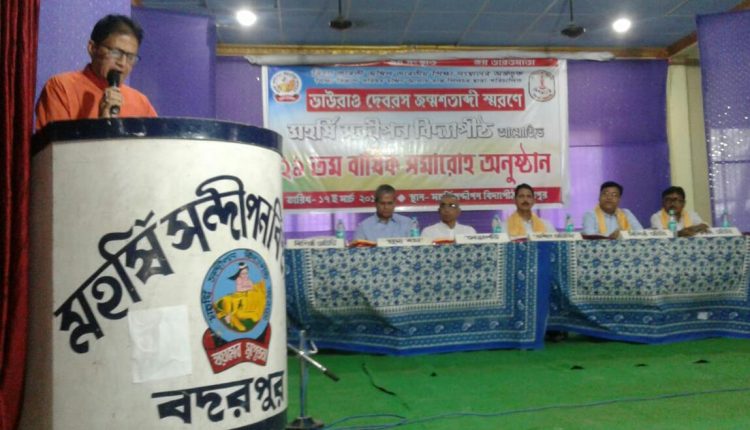 Maharishi Sandipan Vidyapith, Badarpur celebrates 29th annual function with fanfare
The 29th annual function of Maharishi Sandipan Vidyapith, Badarpur was celebrated with fanfare and enthusiasm from March 14-18. The four-day event concluded on Sunday.
The event witnessed various types of cultural competitions, art competition, recitation competition, speech competition and quiz competition. An inter-school science exhibition competition was also organised in the school on the final day.
Twenty two groups from nine different schools participated in the competition. Among the schools Cambridge High School, Panchgram (Team- Shuvam Das, Pratik Pillai / Topic- Smart city & Li-fi), Badarpur Vidya Mandir, Badarpur (Team- Kainath Tania, Sowvik Das & Arpan Mazumder /  Topic- String Art Vortex) and Cambridge High School, Panchgram (Team- Kushal Das, Rashab Das, Ashim Das / Topic- Wind power generator and Road power generator) won the first, second and third positions respectively.
The closing-cum-prize distribution ceremony started around 4:30 P.M on Sunday evening. Prizes were given to the winners in the different categories. Several cultural activities were also performed by the school students.
Distinguished personalities including Mission Ranjan Das, chairman of Assam Industrial Development Corporation Limited and former MLA of Karimganj North,  Mukesh Agarwal, chief executive officer of Barak Valley Cement Limited, Badarpur, Dipak Dev, a social worker from Badarpur, Dukkha Bhanjan Goswami, president of Maharshi Sandipan Vidyapith, Nityananda Goswami, secretary, Maharshi Sandipan Vidyapith and Pinku Malakar, principal, Maharshi Sandipan Vidyapith were present among others. The programme concluded around 9:30pm.