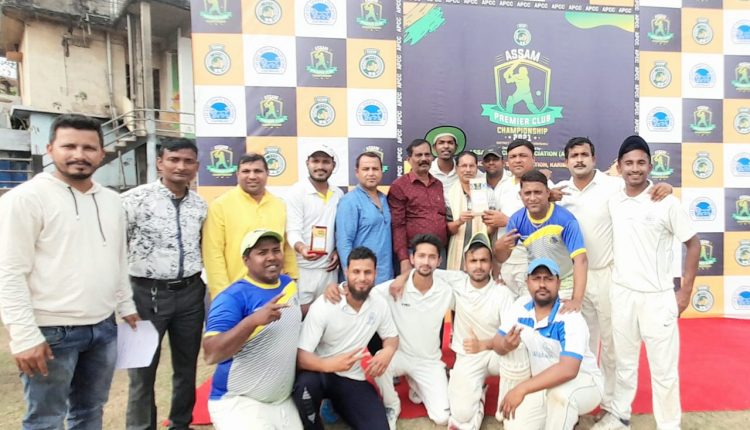 Maizdihi Sports Club have become the champion of Assam Premier Club Cup in Karimganj. Today they have beaten United Sports Club in the final of the competition by 3 wickets. As a result, Maizdihi has become the district champion and qualified to play in the zonal round.
United captain Arindam Chakraborty decided to bat after winning the toss in the morning at the Karimganj Government Boys' High School playground. After losing all of their wickets in 31 overs, United was able to set a target of 111 runs in front of the opposition. Mamunur Rashid Chowdhury scored 40 off 33 balls for the team. Besides, Aminur Rashid Choudhury scored 18 and Shubhro Deb 10 runs. Valuable 19 runs were added to United's scorecard from Extras.
Abdus Salam of Maizdihi took 3 wickets for 45 runs in 8 overs. Besides, Amitabh Das and Nepal Das both took two wickets each. Nawaz Sharif got one.
In reply, Maizdihi reached the required target in 26.5 overs losing 8 wickets. Krishnendu Das scored the highest 22 runs for the team. 19 runs came from extras. Apart from that, Vijay Dev scored 16 runs, Sourav De 15, Zubair Ahmed 14 and Syed Rejaul Alam scored 10 runs each.
United's Shubhro Deb took 3 for 19 with one maiden in 7 overs. Janmajay Das got two wickets. Choudhury Murtaza Alam and Arindam Chakraborty both took one wicket each.
Partha Das, Assistant Secretary of the Cricket Department, handed over the player of the match award to Abdus Salam. Former cricketer Sujit Purkayastha, the guest of honour in the final, handed over the trophy to the champion team. District Sports Association (DSA) President Amalesh Choudhury handed over the trophy to the runner-up team. Maizdihi captain Arindam Chakraborty was adjudged the player of the tournament for his all-round performance with both bat and ball. DSA Secretary Sudip Chakraborty handed over the award to him.
Uday Shankar Das became the highest wicket-taker of the tournament with 15 wickets. The award for the best bowler of the tournament was handed over to Uday by Sandip Sen, Joint Secretary of DSA, Karimganj. Mamunur Rashid Choudhury got the top scorer of the tournament award from DSA Joint Secretary Dipankar Aditya.