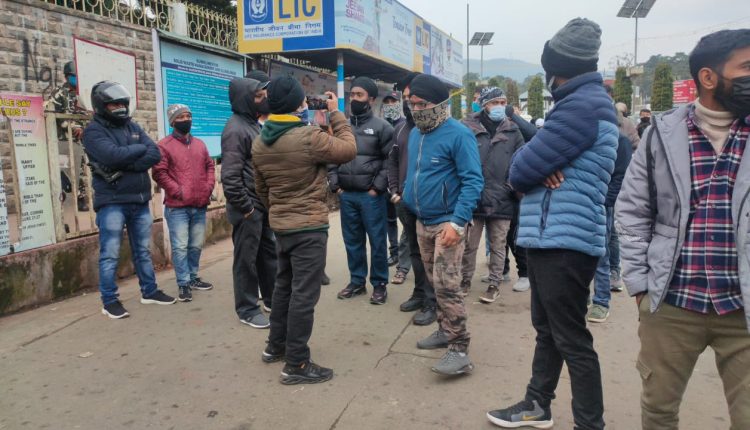 Many others join Shillong couple in their sit-in protest; Silchar MP Rajdeep Roy expresses solidarity
Shillong's elderly couple who sat on a protest yesterday, against the violent attack that happened just opposite to the Lumdiengjri police station on 20th January 2022. This protest was also against the "unidentified miscreants" who time and again attack the Bengalis and non-tribal residents of the hilly-state. Sushit Kanti Choudhury and his wife, Kalpana Choudhury both permanent residents of Matri Bhumi, Rilbong, Shillong sat on a hunger strike all alone from 10:00AM on the Sunday morning just outside the Old Assembly Gate in Khundai Lad or Police Bazar Point. The protest ended at 04:00 in the evening as security forces were beefed up to end the protest after six hours.
In a letter addressed to the Deputy Commissioner of East Khasi Hills district, Isawanda Laloo, the elderly couple wrote "On 23rd January 2022, on the auspicious occasion of 125th Birth Anniversary of Netaji Subhash Chandra Bose, I've decided to sit on a hunger strike (except taking our regular medicines) along with my wife on protest from 10:00 AM at Khyndai Lad, Police Bazar Point, near the Old Assembly Gate, till our death for the cause of atrocities on the Bengali communities in particular and all other non-tribal populace of Meghalaya starting from 1979 till 20th January 2022." Following the permission the Deputy Commissioner gave her permission to a peaceful protest but only for six hours. Speaking with Barak Bulletin correspondent Laloo yesterday said, "It is just a peaceful protest that is going on and at this stage, I have no other comments." She was unreachable today for any comments.
Later that afternoon other non-tribal citizens of the city too joined them in solidarity and supported the couple. Members of the Civil Societies of Meghalaya also joined them to condemn the Lumdiengjri attack. Renowned faces of the Civil Society like Thma U Rangli-Juki's (TUR), Angela Rangad and Civil Society Women Organisation (CSWO) President Agnes Kharshiing were also protesent in support from their organisation.
Patricia Mukhim, the editor of The Shillong Times wrote against these attacks on Facebook "In all of this the police seem complicit because they are never but never able to arrest the culprits who get away under the garb of "miscreants." Actually this is an indictment of the police force in Meghalaya which seems to serve only the interests of politicians, not that of the public". Known for the bold comments and opinions, Mukhim further wrote, "It's high time the police are held accountable under a stringent system. They should know that they are paid to secure the lives of the public and not of the ruling elite only."
MP Silchar Dr. Rajdeep Roy also expressed his solidarity on social media. Tagging the Home Minister of India, Amit Shah, Ministry of Home Affairs and Government of India, he wrote on Facebook, "I express solidarity with Shillong's Choudhury couple, on hunger strike on Netaji Subhash Chandra Bose Jayanti, to protest atrocities on non-tribals in Meghalaya since 1979. Urge Conrad Sangma to punish guilty as Meghalaya Police has indeed been silent spectator since 1979"
Later on the same evening, SK Choudhury addressed the mass gathering in support and said, "Since 1979, the state is in unrest, there is a huge gap between the tribals and non-tribals. We intend to bridge this gap and stop the atrocities going on, not just on the non-tribals, but the tribals as well. On this auspicious day, on the 125th Birth Anniversary of Netaji, I urge for the peaceful existence and bonhoy in this beautiful state of Meghalaya." Thanking the gathered people in their support he further said, "I'm grateful for your support and we will end this strike here as we weren't permitted beyond this 6 hours time. But rest assured, whenever there's another attack on us minorities, we won't be the silent spectators and our peaceful protest will go on." By raising the National Anthem and drinking water the Choudhury couple ended this hunger strike on Sunday evening with hope and anticipation for some action.