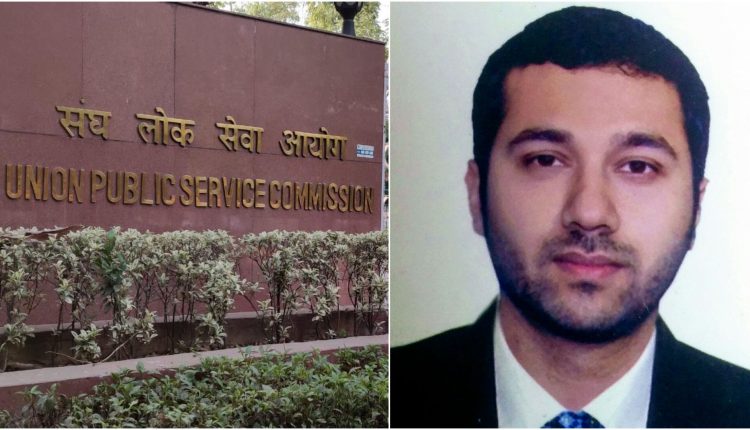 "Meaning of life is in Public Service," says Barak Valley's Ahmed Hasanuzzaman Choudhury after securing 283rd rank in UPSC
Hailakandi's Ahmed Hasanuzzaman Choudhury has secured 283rd rank in the recently declared merit list of 2020 UPSC examinations. Touted as one of the toughest examinations in the world, Choudhury cleared the Civil Services Examination in his third attempt. He is a mechanical engineer from the Faculty of Engineering and Technology, Jamia Millia Islamia in New Delhi.
The moment Union Public Service Commission declared the results, the air in Barak Valley got filled with perfumes of pride. Ahmed Hasanuzzaman Choudhury completed his higher secondary education at National Public School in Guwahati in 2012. After completing his B-tech in 2017, he ventured into his own e-commerce startup. "My primary focus was preparing for the Civil services and so, despite getting offers on campus, I did not join any organisation," says Ahmed Hasanuzzaman Choudhury.
He would get far higher salaries at TCS and other multinational companies that offered him to join than what will get credited at the end of the month in Civil services. What motivated him to walk away from those lucrative offers mostly bundled with foreign onsite trips and continue preparing for public service? "I was clear in my thoughts that by joining a private company, I won't be able to fulfil the purpose of my life. For me, the meaning of life lied in public service which I could only perform by joining Civil Services and so, I continued preparing for it," says Choudhury.
He appreciates the support he got from his family in this "tedious" journey. He was not getting any younger and after two unsuccessful attempts, generally, the family starts losing hope. But in his case, he says, his family remained supportive all throughout. "My biggest inspiration is my family – my parents. My grandfather, who is a retired judge helped me a lot in my preparation," he adds.
His father Jakir Ahmed Choudhury retired as chief general manager/chief engineer of Assam Electronics Development Corporation. He is the third and youngest child in the family. His eldest sister, Dr Salma Fedous Choudhury is a gynaecologist and serves patients in Silchar Medical College and Hospital and another sister is working as a software engineer in Hyderabad.
Ahmed Hasanuzzaman Choudhury informs that self-preparation was his primary focus in his journey to cracking Civil Services Examination. He relied on NCERT books and Newspapers like The Hindu and Indian Express. He opted for Political Science and International Relations as optional. While he was preparing for UPSC, he enrolled himself in Indira Gandhi National Open University (IGNOU) and completed MA in Political Science. "The MA helped me in my optional preparation," he says.
"Serve the Public," he says is his goal. With 283rd rank, he will join the service he gets. "My highest ambition is IAS but all services are equal and play a vital role in public service," says Ahmed Hasanuzzaman Choudhury.
IAS or IPS or IFS… for the people of Barak Valley Ahmed Hasanuzzaman Choudhury joins Bikram Kairi (IAS) to be another inspiration for thousands of igniting minds. Youngsters in Barak Valley have started to believe in themselves and more and more are aspiring to join the Civil Services. Koiri played a big role in motivating the youth as he went on to become the deputy commissioner of Majuli. Now Ahmed Hasanuzzaman Choudhury, in his own way will continue to inspire.