Meet Aditi Chanda from Silchar, the winner of Miss Talent Diva 2018
A flamboyant personality, a magical smile and a bindaas attitude – she has these all and much more. Bring her on the runway and be sure of witnessing 'something like wow'! She is Aditi Chanda, who has won the beauty pageant contest Miss Talent Diva, 2018 recently held in Silchar.
An avid music-lover and a big fan of Ed Sheeran, Aditi was also crowned the Miss Auskriti title at Assam University this year. Brought up in Shillong, she is deeply passionate about modelling and treasures the wish of weaving her magic in bigger platforms in the future.
In a conversation with Barak Bulletin, Aditi spoke about her experiences in the contest and other related aspects. Here are the excerpts:

BB – How did you think of participating in Miss Talent Diva, 2018? Tell us about your experience in the contest.
Aditi – Well, I came to know about the contest from one of my friends and was very much excited to hear that Femina Miss India World 2016 Priyadarshini Chatterjee would be present as the judge in the event. I'm blessed to have a few special people in my life who embolden me in every work and who persuaded me to take part in the event. I had participated in the annual social week in Assam University this year and won the Miss Auskriti title. That confidence was also a major factor as far as participating in the contest was concerned.
It was a matter of great privilege and honour to perform amidst the presence of someone like Miss Priyadarshini Chatterjee. I have made lots of memories which I will cherish forever. Altogether, the experience was absolutely fantastic.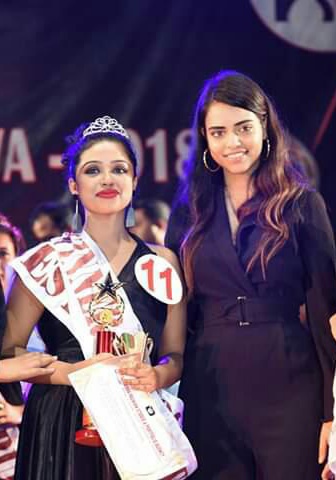 BB – Who/what is your inspiration? Were you always interested in modelling?
Aditi – There is not any single individual or a thing. Life itself inspires me the most!
The very essence of life, that is to keep breathing, keep going and to keep learning, drives me the most. Having a positive outlook towards life is crucial to finding inspiration. I just do what I love to do and try to give my best.
I have always been interested in things that give me an opportunity to express myself. I strongly believe that modelling is an art, although it's a debatable topic. There is a general perception that modelling is just looking beautiful and being tall, slim and distinctive, but I think there are a lot of other attributes needed to become a model.
BB – The #MeToo movement is creating a strong buzz across the country these days with women openly talking about terrible experiences faced by them. Do you think this is a big change in the mindset of women of this era?
Aditi – Women have always been subjected to sexual harassment in our patriarchal society. The stories of harassment on women that were once discussed in whispers are now making headlines. The #MeToo campaign has bonded women who have faced unpleasant incidents in their lives in a common thread and is giving them strength with the feeling that they are not alone.
Women are now speaking about their horrible experiences of harassment and trust me it was the need of the hour. It's high time that all the sexual predators of our society must be named and shamed. I feel like if we all talk about it, there's how we can end it. The voice gives us power.

BB – If you face a situation someday when you have to decide either between fame and money, what will be your choice and why?
Aditi – I will choose fame over money any day and the reason is very simple. If I am famous for a good deed, I am going to be remembered even after death. And perhaps I will also have the chance to be immortal (giggles).
I always believe that we should take care of our work and work will take care of our fame and money. So, if given a situation to choose between fame and money, I will always go for the former one.
BB – What are your future plans? Where do you see yourself after next three years?
Aditi – To be honest, I don't plan. As someone rightly said that if you want to make God laugh tell him about your plans!