Silchar: Meet management grad Avishek Goala and his new mocktail venture 'Graduate Juice Wala'
As the Coronavirus has engulfed the entire globe under its deadly spell of influence, barring its obvious health concerns, employment has suffered the worst repercussions of the Covid-19 'phenomenon' as innumerable people have lost their jobs or being laid off. Even the ones who could barely hold on to their jobs had to go through salary cuts and non-voluntary crisis donations which further exacerbated the financial anxiety of the middle-class people. In such a scenario, procuring a sustainable job has become more difficult than ever before. But Avishek Goala of the PWD road, Silchar has shown people that when you have a lucid business plan in hand, why wait around and seek jobs that are already hard to come by? Avishek certainly believes so.
A graduate of the Cachar College, Silchar pursuing B.Com majoring in Management, Avishek Goala had already made up his mind to venture into the business world while he was pursuing his UG degree. After graduating last year, he has now officially made his entrance to the business world by opening a unique beverage service shop named 'Graduate Juice Wala' at Shyama Prasad Road, Shillongpatty in Silchar. While talking to Barak Bulletin, Avishek believed that when it comes to entrepreneurship, one can't be successful only by the virtue of academic merits, but one needs practical experience too to learn the trade. "People at my stage usually go for jobs or pursue PG in MBA. But I never was interested in any of the above, I wanted to gain field experience first hand, so while pursuing my graduation, I was already in search of business models to venture on to", said, Avishek who completed his B.Com last year.
When the entire country went under the dark quilt of lockdown, Avishek utilised the time at home to bury himself in online platforms like YouTube. It is there where he came to learn the art of making mocktail fruit juices and got immediately attracted towards its prospects. "YouTube helped me a lot in learning how to make different types of mocktail drinks. So I gradually started making the blueprint of setting up a mocktail fruit juice shop. It was a bit struggling at first, managing a feasible spot to start my business, but eventually, with patience, we somehow managed", said the owner of the 'Graduate Juice Wala'.
Having such a quirky name for a fooding service is not new or novel, but the word 'Graduate' seems to imply that it specifically implies a certain target customer group. Although Avishek did say that nothing as such motivated him to name so, most of his customers do seem to fall in the youth generation. "On Saturday, we officially opened 'Graduate Juice Wala' and got a warm response from our customers. Throughout the first day, around 55-60 customers graced us with their presence, which is a beyond expectation started."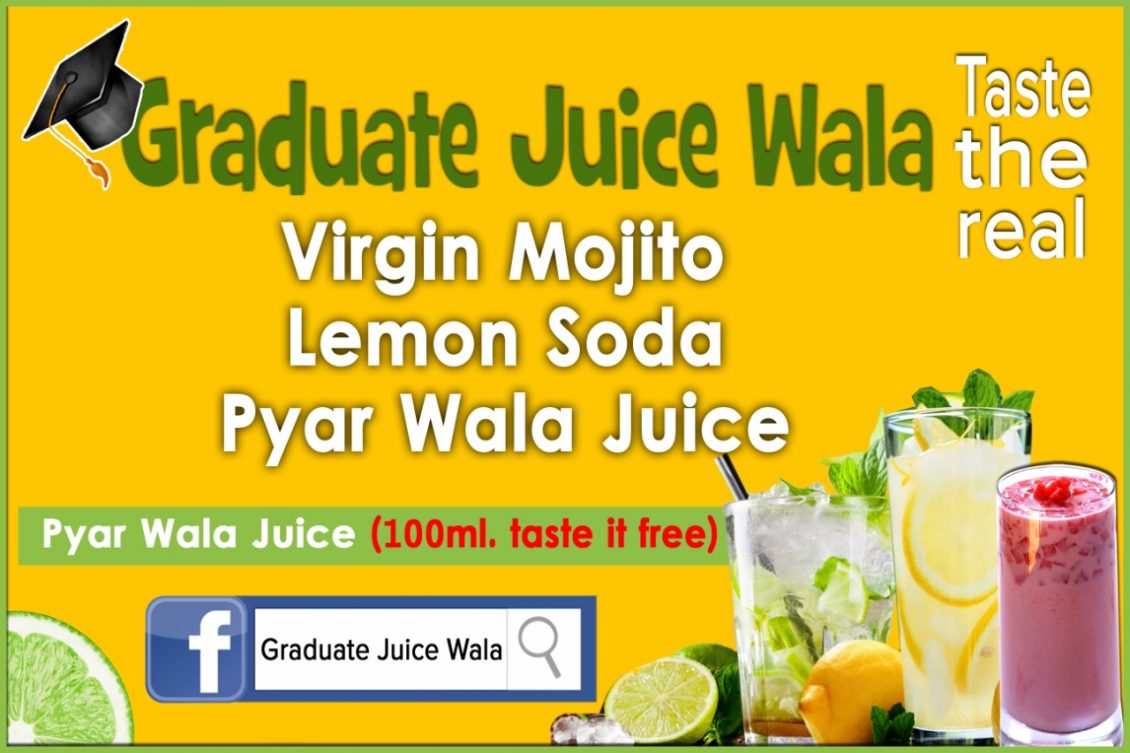 The beverage shop has a wide array of mocktail combo juices, but the prime attraction is the 'Pyaar Wala Juice', which Avishek claims has a 'special ingredient' that's hardly anybody in the region has ever tasted before. Further adding, he said, "Gradually, if this business model succeeds, in near future, I might expand this to include other things as well. As it's summertime now, I figured it's an apt season to start this business. I'll learn the tricks of the game by being in it, and that experience is irreplaceable."
The 'Graduate Juice Wala' is a shining example that to succeed in real life, dedication and the will power to learn and grow is the driving factor behind it. Solely based on the arsenal of the Internet only, Avishek groomed himself and took a bold step of starting his own business venture, thus ignoring to wait any further at the mercy of anybody else.