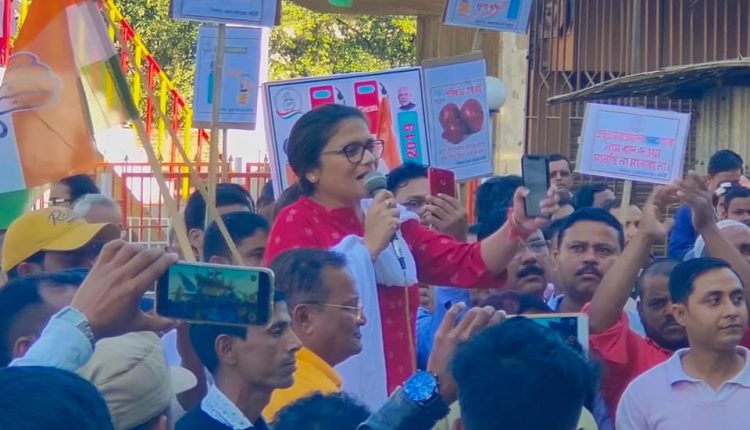 "Modi failed to keep his promises, Congress will form govt. in Assam in 2021," Sushmita Dev
What Congress is terming as the "Bharat Bachao Aandolan" where the party leaders rally and then address the gathering was held in Silchar earlier today. The Cachar District Congress leadership said this is a rally against the "anti-poor and anti-people" policies of BJP government in both Assam and Centre. The Congress alleged that BJP has failed to control price-rise, the increasing farmer distress, crime against women, crisis in the economy, heavy industries and NRC.
National president of Mahila Congress and former MP Sushmita Dev addressed the gathering and appealed to the voters to think before they go to cast their vote next time. She said, "Narendra Modi made many promises but failed to keep even one."
She added, "Look at inflation today it rocketed sky-high, he promised that BJP will revive the paper mills but they are defunct and is on the verge of getting sold. He promised a fair NRC – he failed, he has promised citizenship to Hindus, he failed. Now they are saying that the hill section will not be a part of the CAB."
Taking a jibe at the BJP government in Assam Dev said, "BJP managed to do only one thing successfully, they have managed to run syndicates independently and that is it."
She reminded the gathering about Narendra Modi's 2014 slogan, "Bohot Hua Mahila Pe Atyachaar, Aabki Baar Modi Sarkar" and then spoke about the recent cases of atrocities against women in India. "We all know about the case in Uttar Pradesh where a BJP MLA is involved and where the victim could not reach Police Station. On one side the Prime Minister says Beti Bachao Beti Padhao and on the other side the crime against women is rising and the situation is getting worse and this is as per the government data. This politics of lies will not last long," said Dev.
She went on to say that the Congress is a party for Hindu, Muslim, Manipuri for one and all. "In the name of the citizenship amendment bill the BJP is playing appeasement politics. We want citizenship for all who voted in 2019 irrespective of religion, caste, community and creed. We are a party for all and in 2021 we will defeat BJP and form government in Assam," she concluded.