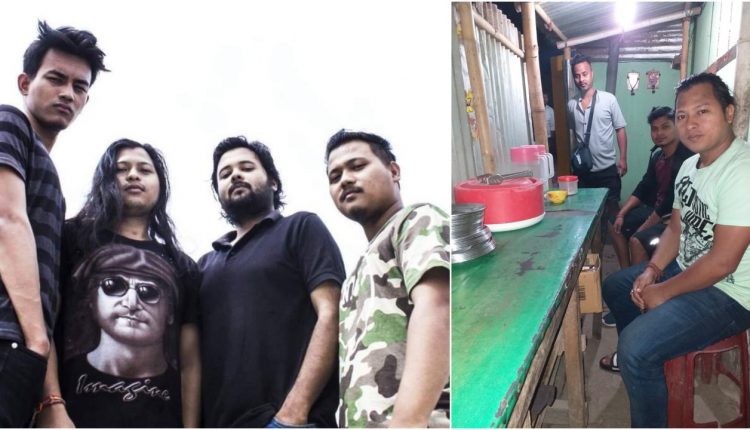 Momo and Music: The story of Gurung Brothers from Silchar's 'Jhalu Para'
If a food survey is conducted in the entire North-east region of India regarding the most popular dish, the South-east Asian cuisine called 'Momo' would probably come out as the clear winner. The hot and spicy platter of dumplings makes people across multiple age groups salivate at the mere sight or aroma of it. In Silchar, the momo revolution started around two decades back, when the Jhalupara neighbourhood of the city opened its first-ever momo shop. Setting up the venture right at the forefront of the vendor's house, which has been seen in most of the momo shops of that neighbourhood since then, the proximity of the shop with the Silchar Collegiate School and the Ramakrishna Mission made it easier for them to attract potential customers for the indigenous momo vendors setting their business there.
One such momo shop, run by two brothers, has a slightly interesting story to it. Rohit and Mandip Gurung, who set up their own momo shop adjacent to their residence back in 2014, is one of the most crowded shops of Jhalupara right now. But the more intriguing side of the Gurung brothers is that they also happen to be well-known musicians of the city. The elder of the two, Rohit Gurung happens to be a guitarist while his younger sibling, Mandip Gurung plays bass. Unlike other vendors of that neighbourhood who work elsewhere during the daytime when not selling momos, the Gurung brothers use this time to do what they do best apart from making momos – playing the guitar and making music.
Rohit came here in Silchar back in 2008 from Nagaland, where he completed his primary education. He mentions that it was in Nagaland, where he fell in love with their beautiful culture where the guitar was a common commodity found in most households. "Rock music has a great demand in Nagaland, so playing the guitar was not an uncommon phenomenon there. So naturally, I started following the music and my uncle was one of the first major influences in playing guitar. That made me learn this instrument and it's been a decade now that I've started playing guitar", says Rohit when asked about his inspiration in music.
Mandip too followed his elder brother's trail, like a beautiful family tradition passed down by the elders, and found himself toying with the guitar soon. He says "I used to play acoustic in the beginning, then one day an opportunity came to play bass in a local event asking me to fill in. I agreed to play bass with them in that event and the reviews came behind expectations. This instilled my faith in bass and gradually I started shifting more towards it." They're currently associated with two projects, a hard rock band called 'Under The Faith' and another contemporary Nepali group called 'Mount K2', both of which has already released original compositions to huge local acclaim. Under the Faith have performed in many places all over North-east, also winning various competitions along the way.
Growing up, the Gurung brothers never had the luxury of resources to chase their dream. In the age of smartphones and accessible Internet, they could only afford cellular phones, hence, learning from the Internet was still a distant dream. "I remember once asking my dad to buy me a guitar while I was in school. As I used to visit my home every winter, that year he gave me two choices, either to buy new clothes or a guitar. I didn't hesitate for a second to choose the latter" said Rohit with a smirk on his face. Due to their technological inaccessibility, Rohit had to rely solely on borrowed resources from friends and acquaintances to learn the craft. "After a few years, when I somehow finally managed to get a second-hand electric guitar for myself, I then found myself lacking other essential equipment like processor, amplifier, etc. I used to grind away 5-6 hours a day with just an electric guitar, with no YouTube or smartphone to guide us as we have now."
The Gurung brothers also thanked the local rock and metal scene for always pushing their expectations. Back in the day, when Silchar used to witness regular concerts every year, Rohit and Mandip made sure they never missed a single one, no matter what. "Seeing bands like BlindFold Rage and Meluha made us aware of these metal genres that we were previously unaware of. It pushed us into exploring other avenues of our music. Then experienced musicians/guitarists like Rohan da (Sen) and Sudarshan da (Sinha) was always available for help, be it with tutorials or with providing the necessary resources to us."
But when it comes to their Momo venture, Mandip is the brain behind this business. While their beloved mother cooks, the siblings help her in marinating and preparing. Just like most other Momo shops in Jhalupara, they also employ several people to help them run this business. "Even though they're employed in our shop, we never treat them as such but rather as our own family members. In the initial few years, the shop was solely run by us. But after a few years, we saved up enough to employ a few people to help us in this venture. Thus, most of the momo shops in this neighbourhood including ours generate employment for many such poor people who come to this city seeking employment". Commercially, their venture has become so successful that one of their helpers, a kid who happens to be the first one to work there, has saved up enough to buy a small plot of land in the Srikona area.
But despite this beautiful symbiosis of Music and Momo, it has its disadvantages as well. Pursuing two careers simultaneously makes it hard to give a sufficient amount of time to each. On top of that, their band Under The Faith went through drummer departure twice already, making it hard for them to grab opportunities to perform in shows. In a tone of regret, Rohit says, "Our original drummer Prosenjit (Nath) quit due to his commitment to further studies. Hizol (Choudhury) was kind enough to fill in the drumming duty for a year or so but never joined us permanently. After a while, he too left citing his own work commitment. The lack of a drummer made us miss many opportunities in the recent past, including one opportunity, where we were personally asked from Bangalore to participate in a National level competition. There are several such other missed opportunities as well which we still regret not taking part."
Currently, Under The Faith is getting ready to release their next single and Mount K2 has already released a single during last Independence Day. When asked about their future plans regards this venture, they said that despite the losses incurred during the lockdown, if their business happens to grow in the coming years, they might end up expanding it to other corners of the city as well. But as of now, 'shred and steam' is the way to go for Gurung brothers!