"To my statesmen (Raij in Assamese) I would like to inform, that Assam has not conceded an inch of land to Mizoram. Our five Bravehearts got martyred while protecting the land of the state from Mizo-encroachers," this is what Chief Minister of Assam, Himanta Biswa Sarma had said after paying tribute to five police personnel who died on July 26.
Chief Minister of Assam Himanta Biswa Sarma left on July 27 after the ceremonial salute to the five martyrs. The death toll rose to six the next day. Gradually, the two states started bridging gaps and the two chief ministers started withdrawing FIRs filed by respective states. "Goodwill gesture," and "Amicable Solutions" started trending by replacing, "Who shot first," "Assam Shot First", "Mizoram Shot First" and such hashtags.
On August 5, a delegation from Assam, involving, Ministers Ashok Singhal, Atul Bora will visit Aizawl to find peaceful solutions. Meanwhile, the dynamics at the border have changed.
On July 26, what was known as Assam is now Mizoram's Kolashib District. Police check gates that read, Assam Police on July 26 have now been replaced with gates installed by Kolashib Police with the same written clear. Press core from Assam including the correspondent of Barak Bulletin had taken shelter beside a bus when the firing began on July 26. That bus, vandalised and burnt, still carries Assam's number plate but has Mizoram written all over it and in red. Assam Police personnel were aboard that bus that took them to the inter-state border.
Most importantly, the delegation from Assam had gone to vacate a post on Assam – Mizoram border. Mizoram IR Battalion jawans were in that post. The Assam Police personnel including IG Anurag Agarwal, SP Cachar Vaibhav Chandrakant Nimbalkar, DIG Assam Police's Southern Range, Devajyoti Mukherjee, DFO Sunnydeo Choudhury, OC Dholai Sahab Uddin and others pushed the IR Battalion Jawans and claimed the post which marked the beginning of the dispute on July 26. Nine Police personnel and five locals were attacked with pellet-filled air guns which the Mizo civilians use to kill birds. They were rushed to Dholai Block PHC and nine were referred to Silchar Medical College and Hospital from there in the afternoon.
SP Kolashib was invited for a discussion and at 4:30 pm he was sitting with IG Assam Police, Anurag Agarwal at the post which according to the official map issued by Survey of India and shared by Cachar Forest Division, is three and a half kilometers within the constitutional boundaries of Assam. 4:36 PM, it was bullets everywhere. The sound of machine-gun blitzkrieg, the smell of smoke and pain of burning-teary eyes, public, police, press all residents of Assam were running for life.
Few sack bags and hand-shields were not enough of cover. Samsujjaman Barbhuiya, Swapan Kumar Roy, Mazrul Haque Barbhuiya, Nazmul Hoque Barbhuiya, Shyamaprasad Dusat and Liton Suklabaidya were martyred in and around that post. 43 were shot down and admitted to Silchar Medical College and Hospital for treatment. More than 60 men in uniform got injured. Few were airlifted to Guwahati Medical College and Hospital and SP Nimbalkar is currently admitted to Kokilaben Hospital Mumbai and undergoing surgery. DC Cachar Keerthi Jalli was also in that post and had a lucky escape at the line of fire. The post, chief minister, Himanta Biswa Sarma said was claimed by Assam Police. Later, it was decided after a tripartite meeting, that only Central Forces will guard the disputed land.
That post now belongs to Mizoram. Yes, it is true. The post where six men in uniform lost lives, is now guarded by the Mizo IR Battalion without any intervention from the Central forces. Not one Central force jawan is present in the zone between that post and Vairengte gate in Mizoram. The zone has been painted red with Mizoram written everywhere. The stretch between the Lailapur BEAT office and the post has check gates with Kolashib Police written on it. During informal chats with Barak Bulletin correspondent, Jawans of the Central Forces also mentioned that this territory belongs to the Mizoram, at least, that is what they have been told. In fact, that temporary post has been renovated and reinforced for the Mizo IR Battalion to have a safer and more secure stay. Concrete construction, staircases, first escape points and shortcuts to cover, the post now is the bastion for the Mizo Forces, for them to unleash another blitzkrieg if needed. A closer look at the camp reveals that the white paint has hundreds of black dots. Those are bullet marks fired to kill the Assam Policemen sitting there.
"Since I became the chief minister, Mizoram has not encroached an inch inside Assam," is what Himanta Biswa Sarma said during the press briefing on July 27. Let alone since he became CM, since July 26, 2021, Kolashib extended its boundaries by one kilometer towards Lailapur by the national highway. RCC Constructions are going on and buildings are being raised. Bricks and cement are unloaded as the camps are further equipped. "Once the Mizos put a gate, there is no way they take it back. This is how they have been demarcating their boundaries for decades. Governments changed in centre, in state but our mentality of crawling before the insurgents remains," said a local of the Lailapur area. He went to the borders on the hilly sides and says that the Mizos currently are building helipads after cutting the hilltop.
Land and lives, both lost. Assam paid and is paying a heavy price. On August 5, 2021, Ministers in Himanta Biswa Sarma's Assam Cabinet, Ashok Singhal, and Atul Bora will visit Aizawl for a historic meeting with the delegation from the Government of Mizoram. It is a surprise that Sarma did not include Parimal Suklabaidya, Forest and Environment Minister of Assam, also the MLA from Dholai, the constituency in which is the dispute. He knows the borders better than most in Assam. Will Singhal and Bora press and regain possession of the post, simply to pay a tribute to martyrs, is something that remains to be seen.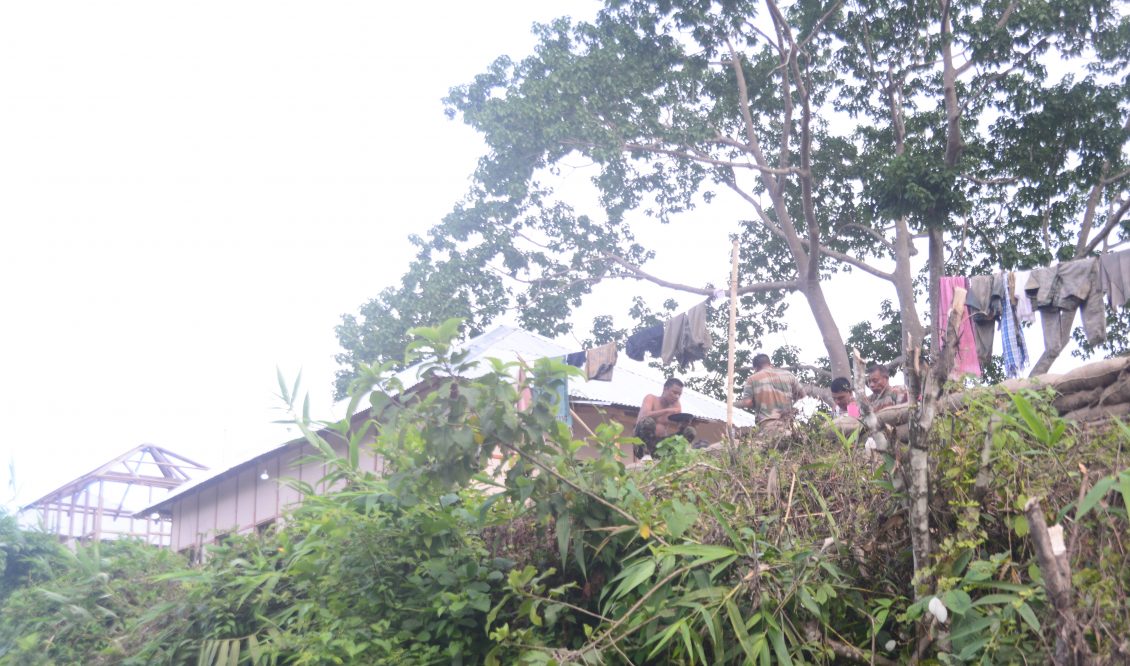 All images have been clicked by Anirban Roy Choudhury and are subject to copyright.