Musicians in Silchar are in search of new professions as SOP hints there's no unlock for them
A little less than a month remain for this year's Durga Puja which would otherwise mean a jam packed start of the season of shows for both the artists and vendors alike. But this year too like the last year, the SOP by the State Govt. strictly puts a ban on cultural programs and concerts through out the festive season. This comes as nothing but another nightmare for the entire guild of people associated with the entertainment industry who already have been thrown off at their knees since Covid began and are trying their best everyday to barely make a living.
Though music also gets distributed and musicians make some money out of recording releases but for an artist and her art, the one big space is to be able to reach out to the audience in true sense is only through live performances. Which by the way have been almost totally banned since the first SOP for Covid that came out in India in March, 2020. Throughout the last one and a half year, these musicians and other vendors associated with buisness could rarely do any buisness, and now when the Govt. Of India is running an ambitious Vaccination drive all over the country and more and more people are getting back to normal lives, they too hoped that this year onwards, things would be better.
But, the recent SOP by the Department kf Health, Assam Govt. disclosing various rules and regulations related to the upcming festive season, it's made very clear that no permission shall be provided for any kind of cultural function or program.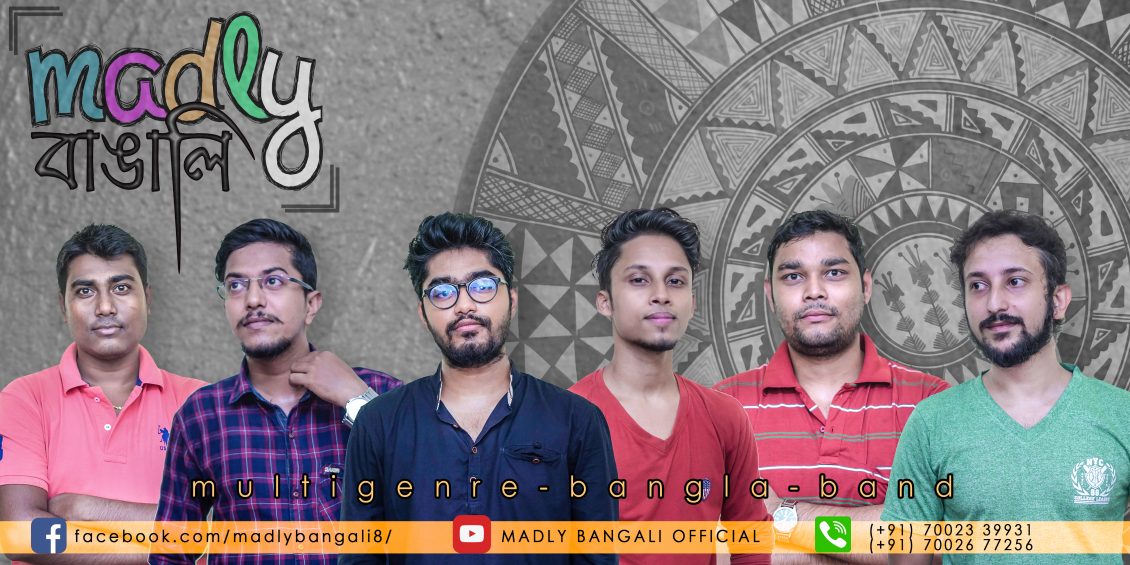 Speaking about it, Adib Emon, the lead vocalist of Madly Bangali band asserts that the SOP is very unfair for the entire faternity. Emon says, "Administration is trying to showcase that it cares by banning programs but this is not the way out. We are a lot of people in the buisness who have been left without any job for so long and slowly now when every other sector is trying to get normal, we should also be given a chance. The Vaccination centres are working and more and more facilities related to testing and tracing have been developed, why are we still banned entirely like the first months of Covid Pandemic?"
Emon also says that dialogue could be made with all stakeholders by the administration in order to work a way out to also let concerts and events happen in a restricted manner, just like all other things. "Crowd management and specialised guidance by the administration and organisers could have made some programs happen and we also need the lawmakers to be a little more innovative in getting solutions, and not stopping the activity entirely, killing not just the art but the artist too."
Sayan Biswas of Bengali band Dolchhut echoes Emon. "No program allowed at all is very absurd given the fact that all other different kind of Govt. and Party events take place from time to time. The cultural program too is very important for an artist to keep his art alive and also to various vendors who work in association with the artist and organiser."
He also informed that a memorandum appealing allowance of some cultural programs with adequate covid protocols has been submitted by artists and cultural organisations of the region to the Chief Minister Dr. Himanta Biswa Sarma who has promised to find a way out.
Bikramjit Baulia, a famous folk artist from Silchar who is preparing to release two songs for this Puja season tells us that making music has become harder than ever. He says, "All kinds of artists from those who sing at Kirtans to those who play for the band party at marriages, all of us are under immense pressure and finding it difficult to make a living. SOPs one after the another have left us with nothing on our plate. It is not fair when every other kind of gathering including marriages and election rallies are allowed but we aren't allowed to perform."
He also thinks that the Govt. should positively respond to the stand of the artist fraternity and find a way out to allow some cultural programs to happen.
Ranabir Singha and Nirupam Barbhuiya of Ritik Studio, Silchar who also happen to be esteemed live musicians themselves inform us that only doing music professionally in Barak Valley is no longer an option. Barbhuiya says, "We have to do day jobs and carry our music along with that. It's no longer possible to make a living out of music from the time Covid hit us all."
Singha on the other side, says, "Even recordings are happening in very less quantities. During Puja we used to get over 30 plus contracts in previous years, but the number has halved this year." They both being also associated with other forms of work express their anguish for other members of the fraternity who are living a very tough time because of no work at all.
A written request and a conversation about this issue has already been communicated to the Govt. and to CM Sarma himself by members of Samilitta Sanskritik Mancha and Barak Valley Artist Forum.
In April 2021, BJP MP Manoj Tiwari traveled various parts of Barak Valley and thousands danced in front of him as he sung, "Rinkiya Ke Papa." 25,000 gathered to raise Aaazadi Slogans with Kanaihya Kumar in Sonai's Sadhin Bazar. The politicians can sing, dance and celebrate whenever they want. But when it comes to cultural programmes, there is the wrath of SOPs.