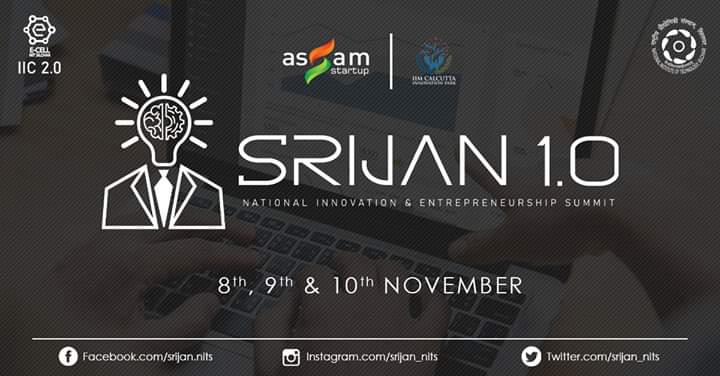 National Innovation And Enterpreneurship Summit 2019 to be held from 8-10 November
To emphasize your enterpreneurship skills and make it more noticeable, Silchar NIT's Srijan 1.0, in association with the Institute Innovation Cell 2.0 and E-Cell NIT Silchar, has brought an amazing opportunity for you.
The National Innovation And Enterpreneurship Summit 2019, that has been scheduled from 8th November to 10th November, consists of of amazing events including lectures by high profile speakers, industry experts, panel discussions, focused workshops, case study analysis.
Along with these, the organizing team has also brought some events related to fundamental enterpreneurship, apart from conventional Business Model Canvas competition, and Business Quizzes, promoting the spirit of hustling and inculcate the flair of startup ideas among the participants.

The event will be graced by 4 versatile entrepreneurs as guest speakers who are Vivek Poddar, Sabyasachi Mukhopadhyay, Pranjal Konwar and Arijit Bhattacharyya. Moreover the quiz master for Business Quiz, that will be organized on 9th November, will be Abhra Das, one of the most sought after names in The North East quizzing circuit.
Interested one can log on to the official website of Srijan (www.srijan-nits.com) and register themselves.