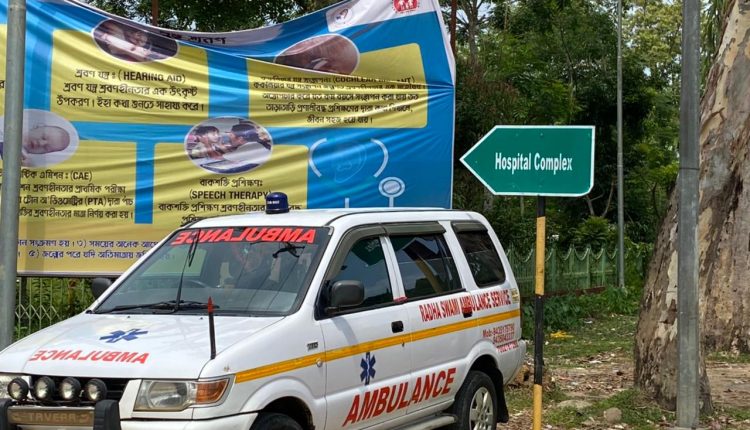 New record in daily spike for Hailakandi, Cachar, 3 died at SMCH; No attendant will be allowed in COVID ward, ICU
The number of active cases in the Cachar district crosses 1000 for the first time since the beginning of the second wave. The district has also reported a record spike in the number of cases. On May 12, 370 individuals have tested positive for COVID 19 in Cachar. This is the all-time highest spike in the number of daily cases. 2170 samples were tested on the Rapid Antigen Test kit and out of them, 206 tested positive. 164 samples were tested positive on RT-PCR.
Dr. Bhaskar Gupta, vice-principal of Silchar Medical College and Hospital informed that there are 223 patients in the Hospital's COVID block at this stage. The resources in SMCH are under immense stress as 104 patients are on Oxygen support while 12 are on ventilator. Overall, 36 are in ICU. 11 patients got discharged today while 22 got discharged.
Gupta informed that on Wednesday, three individuals have died at SMCH. Md Nazim Uddin Barbhuiya took admission on May 11 and was declared dead on May 12 at 1:15 am. He was 69-year-old and a resident of Hailakandi district.
The other two who have succumbed at SMCH were transferred from Badarpur in the Karimganj district. 60-year-old Kishore Das Gupta was declared dead at 7:00 while Chandan Lal Sen breathed his last at 9:20 am. Sen was admitted to the hospital on May 17 while Das Gupta was transferred on May 11.
Dr. Gupta appealed to the general public to take care of the fact that no valuable belongings are with the patient especially when they are shifted to the ICU. He also mentioned that the valuable belongings won't be the responsibility of the hospital authority. He suggested attendants ensure expensive mobile phones, jewelry is not there with the patients when they are taking admission to the COVID ward.
The hospital authority has also made it clear that no attendants will be allowed inside the COVID ICU or the ward. "Inside the ICU or ward, the staff function following certain strict guidelines. They wear PPE and take safety measures. At the same time, ventilators, suction machines, concentrators are other life-saving equipment are used inside the ICU. It demands a lot of space and therefore we request all the attendants to refrain from requesting access to ICU or Covid ward," said Gupta.
He added, "We have seen that people are coming to us with requests to get access to the ICU as COVID attendant. Some requests are coming via politicians and people with influence. These requests are putting us in a spot of bother. The hospital has opened a helpdesk which will remain open from 10:00 am to 4:00 pm, the attendants can get details about their patients from the Helpdesk."
On the other hand, Karimganj reported 126 fresh COVID-19 cases on Wednesday, pushing the coronavirus tally in the district to 5,550. Of the 126 active cases detected on Wednesday, 124 have been found positive under Rapid Antigen Test and two under RT-PCR.
The district has altogether 761 active COVID-19 cases while 83 patients have been discharged from hospital and home isolation on Wednesday. 1,441 swab samples were collected on Wednesday. The district has currently 40 active containment zones.
In Hailakandi district, 117 individuals have tested positive for COVID which is again an all time highest for the district. There are 538 active cases in Hailakandi as 51 got discharged.
Overall, in Barak Valley, the currently active cases stand at (Cachar 1009+ Hailakandi 538+ Karimganh 761) 2308.