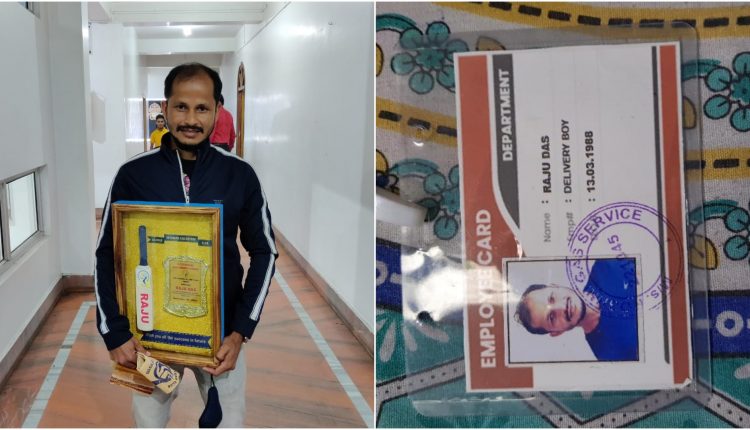 India is a country where Cricket is religiously followed by people across all age groups. So many emotions are attached to this sport. To the entire world, India is known as a cricketing nation and the cricketers of this country are given superstar status. And since the advent of the IPL, the face of cricket has changed forever not only in India but all over the world. There is more wealth in Indian cricket now than ever before. There are a lot of cricketers who depend on this professional sport to support their livelihood and this is the reality. But there is another side to this reality as well.
In a cricket-crazy country like India, there are a lot of players who are suffering from financial instability even after giving everything to cricket. Although they have represented their state teams on several occasions, still they are not getting being able to get a government job. And one such person is a star cricketer from Silchar, Raju Das.
Not only at the district level, but Raju is also one of the most successful cricketers in the entire Barak Valley. He has represented state teams in different age groups, not once or twice, but on several occasions. He was also in the trial camp of the Ranji state team. But even after accomplishing all this, Raju did not manage to secure a government job. Raju's family is not financially stable. In the meanwhile, the pandemic has affected everything and financially straightjacketed him. As a result, Raju has to work now as a delivery boy for a gas agency to take care of his family.
Raju, a stylish right-handed batsman, started his cricket career in Silchar with school cricket. In the Baidyanath Nath School Cricket, he got a lot of attention as a Public School cricketer. Raju also played for Mandir Dighirpar Club in Bilpar in the third division league. And that was the start of his career in Division Cricket. At the beginning of his career, he played for the Ganasur Club. Then step by step, he also got into the teams of the second division and the first division. Gradually, he established himself as a regular member of the district team. He is a consistent performer in the domestic cricket of Silchar. In the 2002/03 season, Raju went to Ghaziabad with the Assam Under-15 team on an exposure tour. He performed well on the tour and as a result, the under-15 state team gave him a call-up. But he couldn't make it through as he failed the medical test.
After that, Raju played twice in the Vijay Merchant Trophy representing the Under-18 Assam team. The right-handed batsman has also represented the state Under-19 team in the Veenu Mankad and Coochbehar Trophies. In 2014, he was a member of the under-23 state team as well. But after all this, Raju has not been able to get a government job under the sports quota.
It is not that Raju could not secure a private job, but the problem is, if he gets a private job, he will then have to quit cricket. And Raju is not willing to quit cricket in any way. Because he loves this game very much and there are many emotions involved with it. Raju said, "Look, if I work in the private sector, I'll have to quit cricket. Because one cannot do both at the same time. And I certainly can't give up cricket. I am working as a delivery boy in Roshni Gas Agency as of now. My friend Shibojyoti Roy, the son of the head of the agency, arranged this job for me. And I don't have to quit cricket because of this job. In this way, I will be able to earn some money for my family."
Raju had hoped to secure a government job under the sports quota after representing the state team more than once. He said, "I hoped that something would happen in the sports quota. If I got a government job, then I could continue playing cricket. I love this sport so much, hence I want to continue it as much as possible."
Raju has performed well in several age-group tournaments wearing the state team jerseys. For which, for which he was called for senior state Ranji team trial. This talented cricketer from Silchar has had to fight not only with the financial crisis but also against the injury problem. Raju suffered a shoulder injury while fielding in a warm-up match for the Ranji Trophy back in 2017. At that time, he was living in Guwahati and used to coach at the City Cricket Club there. Gautam Hazarika used to train Raju for free in that club in Dispur. However, he had to go through a very difficult time after getting a shoulder injury. After sustaining the injury, another star player from Silchar, Ranji cricketer Pritam Das, took him to the Assam Cricket Association. As the injury was serious, Raju was referred to the Gauhati Medical College & Hospital by the Assam Cricket Association (ACA). At that time, former Silchar MLA Dilip Paul in Guwahati had tried to help Raju financially. Then Raju's rehab process started in Guwahati. While in rehab, Raju had to go through many obstacles. However, due to his fighting mentality, the right-handed batsman overcame everything and recovered from the injury.
Although that injury was healed, a new problem appeared on Raju's shoulder. Although he did not face any issue while batting, he started feeling pain whenever he tried to throw in the field. As a result, he had to undergo treatment once again. And they suggest that the problem could be overcome with the help of surgery. Which will cost about 2.5 to 3 lakh rupees. Even at this crucial juncture, Raju is still relying on cricket. He said that he has already signed a verbal agreement with the India Club of Silchar. According to the contract, he will play for the India Club in the next two seasons. In return, he will be paid 1 lakh rupees by the India Club. Raju has also sent a letter to the Silchar District Sports Association (DSA) to help with his surgery. He also said that the association's Secretary Bijendra Prasad Singh had responded positively regarding this. Besides, the Assam Cricket Association has also been e-mailed by the Silchar DSA for his surgery.