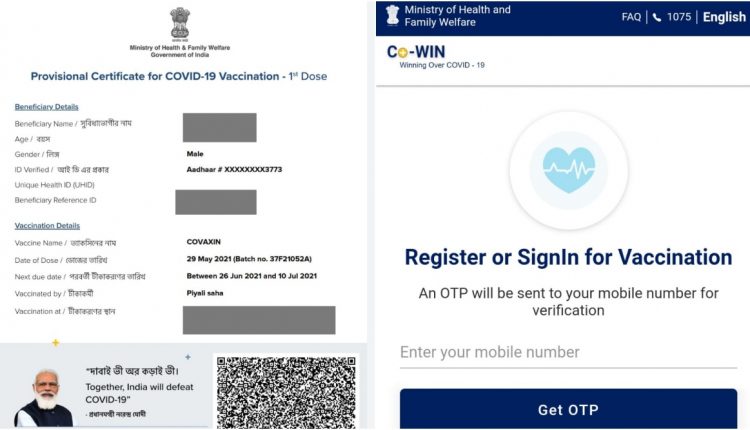 Now you can make corrections on your Covid vaccination certificate; here's how
The vaccination drive started in India earlier this year. While initially only the frontline workers were inoculated, slowly the central and state government included the risk age group of above 60 years, and then 45 + with comorbidity. When the second wave hit the country hard in April, the policy was changed and everyone above 18 was asked to get vaccinated to control the spread of Covid-19. However, filling in data of the huge population led to some inadvertent errors leading to wrong certificates being generated.
Now, the government followed a system which did not allow any edits to the covid vaccine certificates. Many were left helpless having wrong name, date of birth or gender in their certificates, which could lead to issues in the future. On Tuesday, the government started a process where a user can edit their certificate 'only' once and change either their name, age or gender in the certificate.
In case you or any of your family has an error in their certificate, here's how you can change it.
1. Login to the cowin website with your registered phone number either on web or through phone.
2. On the homepage top side, you will get an option "raise an issue", click on it.
3. You would then need to choose the person on whose certificate you want the change (in case multiple person is registered under the same phone number).
4. Choose the 'error' — name, year or gender and fill in the correct details.
5. Since the changes can be done only once, be sure that you make no mistakes.
6. After you submit the correct details, your new certificate would be generated, which you can download for future use.
While the authorities have given users an opportunity to make these corrections, one cannot still change the name of the vaccine or the dose, in case an error was made in the first place. For the same one needs to contact the Covid-19 technical helpline on this number: 1204473222.
With the restrictions easing across the country, vaccine certificate will become an essential travel document in the domestic sector as well as foreign travel. The civil aviation ministry is considering doing away with the mandatory RT-PCR test for domestic fliers who are fully vaccinated.