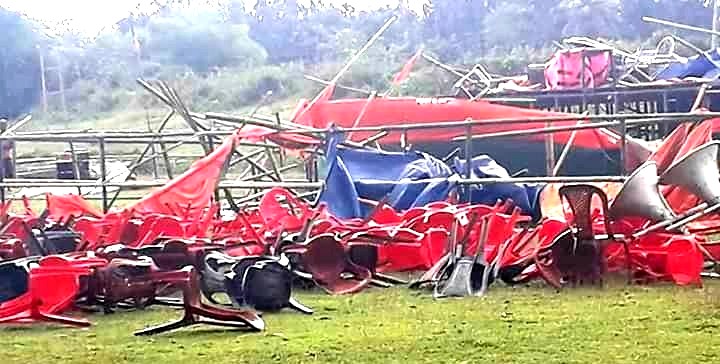 'Kalbaishaki' storms through Barak Valley: CM Sonowal cancels rallies in Hailakandi, Karimganj
Not a very happy beginning to the Bengali New year. Early morning when everyone was busy either shopping at the fish market or buying sweets dark cloud loomed over Barak Valley and it was night again at nine in the morning. With few minutes the dark clouds turned to a destructive cyclonic storm. Many trees in Cachar, Karimganj, and Hailakandi have tumbled down disrupting electricity, road transport. Many houses in all three districts suffered major losses, few roofs went flying.
"Our garage had a tin roof, after the storm, we went out to find that the roof is missing. We have no clue where the tins are," says a resident of Shivalik Park area. Such reports have come from all across the valley.
The nature God left an impact on politics too, due to the storm two of Chief Minister's rallies has been canceled. Sarbananda Sonowal was supposed to address a gathering at Barnarpur Tea Estate in Hailakandi, but the stage and the pandal have been demolished by the storm resulting in the cancellation of CM's visit. Such is the scenario on Karimganj's Nilambazar too. The party has made an announcement that both the rallies have been called off due to bad weather.
While there was lightning in the sky all throughout, the electricity was disrupted. Reports suggest huge trees fell over electric poles resulting in disruption of power supply. A couple of hours after the storm at around 11 AM power supply was restored in Silchar, however, Karimganj and Hailakandi is still deprived of electricity.
Power distribution company APDCL's spokesperson informed that the men are at work and trying to restore electricity as soon as possible.