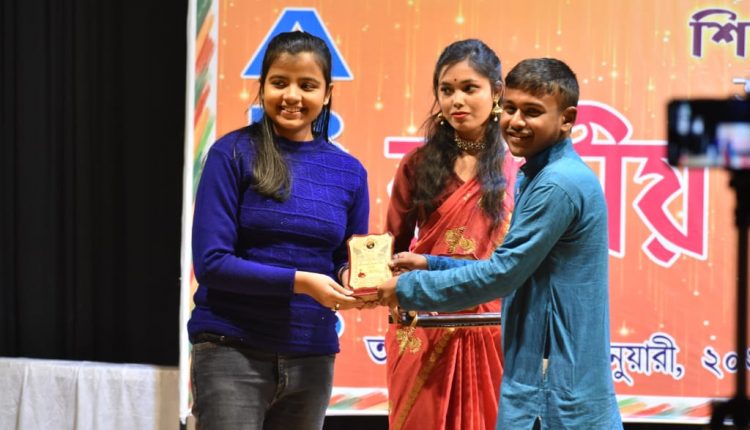 Patriotic and devotional songs, sloganeering highlights of ABVP's Youth Day event
On January 12, Youth Day is celebrated across the country as a tribute to Swami Vivekananda on his birth anniversary. Students' organisation, Akhil Bharatiya Vidyarthi Parishad had organised an event yesterday at Banga Bhawan in Silchar.
The event kickstarted at 5:00 pm with the Parishad Geet sung by Rohit Chanda. "The Parishad Geet is like a yearly anthem. Every year, we have a new Parishad Geet," said Chanda.
Jagdish Das, additional superintendent of Police Cachar was chief Guest. While speaking at the meeting, he said "ABVP has been working hard to bring drastic changes in the lives of today's youth. ABVP follows the ideals and principal of Swami Vivekananda. I would like to urge the ABVP to fight against drugs. The Cachar Police Administration is with ABVP to fight against drug abuse and other ill practices."
Mahesh Bhagavath North East Janasamparka Pramukh who was also the chief speaker. He asserted, "India was ruled by Mughal and Britishers. But if one flips through the pages of history the name of Swami Vivekananda will be there. His words and wisdom have always been a source of inspiration for all. Our history books and curriculum did not teach much on Swami Vivekananda. Shaheed Bhagat Singh etc."
Ratan Kanti Das Professor of Cachar College and District Coordinator of ABVP Cachar who was guest of honour also spoke at the event. He said, "3000 families were benefitted through various distribution programmes which were carried out on the COVID-19 pandemic."
After the Geet, the toppers of all schools across Silchar were felicitated. Swapnaneel Bhattacharjee the Ramanuj Gupta Junior College student who had secured a position in the class X examination and also topped NEET was among them. The organisers had invited Vikram Chasha. The son of a tea-garden worker who cracked APSC to become an ACS officer. Chasha could not make it to the event due to professional engagement.
After the felicitation, popular singer in this region Bikramjit Baulia took the centre stage and performed folk songs. A couple of other bands also performed devotional and patriotic songs. School students performed group dances.
The attendees – most of them members of AVBP raised organisations slogans and delved into the mood of festivities.