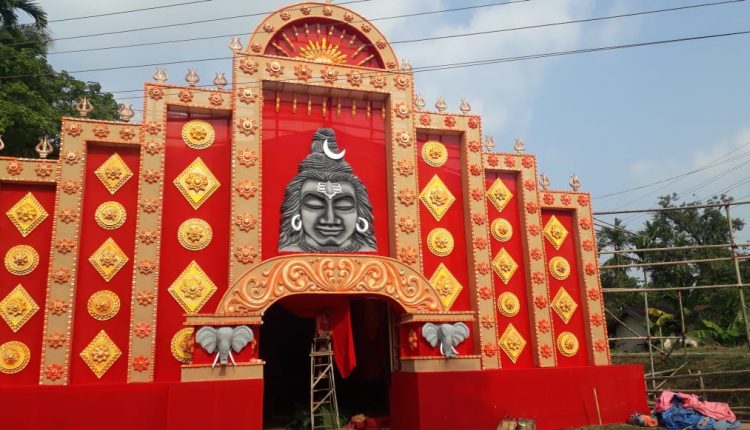 Platinum Jubilee: Did you know Tarapur Rice Mill first organised Durga Puja in 1947 after India attained independence?
Puja spectators in Silchar every year long to see the idol of Devi Durga that Tarapur SS Ricer Mill Puja Committee unveils; this Puja acquired a signature place among the Puja hoppers of the valley for their innovative and aesthetic Idols. This has become a trend in Silchar for quite a few years. Even during this Pandemic period, the trend may continue as this year, the Tarapur SS Rice Mill Puja will mark their 75th anniversary, i.e. the Platinum Jubilee. They could have made it a blistering event this year had it not been for the Covid-19 induced pandemic. But they are not making it less eventful as they will organise the platinum jubilee while COVID SOPs would be strictly in place. And there will be a unique attraction in their idol this year too.
Rice Mill Puja committee first organised their Durga Puja in the year 1947 when India got its independence. They used to organise Durga Puja around the 'E and D Colony' area under the banner of Palli Mangal Samiti. Later on, they shifted their location. For the last ten years, they have been organising Puja in their land of rice mill premise. This year Pandal designers are Joy Das, and Bapon Chakraborty, Ajit Das- the light artist, and the idol maker is Nabendu Sekhar Choudhury- a craftsman from Poilapool. They are focusing on the idol this year, too, aiming it to make an exceptional one. They are not going for theme-based Puja this year; hence the idol would be more of a vintage and traditional one.
Puja committee has taken quite a few steps in the purview of the prevailing pandemic. Distribution of clothes is one of them. They are planning to donate clothes among one thousand needy people. They will engage a vehicle for the distribution purpose and hold the event at different places in the city. A souvenir commemorating their platinum jubilee anniversary will be published.
Spectators can come and see the idol safely maintaining COVID-appropriate protocols. Volunteers will distribute sweet Boondi Naarus and organise an exhibition of Indian Post Cards and stamps. They will try to present the tradition of writing physical letters to the millennial generations. If they wish, spectators can write to their friends and inmates using Postcards. Pubali Club and Chaturongo are assisting the Puja Committee in this.
Initially, the budget was estimated to be around 40 lakhs as it is their platinum jubilee celebrations but they were bound to reduce the budget to 16 lakhs only mainly due to the ongoing pandemic situation. Packaged food will be distributed to the devotees and ample measures will be taken to maintain physical distancing and sanitise the Puja premises. Unvaccinated people won't be allowed to enter the puja pandal and the committee will enforce mandatory use of masks and sanitizer. This year, the Platinum Jubilee Committee is comprised of president Dibyajyoti Nath, Cultural secretary Rajat Sharma, Joint secretary Saikat Dutta and S. Chanda, Cashier Ripon Dey and Nilanjan Bhattacharjee.