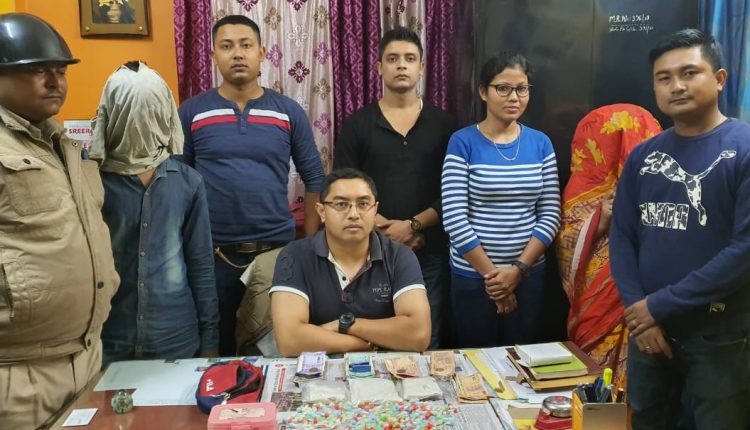 Police raids in Silchar; seizes suspected heroin, apprehends 2
Cachar Police continues its battle against illegal smuggling of abusive substances in Barak Valley. In yet another successful raid in Kanakpur part II area, the officials managed to seize suspected heroin.
As per available information, based on secret tip-off Cachar Police under the leadership of Dy. SP A J Baruah conducted a raid earlier today. Ananda Medhi and Barsha Buragohain from Rangirkhari Police Outpost and Silchar Sadar Police Station joined Baruah in the raid.
The department informed that two individuals identified as Bappon Uddin Mazumder and Sajna Begum Laskar were apprehended. Cachar Police added that they were caught with 180 gram of suspected heroin. Police also seized four mobile phones, a Bajaj Pulsar motorcycle and Rs 8200 cash. The Pulsar 220 was registered under Silchar DTO, AS 11 N 6208.

In last one week, Cachar Police has managed four successful raid. From Bilpar in Silchar, under Baruah a team managed to confiscate a consignment of WY tablets worth Rs 2.26 crore. The same day from a wine shop in Lakhipur, heroin worth Rs 33 lakh was seized. A couple of days back, from Baskandi-Arkatipur, WY tablets worth Rs 1.33 crore were seized by the same team.
As per reports, the market value of heroin has shot up to Rs 5000 per gram. This implies the 180-gram consignment seized today would cost around Rs 90 lakh.