Professor Anindya Sen's controversial post; Varsity issues "Show Cause", students submit memorandum in support
On the eve of 'Bhumi Pujan' of Ram Mandir at Ayodhya,  Anindya Sen, Assistant Professor, Department of English, Assam University, sparked off a huge row over his Facebook post on Lord Ramachandra. On August 5, Mr. Sen wrote the following post on his Facebook timeline –
She: And all this drama for a man who threw out his wife.
Me: Ya. Abandoned his wife. Right.
She: In fear of what 'people' would say.
Me: Oh! You mean Sriramchandra! I was thinking of you know who!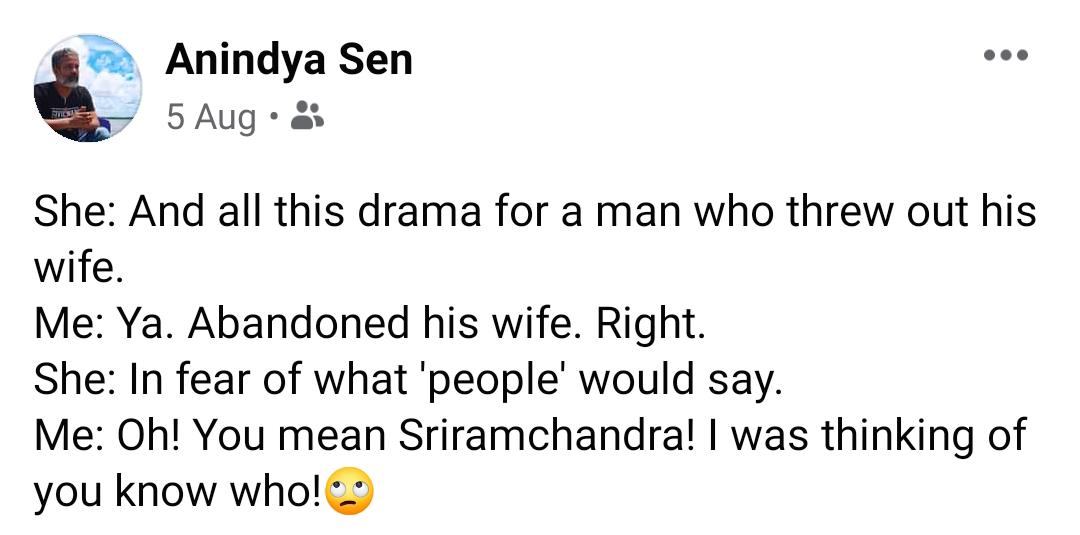 No sooner had he written the particular post, more than hundreds of people took great offence at its content. The unbridled public outrage over his post was evidently visible in the comment section of the particular post. In no time, the post became viral across various social media platforms, which further added to the raging anger for the teacher's views.
On August 8, Rohit Chanda, who identified himself as the Agitation In Charge of Akhil Bharatiya Vidyarthi Parishad, Silchar Unit, made a police complaint against the alleged professor. On the basis of Chanda's complaint, the police registered an FIR against Anindya Sen under IPC Section 294 ( Punishment for obscene acts and songs), Section 295A (Deliberate and malicious acts intended to outrage religious feelings of any class by insulting its religion or religious beliefs) and Section 501 (Printing or engraving matter known to be defamatory).
On August 10, a memorandum was submitted to the Vice-Chancellor at the behest of nine students of Assam University, demanding "inquiry committee and proper investigation of the matter".Moreover, the memorandum placed the demand for suspension of the alleged teacher from the post of Assistant Professor. Among the students who attested their signatures in the said memorandum, our fact-finding has revealed that it includes three students who have direct allegiance to the student organisation ABVP. The Facebook profile of one signatory student Sucharita Roy reveals that she has served in the capacities of Former State Executive Committee Member (ABVP Eishannya Pradesh) and Former City Secretary of ABVP, Silchar. Another signatory,  Subhrajyoti Sarkar, as per his Facebook profile, is serving in the capacity of Vice President, ABVP, Assam University Unit. Tarashankar Goswami seems to be have been serving in the capacity of Joint Secretary of ABVP, Assam University Silchar Unit, since 2019.
However, it is worthy to clarify that the said memorandum has been submitted by nine students in their individual capacities without drawing reference to any student organisation.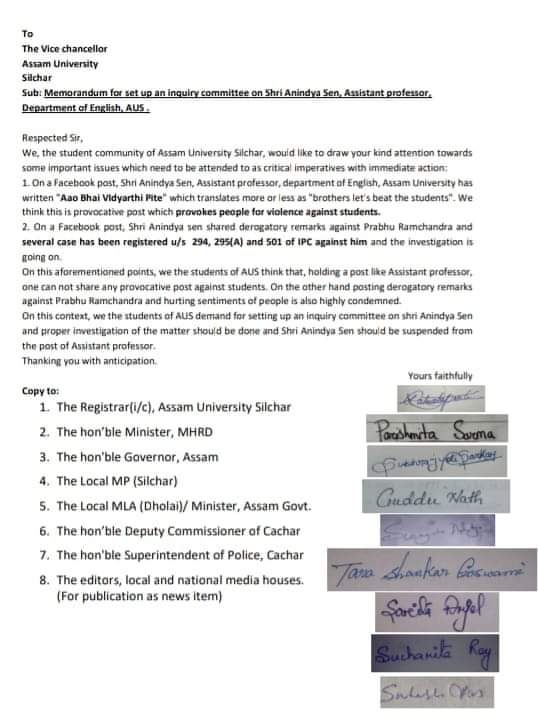 In response to the above memorandum, countering the allegations and challenging the demands placed therewith, a group of more than 250 students submitted a 28-page memorandum to the Vice-Chancellor of Assam University. According to the memorandum, "the allegations levied against him in the memorandum mentioned above are highly disputable, without an iota of merit in them. We also seek to bring to light the insurmountable vilification, character assassination, threats of assault and cyber-bullying faced by Anindya Sen.". A few noteworthy excerpts from the memorandum includes –
1)" the Assistant Professor did not intend to hurt religious sentiments or flare-up communal violence. The contents of the post can be found in various official as well as unofficial versions of the Ramayana and thus cannot be treated as invective. Furthermore, being an academician, it is part of his profession to look at literary texts through critical/philosophical lenses"
2) " A slew of allegations, an FIR, and a memorandum (dated 10.08.2020) requesting to set up "an inquiry committee" against Mr.Anindya Sen sets bad precedence as a whole and poses a serious threat to the Freedom of Speech and Expression (as enshrined in Article 19 A of the Indian Constitution). The study of literature, similar to other disciplines, has certain concepts and frameworks within it. One among them is the critical study of a text. Students of literature are taught to think critically and to have an open mind-set about everything. They do not prioritize one interpretation over the other "
3) "we have to state here that the violent upsurge of people against the post without proper inquiry or thought has to be considered seriously. Even though the post had no use of obscene language, an FIR was lodged against it calling it "derogatory". On the other hand, the comments made by various people on the post had been extremely uncouth and licentious. This has led us to believe that the people who are protesting against the post are doing so with ulterior motives. The threats to the Assistant Professor's life in the comments have also made it abundantly clear that many of them are quick to act violently and irresponsibly. "
In the Annexure to the Memorandum, the students have attached a multitude of literary sources and critical studies of Ramayana in an attempt to clarify the rationale of their contentions. The Memorandum concludes by saying,
"Throughout the years, he has served his office with impeccable diligence, dignity and dedication and is hailed as an esteemed professor. It goes beyond doubt to say that Anindya Sen is an asset to this university as a professor. Therefore, we make a fervent appeal to your bounteous authority to reconsider the previously submitted memorandum and take into consideration that every discipline has its own nuances, area of operation and research. One cannot simply act recklessly, cry foul or launch a tirade of threats, make inconsequential memorandums and FIRs if the perspective of one person does not suit or, rather, stands anomalous to another's set of beliefs or preconceived notions".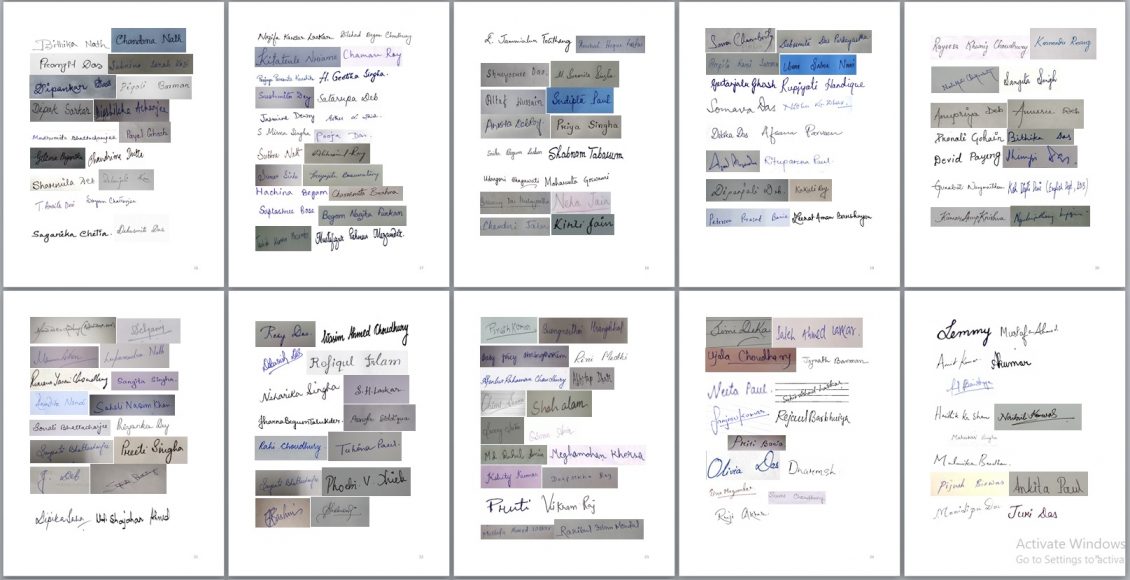 On August 18, a show-cause notice was communicated to Dr. Anindya Sen, undersigned by the Registrar In Charge and issued with the approval of the Vice-Chancellor of Assam University. The subject of the letter stated, "Complaint against a derogatory remark made on religious matter in social media ".The letter further states, "It has been reported and alleged that you have made derogatory remarks against Lord Ramachandra in social media, thereby hurting religious sentiments, belief and faith of large section of people and thereby you were trying to incite communal disturbances by provoking society for religious riots."
The letter directed Dr. Sen " to provide clarification regarding the matter within 2 pm of August 25, failing which an ex parte order decision on the matter shall be taken."
As regards the opinion of the Assam University Students' Union is concerned, Barak Bulletin published a report on August 14, which read as follows – Biswarup Bhattacharjee, President of the Union, said, "Our stand is clear, unless he apologises he can't enter the university premises. We have informed the same to the university authority also"].
However, over a telephonic conversation, Biswarup Bhattacharjee, President of Assam University Students' Union, averred that he was slightly misquoted in our report vis a vis seeking of an apology from the alleged professor. Bhattacharjee said, " Perhaps, there was a miscommunication. As the Students' Union President, I didn't seek an apology from Anindya Sen. All that I sought was a proper inquiry and necessary action."
He further added, " The Students' Union didn't submit any memorandum in this regard. It is a subjudiced matter and the matter is also pending under inquiry. I have nothing more to add here."
In response to the question regarding the " Show Cause Notice", Vice Chancellor of Assam University Silchar, Professor Dilip Chandra Nath said, " You will have all the details in the show cause notice itself".
The ensuing controversy has flared up the age-old debate on freedom of speech and it's constitutional limitations, the balance between critical thought and communal provocations, public sentiments and individual dissent. Many national print media outlets like The Indian Express, The Wire, Scroll, etc have covered this ongoing controversy. It remains to be seen what action, if at all, the University Administration takes against Professor Sen. Suffice to say that a criminal case against the Professor is also under police investigation apart from the inquiry initiated by the Assam University Administration.