Rajdeep Roy chaired 2-Day Disha Committee meeting concludes; water supply and many other issues discussed
The Disha Committee was formed by the Central Government with the aim of coordinating the effective development of all programmes of the Central Government. This committee convened a meeting of the District Development Coordination and Monitoring Committee (DDCMC), chaired by doctor Rajdeep Roy, MP of Silchar today to implement the projects and programs of the Village Development Ministry and other ministries for coordination and promotion to greater impact, including infrastructure, social and human resources development.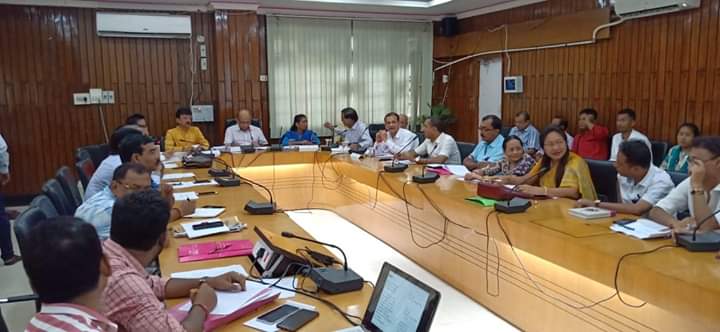 The Member Secretary Laya Madduri, and MLAs Mihir Kanti Shome, Kishore Nath and Amar Chand Jain, Shashank Shekhar Dhar, Kaushik Rai, ADC Bikram Dev Sharma, ADC Jessica Rose Lalsim, Project Director DRDA Rasaraj Das and officials from various development departments also participated in the meeting.

At this meeting, Rajdeep Roy said that the Central Government has decided to upload details of the progress of various projects in each district and advised on how to further develop these activities through dashboards. It is appreciated for its proximity and transparency in India operations (Rural).
The progress of the work is reviewed in the meeting are the construction of toilets in rural areas of the district, the supply of clean drinking water, drinking water supply in Silchar Lakhipur area, various steps taken by the district fishery department have also been discussed and highlighted through a powerpoint presentation. Apart from this, the different departments of District like Municipality, Town and Country Planning, Agriculture, Irrigation, the meeting was reviewed by emphasizing the proper implementation of central projects of various departments, including Centrally Sponsored Projects, SAGY Projects, etc.
Rajdeep Roy discussed the functioning of the Animal Husbandry and Veterinary Department and gave necessary instruction to the officials of the concerned department. In the meeting, it was also discussed about the supply of drinking water in new Silchar areas and necessary steps will be taken in this regard he said.
It is to be noted that in the two-day meeting of the DISHA Committee, it was decided that the committee will meet four times a year, i.e once in every three months and it will review the effective and proper implementation and progress of all the projects of the Central Government so that the results of the Government projects will be enjoyed by the public. And no compromise will be made on this matter