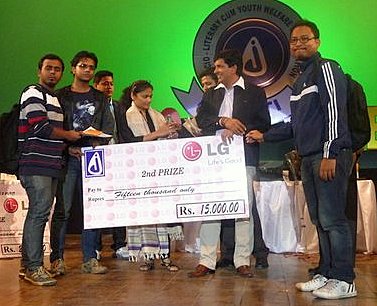 Reminiscing the memories of "Jyoti"- writes former runner-up Kapinjal Chowdhury
Jyoti started in the year 1990 as a literary cum youth welfare organization, and within no time, it's flagship programs NERICID- Northeast Debate competition, NERICIQ-Northeast Quiz competition has gained national recognition.
I was born in 1990, coincidentally, and I was introduced to "Jyoti" when I was in class 6 by my father (Kamalesh Chowdhury) who was revered as one of the best debators from Silchar.
It was a merit test competition and as far my memory goes, it was perhaps the first event (remotely linked to quizzing) that I took part ever. Intrigued and mesmerized by the thrill of learning something new, I started taking part regularly in such merit tests/general knowledge competitions. Taking budding steps to reach a pedestal, I won few, lost few, but as we all know knowledge gained in losses is never wasted. Slowly and steadily, the spurt in confidence made me overcome my initial inhibitions and I started taking part in school quizzes in Silchar.
The first flirt with an achievement of highlight occurred in 2005. I was in class 9, when our team (partnering Kamanasish Chowdhury and Amartya Choudhury) qualified for an open quiz at NIT Silchar and that boosted our confidence immensely. Apart from quizzes on the occasion of "Barak Utsav", "Einstein day", knowledge enthusiast from Silchar were not exposed to much quizzing.

I moved to Guwahati to pursue my engineering in Assam Engineering College in 2009 and only then I got the flavor of Live General quizzes and people like Abhra Das, Dilip Kumar Baruah (considered the father of quizzing in Northeast India), Vinay Upadhyay, Dilip Kumar Sharma took great care to make Assam quizzing at par with other quizzically active places in India like Bangalore, Delhi or Mumbai.
As fate would have it, I got to represent my college in my hometown in NERICIQ in the year 2011 with Chiranjit Gam and Nirmalya Biswas. We fared well and emerged as the runners up in the quiz. I still have vivid memories about the quiz which was conducted brilliantly by Rajiv Saha.
After a hiatus of eight years, Jyoti's NERICIQ and NERICID events are back and it gives me immense joy, and I would like to thank the organisers for putting all the efforts.
Special Thanks to Dr Rajdeep Roy, Ravi Patwa, Sunil Mohta, Gaurav Pal, Gautam Goswami and other for continuing a legacy, for giving the state and the country some of the brightest minds…