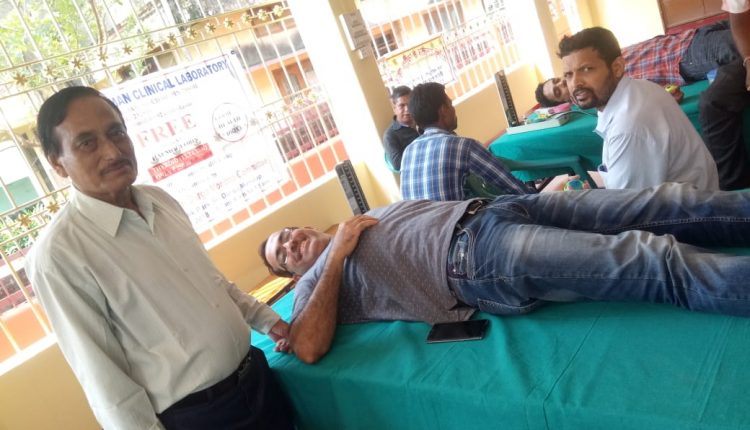 Shivalik Park organises blood donation and health check-up camp at Durga mandap
It's rightly said that a little awareness can make a big difference. It can even save a life.
With the intent to aware people about their health, Sunday club, an arm of Shivalik Park Durga Puja Committee organised a health checkup in association with Human Clinic Laboratory. Alongside that, a blood donation camp was also organised in the memory of Suman Choudhury, a resident of Shivalik Park who succumbed to thalassemia last year.
Close to 25 resident of Shivalik Park donated blood and about 40 took part in the health checkup. "The blood donation camp was set up under the supervision of Silchar Medical College and Hospital's blood bank," informed Debashish Paul, secretary of Durga Puja Committee.
He added, "We did it last year too. This setup is to inform people about the various health issues. It is also an attempt to ensure that no one dies because of blood shortage."
Last year, the health checkup was done in association with Appollo diagnostics center, and this year, Human Clinic Laboratory supported the cause, "Basic tests like hemoglobin and all are done free of charges. While for other tests, a subsidised fee is charged," shared Prasenjit Roy Choudhury, member of Durga Puja Committee.
Excitement is rife in entire Barak Valley as the Durgo-Utsav is just days away now. All pandals and Puja committees are burning their midnight oil to figure out the opening ceremony and inauguration plans. Shivalik Park Puja Committee sets a noble precedent by setting up a blood donation and health checkup camp.