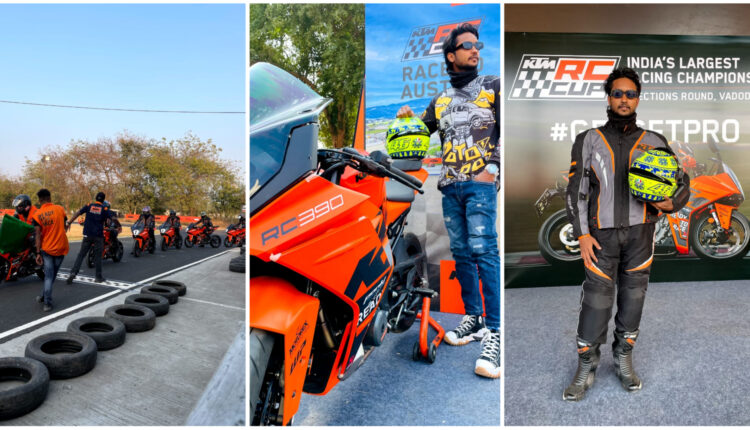 Silchar boy represents Assam in the KTM RC Cup held in Gujarat; Qualifies for the second round
Ever since the advent of the Indian reality show MTV Stuntmania more than a decade back, the art of motorcycle stunts has steadily amassed a growing cult in India. Even in the Northeastern part, we have many two-wheeler stuntmen making a successful career out of it in mainland India through varied platforms.
One such instance of a bike enthusiast and a professional stuntman making a name for himself is Rukser Laskar from Silchar, who recently participated in the inaugural KTM RC Cup, held at Vadodara, Gujarat, and has already qualified for its second round. And what's more, Rukser happens to be the only participant belonging to Assam, making him the sole face of the state.
Hailed as India's largest racing championship, the competition is anticipating more than a thousand participants thronging from all over India. The first round is supposed to take place in 8 cities – Mumbai, Vadodara, Delhi, Ranchi, Hyderabad, Bengaluru, Coimbatore, and Chennai. From there, only 80 participants, with 10 from each city, will qualify for the qualifier round of the Championship, due to be held on January 29-30, 2023, with Silchar's Rukser being one of them.
Belonging from the Ghaniala, Malugram area of Silchar, Rukser is a full-time professional bike stuntman who commands amazing control over his riding skills and how to make it dance as well on his fingertips. And this gift of his has earned him a ticket to the qualifier round of the KTM Championship due to take place in Chennai later this month.
"I have always been obsessed with motorcycles right from a pretty early age. And my parents, especially my father have always acknowledged that which is why I've been able to learn riding and later, the skill of doing stunts," says Rukser. He has been doing stunts with motorcycles for years now, which has also made him a professional in this field.
Be it the entertainment or film industry, a good and reliable stuntman is in great demand owing to their heart-skipping showmanship with the motorcycle, which keeps everyone at the edge of their seats. Keeping 'risk' at the center of their play, their stunts have often been cited as nothing short of sheer wizardry. Rukser said, "Here in Silchar, we don't have any infrastructure for racing or stunt enthusiasts to practice or even learn this skill. That's why most people like us end up doing that on the highways where at least there's no traffic issue to tackle with."
Rukser also commands a huge following on social media, with millions of followers subscribing to his bike stunt videos. Yet, it was Rukser who had to face the brunt of the law only a month back when a few of his videos went viral where he was seen doing risky stunts, playing with fire while riding, three pillion riding, and more. The videos, which were shot on the Mahasadak highway of the East-West corridor, attested to him violating the road safety rules, for which he was nabbed by the Cachar police.
He was later released by the police, but Rukser said that even though he admits breaking the law, he has always abided by the safety protocol as much as he can. "I understand what I did was not right, but I always wear a helmet and protective gear even before sitting on my bike. I even urge people and my social media followers to do the same, but if the administration does not provide us with some basic infrastructure for people like us to learn and practice the craft, what other option do we have?" asks Rukser.
All the participants in the Championship are racing on the KTM RC 390 GP Edition bikes. The top 20 bikers from the qualifiers round will compete in the finale, which will be directed by ex-MotoGP racer Jeremy McWilliams. The top three KTM RC Cup winners will then visit KTM's global headquarters in Austria where they'll receive race training from KTM experts.