Son of India and Sonai Cricket Association reached the quarter-finals of Parul Rani Sharma Memorial Second Division Cricket organised by Silchar DSA on Wednesday.
In the first match of the day held at SM Dev Stadium, Son of India defeated Shanta Sena Club by a huge margin of 99 runs. Son of India won the toss and elected to bat first. They made 176 runs losing 4 wickets in the allotted 20 overs. Chiradeep Dev scored a half-century and remained unbeaten for 58 runs. Besides, Gautam Poddar scored 34 runs, Shubham Mitra Biswas scored 26 and Arash Singha made 19 runs. An additional 24 was contributed. Shanta Sena fielders missed a total of 5-6 catches in the entire innings which made a difference in the match.
Making the run chase, Shanta Sena was bowled out at 77 in 19.1 overs. Anubhav Dev of their team scored 38. An additional 24 was made. Pritam Dey and Chiradeep Deb took three wickets each while Suraj Ghosh took two.
In the second match of the day, Sonai defeated Town Boys Club by five wickets. After this victory, they got to the top eight as a result of a higher run rate. Town Boys batted first and scored 122 runs for 4 wickets. Gopal Das scored a half-century reaching 57. Besides, Tashant Paul scored 26 and Sumit Chandra scored 12 runs.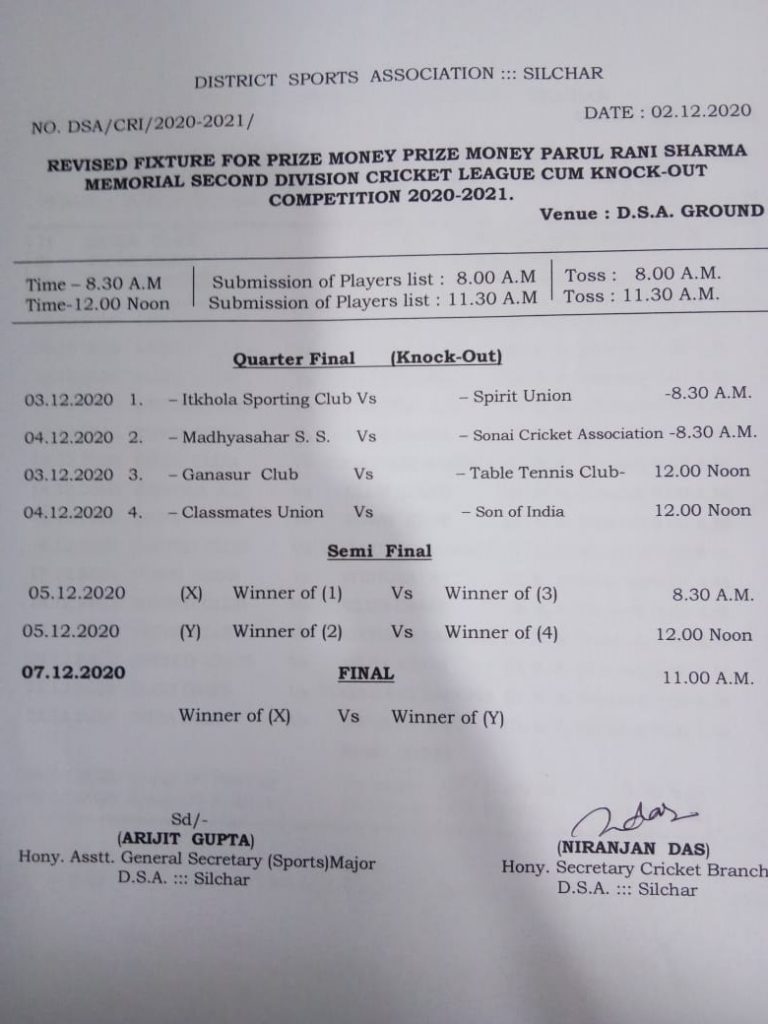 In reply, Sonai reached the target by losing 5 wickets in 16.2 overs. Arup Dey scored a brilliant half-century scoring 60. Besides, Bilal Choudhury did 29. An additional 26 came from extras. Sandeep Dutta took three wickets.
Meanwhile, Silchar DSA has released the schedule of quarterfinals today. Itkhola Sporting will play against Spirit Union in the first quarter-final of the competition tomorrow. In the second match of the day, Ganashur Club will play against TT Club. In the third quarter-final of the tournament on December 4, Madhya Sahar SS will play against Sonai Cricket Association. On the same day, Classmates Union will play against Son of India in the fourth quarter-final. The two semi-finals of the competition will be held on December 5. The final will be on 7th December.