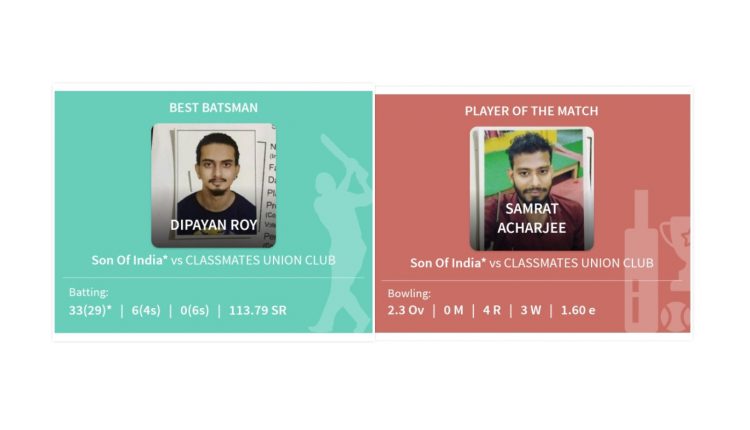 The semi-final lineup of Parul Rani Sharma Memorial Second Division Cricket tournament organised by Silchar DSA got finalised today. Itkhola Sporting and TT Club made it to the semis on Thursday. Son of India and Sonai Cricket Association won tickets to the semifinals on Friday.
TT Club will play against Itkhola Sporting in the first semi-final of the competition on Saturday. The match will start at 8:30 am in the morning. Son of India and Sonai Cricket Association will play in the second semi-final at 12.30 pm.
In the third quarter final of the competition on Friday, Son of India defeated Classmates Union by 9 wickets. The Classmates Union decided to bat first after winning the toss at SM Dev Stadium. However, the batsmen of the team failed to take the pressure of the knockout match. As a result, they were all out for 64 in 15.3 overs.
From the beginning of the match, the Classmates started losing wickets at regular intervals. Ripon Majumder scored 10, Purnendu Singh 10 and Amio Shankar Roy 10. Extras 12 was the highest scorer for Classmate.
Samrat Acharya took 3 wickets while giving only four runs. Besides, Hassan Ahmed Barbhuiya, Jibitesh Bhattacharjee and Arush Singh took two wickets each.
Chasing the total, Son of India reached the target after losing one wicket in 9.1 overs easily. Two openers Dipayan Roy (33 not out) and Shubhamitra Biswas (24 not out) ensured their victory.
Sonai snatched a breathtaking victory in the second match of the day as well as the fourth quarter-finals. They defeated Madhyasahar SS by three runs.
Sonai was invited to bat first in the low scoring match and was all out for 109 runs. Khush Das of their team scored 24, Arup Dey 21 and Sahar Alam 18. Ratna Vir Sharma took four wickets while Shiva Sinha took two wickets.
It looked like an easy victory for Madhyasahar SS while chasing. They scored 76 in 12.5 overs with the loss of no wicket. Subrata Sen (19) and Shiva Sinha (47) batted well as openers.
But then the match turned. Madhya Sahar continued to lose one wicket after another. Four of their batsmen got run out. As a result, they came under more pressure. In the lower order, Priyanshu Barman lit their hopes by scoring 10 runs but it wasn't enough. Finally, with two balls left, Madhya Sahar was all out for 106 runs. With that, their departure from the tournament was confirmed.18 came from the extras but that didn't help either.