Speaking through pencils and paintbrushes: Meet Abhijeet Gotani, the specially-abled artist from Silchar
'Every canvas is a journey all its own' – though I'm not quite sure as to who came up with this proverb, it often makes you wonder what exactly makes someone pick up a paintbrush to create something. Is it the manifestation of one's imagination that is so surreal that even the words fall short? Or is it the reflection of one's own journey, narrated through each intricate stroke of pencil or paintbrush? Whatever the inherent drive is, when it comes to Abhijeet Gotani, painting comes as something more natural and cardinal to him. The 27-year-old artist from Silchar, Assam has made a name for himself over the last few years by making stunning portrait sketches and oil paintings of personalities ranging from film stars to cricketers to even religious leaders. Also happens to be a Silchar super division cricketer, Abhijeet is a specially-abled person, a condition that obstructs his ability to hear and talk. But that never deterred him from dreaming big, as Abhijeet Gotani shared his experience of an artist's journey with Barak Bulletin in a friendly interaction. 
A lone child of a trader Marwari family, Abhijeet Gotani first got the taste of colours and canvas at the age of 9, when he got himself admitted to the Rupam Art Academy under the tutelage of Late Bhaskar Gupta. "My mom was pretty strict regarding my study and drawing. She taught me how to curve a pencil and pushed me till the drawing came out perfectly. Even at that age, I used to feel bad for myself watching the elders draw so beautifully", said Abhijeet about his first-ever interaction with the art of drawing. He continued his formal education from the Maharishi Vidya Mandir, where he got total support from them, and also simultaneously completing his Visarat (7th year) in painting. 
"After completing my Visarat, I kind of lost interest in drawing and almost gave up on that for 4 years. My family members and my Guru late Bhaskar Sir used to ask me why I gave up on painting, to which I had no answer at all. Especially, my mom and my maternal uncle used to scold me for giving up on painting as they used to emphasize that it might change my life sooner or later so I shouldn't leave it at any cost", said Abhijeet while recounting the days when he had almost lost hope in the world of colours. Then in the year 2014, he got to visit his hometown Sadarshahr in Rajasthan and spend 5 months there, which proved to be a pivotal turn in his life. "One day in Sardarshahr, one of our relatives came asking me to participate in a small exhibition organized by the Jain community there. There I sketched two portraits of our Gurujis, which got an appreciation from everyone present in the exhibition. It reinstated my love for sketching and then my journey began from there. After that, I sketched my dearest sister's portrait and got appreciation which made me feel very excited. Then I did my family members' portraits, after which I got my first order which I charged only Rs 200. But it did help me to understand that I can earn money to survive through my creativity of painting."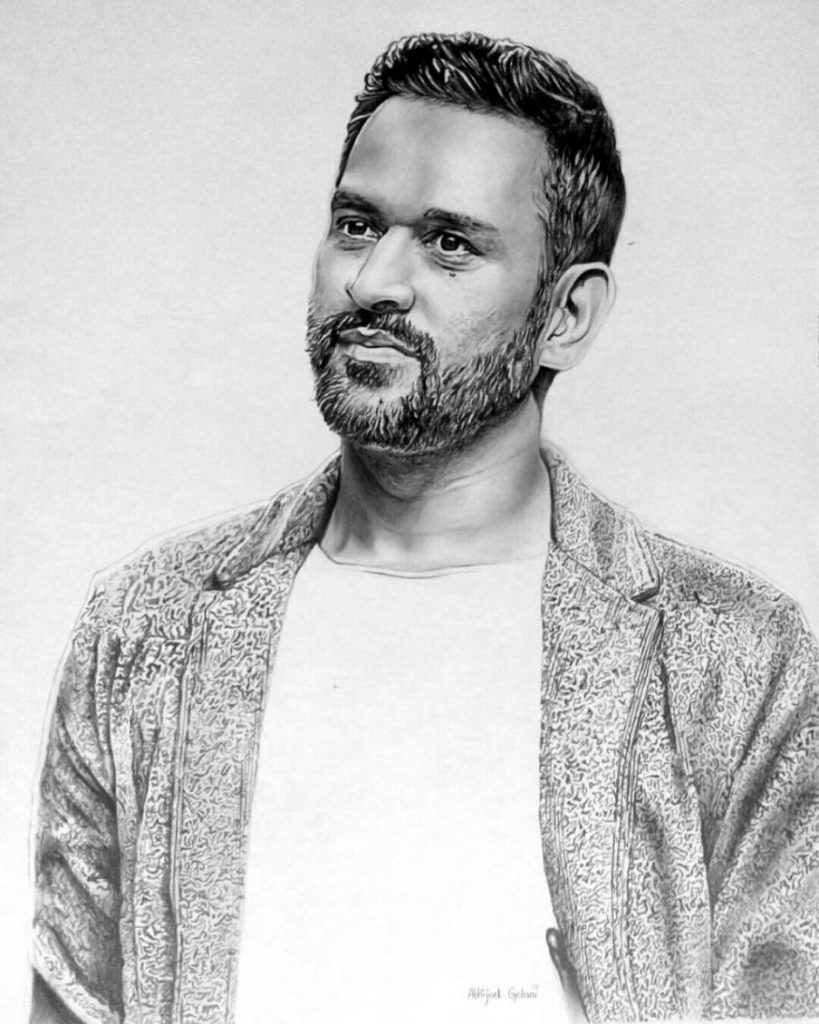 Growing up, his physical impairment never halted his strive for excellence, even in formal education as he secured 8.2 grade in 10th Boards and 77% in 12th Board examinations. Then he did his B.Com from the Lalit Jain Commerce College in Silchar. The paintbrush and pencil were his allies and he told stories through them. "The first portrait I uploaded on Facebook was of Deepika Padukone, after which many likes and appreciation made me excited and I also started sketching some on personal order and some for my friends," said Abhijeet about his talent's first foray into the outside world. To perfect and fine-tune his skills, he keeps on watching videos on YouTube and Instagram to gain more knowledge. The jaw-dropping attention to detail in his works, be it a sketch or painting, has garnered him a decent set of followers in social media, as his reach kept improving. 
Further adding, he said, "In the year 2017, I requested an NGO to help me to present the sketches of MS Dhoni and Virat Kohli to the legends themselves after which I got recognition from many people as I got attention from the media as well. Then in 2020 during the lockdown, I got a surprise gift in form of two orders from England, both of whom happen to be sisters. It was also the year when the Covid-19 took away my beloved teacher Sir Bhaskar Gupta from us. That was a huge personal loss for me as there was no one left with whom I could share my happiness belonging to art. Without him, everything seems lonely and there's nobody to share my struggle with." 
Apart from sketching and painting, Abhijeet Gotani also loves Cricket as he plays as a leg spinner in the super division. There too, he had the fortune of sketching a few of his teammates whom he considers very dearly. "As for the cricketers – Prakash da, Masarob da and some others, I love them dearly so I gifted them their sketches and the rest I did for orders," said the artist about his sketches of local and Ranji cricketers. The fingers that are responsible for putting canvasses to life with a combination of colours have also worked their charm on the cricket ball, as the wrist spinner took 13 wickets last year in the Super Division tournament. 
But between Cricket and Painting, he asserts that his family too prefers him to opt for the latter as his career choice. "The most special day of my life was during the 25th-anniversary event of Maharishi Vidya Mandir, Silchar. I presented a portrait of Maharishi Mahesh Yogi to the school on 19th January 2020 and on 21st January, the school called me on the stage of Rajiv Bhawan where I got a standing ovation from the students and all school staff. The most memorable moment of my life till now. Also, in the year 2010, I was honoured by my school Maharishi Vidya Mandir for both scholastic and non-scholastic performance." 
As of now, Abhijeet Gotani is employed temporarily as a Fine Arts teacher in his alma mater Maharishi Vidya Mandir, while also working as a freelance artist who takes orders on requests. Striving incessantly towards getting better, has been able to touch the lives of so many people with his almost real-life sketches and oil paintings. As the great 19th-century Dutch painter Vincent van Gogh said – "Art is to console those who are broken by life", is perhaps more fitting here than anywhere else.
Here is a slideshow of his sketches
Sketches of Abhijit Gotani
Prev
1 of 18
Next