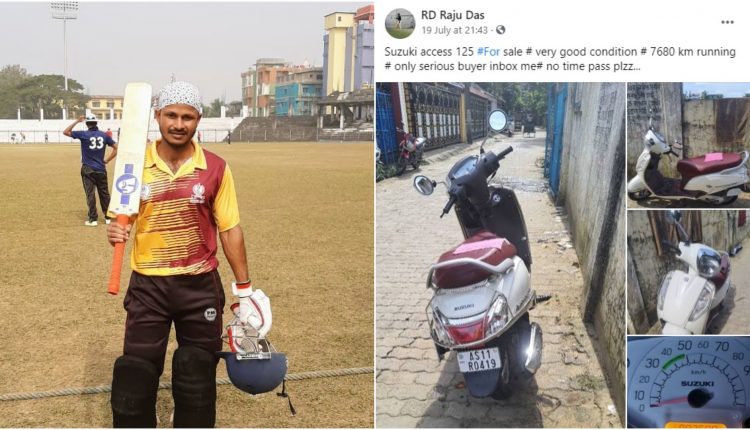 Star Batsman of Cachar, State Cricketer Raju Das sells his scooter to accumulate funds for surgery
On June 29 a Barak Bulletin report explored the poor financial condition and struggles of the Cachar district cricketer Raju Das. Due to the financial crisis, Raju had started working as a delivery boy under a gas agency in Silchar. But sadly, although Raju's story received a great response, literally nothing happened in real life. Because this right-handed star batsman of the district is still stuck in the same difficult situation as before. Rather the situation has become more difficult for him now.
Raju has been suffering from shoulder problems for the last few years, which is still bothering him. This talented cricketer from Silchar had to fight not only with the financial crisis but also against the problem of a shoulder injury. Raju suffered a shoulder injury while fielding in a warm-up match for the Ranji team back in 2017. Raju was sent to Guwahati Medical College by the Assam Cricket Association due to serious injuries. From there he was referred to the AIIMS in Delhi. Raju's rehab process started in Guwahati. While in rehab, Raju had to go through many obstacles. However, the right-handed star overcame all the injuries due to his fighting spirit.
But after recovering from the injury, unfortunately, a new problem appeared on Raju's shoulder. Although he did not have a problem while batting, he started feeling pain when he tried throwing on the field. Off-spin bowling was also a problem for him then. So he has not bowled in the last two to three seasons. He has been playing in all formats of domestic cricket for the last two or three seasons carrying this problem. As the shoulder problem continued to worsen, he had to go to the doctors once more to overcome it. They suggest that the problem can be overcome with the help of surgery. Which will cost about 2.5 to 3 lakh rupees. Even at such testing time, Raju relied on cricket only. He thought that with the help of the Cricket administration, he would somehow overcome this issue. Meanwhile, he had already signed a contract with the India Club in Silchar. According to the contract, he will play for India Club in the next two seasons. And in return, India Club will offer him one lakh rupees.
Even then, a lot of money is required for the surgery. Despite many attempts, Raju could not raise the rest of the money for the surgery. Raju, who is arrogant in his repressed nature, is not in favour of borrowing money from anyone. Hence, he was forced to sell his favourite scooter to raise money. Raju said, "I bought this scooter after playing cricket for two years and saving a lot of money. So much emotion I had attached to it. But what else can I do, I still need a lot of money for this surgery, as it is vital to save my cricket career. So I was forced to sell the scooter. Initially, ( thought I would make an arrangement based on cricket. But I could not, and now I feel very bad about it."
Raju will leave for Patna on August 16. He is scheduled to undergo surgery at a hospital there. But before that, there will be several medical tests. The doctors will decide on the surgery only after seeing their reports. Raju had written a letter to the Silchar District Sports Association regarding help in this surgery. But so far no help has arrived yet. The star cricketer of the district said that the Secretary of the association Bijendra Prasad Singh had asked him to submit a report on all the expenses of the treatment. The Silchar District Sports Association has a Players Welfare Fund. The question is, why Raju has not received any help so far despite having funds. But right now, he needs the money most.
The Assam Cricket Association was also e-mailed by the Silchar DSA for the surgery. But there was no reply. Raju has represented the state team in different age-based groups. Not once or twice, but on many occasions. He was also in the trial camp of the Ranji team. In the 2002-03 season, Raju went to Ghaziabad representing the Assam team's under-15 exposure tour and performed well on the tour. As a result, he also got a call from the under-15 state team. But got stuck in the medical test. After that, he played twice in the Vijay Merchant Trophy for the under-17 Assam team. The right-handed stylish batsman from Silchar has also played in the Veenu Mankad and Coochbihar Trophy in the under-19 state team jersey.
In 2014, he was a member of the under-23 state team. Despite all this, Raju could not secure a government job. His family is not financially prosperous as well. As a result, this star cricketer of the district has to face a difficult challenge in every moment of his life.