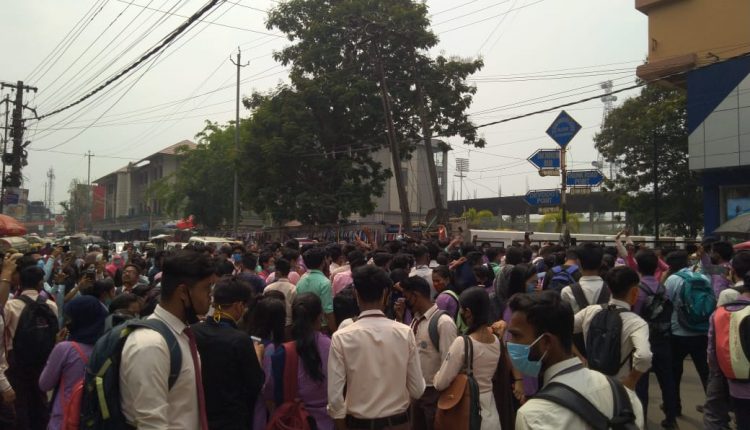 Students' Protest in Silchar: District administration calls Principals of colleges for an emergent meeting
Traffic jams and crowded roads have crippled the already congested Silchar. The reason behind the immense harassment of the general public is the students' protest going on at the heart of the town. For the third consecutive day, the students of colleges affiliated with the Assam University Silchar are staging a demonstration. Their demand is that the Assam University Silchar must conduct online examinations for the TDC students as it is doing for the internal students.
The Assam University authority has already communicated to the protesting students that if the principals of the majority of the affiliated colleges write to the controller of examinations, then the University is open to conduct the examinations online. Registrar of Assam University Silchar, Dr. Pradosh Kiran Nath, in an interview with Barak Bulletin said that there is no discrimination.
Also Read: "Assam University is open to 'online exam' provided principals write to us," Registrar Dr. PK Nath
The agitating students have accused the Assam University Silchar of discrimination. Nath ruled it out. He said, "Assam University is a hostel-based institution where a significant number of students study by staying in the dormitory. The district administration had taken the hostels for COVID purposes and we only got them recently. After that, our faculties were in training duties and that is why we could not start offline classes. From April the offline classes will start and therefore the subsequent semester examinations will be conducted offline. Because their classes were online, their examinations are being conducted online. The affiliated colleges held offline classes and therefore their examination is being conducted offline, there is no discrimination whatsoever."
Now, the district administration, in order to reach a solution has called for a meeting at the conference hall of the deputy commissioner's office. In an emergent meeting, all the principals of colleges in Cachar and the registrar of the Assam University have been invited. The meeting is scheduled to held at 3:00 pm.
It is worth mentioning here that students from Karimganj and Hailakandi have also joined in the agitation.