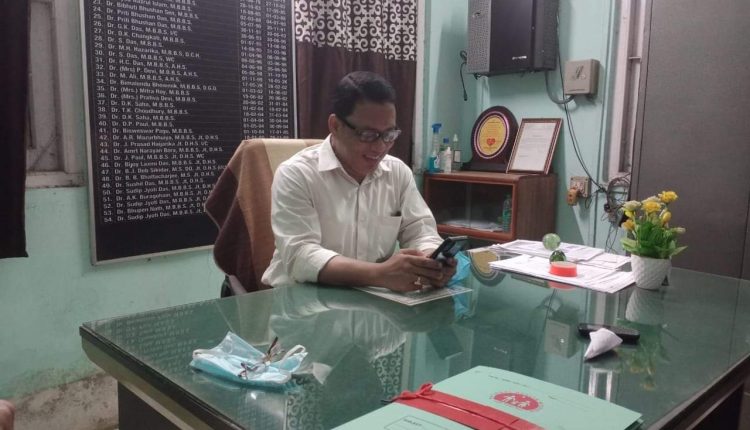 Tarapur's Dr. Ashutosh Barman joins as Jt. Dir. Cachar Health Dept. "Vaccination would be my immediate focus," he says
Dr Ashutosh Barman of Tarapur, Silchar has been appointed as the Joint Director of Health Services, Cachar today. The former Joint Director of Health Services in Hailakandi district has also served as the SDM & HO at the Borkhola Block PHC and later, as the Superintendent of the SM Dev Civil Hospital in Silchar, Cachar.
Dr Barman is a resident of the Barman Galli of Tarapur area in Silchar. Talking to Barak Bulletin about his recent appointment as the Joint Director of Health Services in his own district, Cachar, Dr Barman said that he's elated as well as excited to get to work in the Cachar district and address some core health issues of this region.
"After getting appointed as the Joint Director, my first and foremost aim would be to make sure that the entire district gets vaccinated against Covid. Although Cachar's vaccination rate is going at a decent rate, the overall vaccination percentage of the district currently stands a little over 60%. So my aim would be to target that 40% who are left to be vaccinated and especially put emphasis on the people living at the fringes of our society", said Dr Ashutosh Barman.
He also stated that apart from Covid vaccination, other health-related issues like maternal mortality rate, infant mortality rate, developmental infrastructure and health services, etc. would also be on his prime focus as the Joint Director of Health Services.
"It's a long journey and there are many milestones to achieve for the district along the way. Hence, we'd need support and cooperation from all walks of life, starting from administration to government to common people, and various other stakeholders like media as well, to make Cachar healthier and more hygienic than ever before", asserted Tarapur native Dr Barman.
It is noteworthy to mention that Dr Ashutosh Barman completed his MBBS from the Silchar Medical College & Hospital (SMCH) and later did his post-graduation diploma from the Gauhati Medical College & Hospital (GMCH) during his academic years.