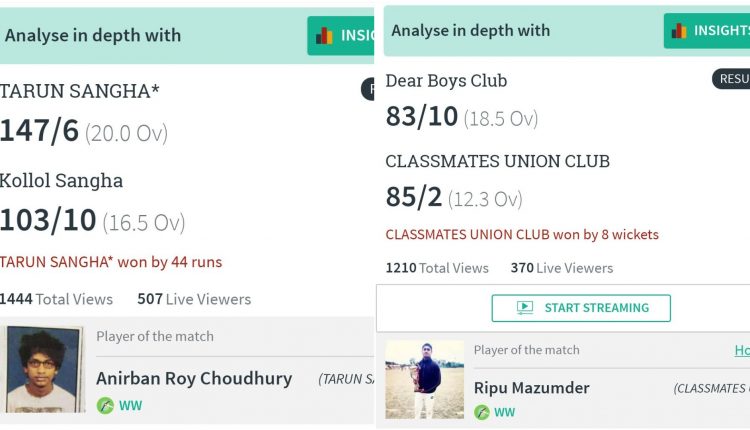 Parul Rani Sharma Memorial Second Division Cricket tournament has reached the last stages of the league round. From the league round, eight teams will qualify for the knockout stages. In today's first match played at Satindra Mohan Dev Stadium, Ambicapatty-based Tarun Sangha played against Kallol Sangha. Both the teams lost their first match against Spirits Union and there was no chance of qualification for either. However, the relegation cloud was looming large over both Tarun Sangha and Kallol Sangha.
With a lot to play for, Kallol Sangha won the toss and decided to field first. Tarun Sangha got off to a fast start and the opening partnership between captain Anirban Roy Choudhury and Samarpan Deb went on to put 79 runs on the board. After scoring 38 of 29 balls, Anirban Roy Choudhury got dismissed. Samarpan got run out after scoring 39 runs. Sujal Paul's unbeaten 21 and 27 extras helped Tarun Sangha put a target of 147 for Kallol Sangha to chase.
Veteran Sanjay Dutta took two wickets for Kallol Sangha while Salman Barbhuiya picked up another two.
Chasing 147, Kallol Sangha did not get the desired start. The openers were too slow and that brought the entire team under pressure. Eventually, Kallol Sangha crumbled after scoring only 103 runs. Gautam Das scored 24, Apu Dutta added 14 and Arijit Chanda scored 13. There was no other batsman who scored in double figures.
Anirban Roy Choudhury picked up three wickets for Tarun Sangha after conceding 12 of his four overs. Samarpan Deb picked three wickets too. With the victory, Tarun Sangha saved itself from relegation doubts.
In the second match of the day, one of the favorites to win the tournament, Classmates secured an easy victory against Dear Boys. Batting first, Dear Boys scored only 83 runs and they could not play their whole 20 overs. Rajesh Goala scored 23, Muktar Mazumder added 20 and Iftiqar Laskar scored 12. They got 18 from extras. For Classmates, Abhijit Das, Dipu Shil, and Sujit Kurmi took two wickets each. But the star of the bowling performance was Ripu Mazumder who took three crucial wickets to break the backbone of Dear Boys' batting lineup.
The easy total can turn out to be tricky at times, but the Classmates were disciplined with their batting too. They chased it down in just 12.3 overs. Dhrubojyoti Sinha scored 34 and Ripu Mazumdar contributed with 21 runs. With the win, Classmates secured a berth in the quarter-finals of the tournament.