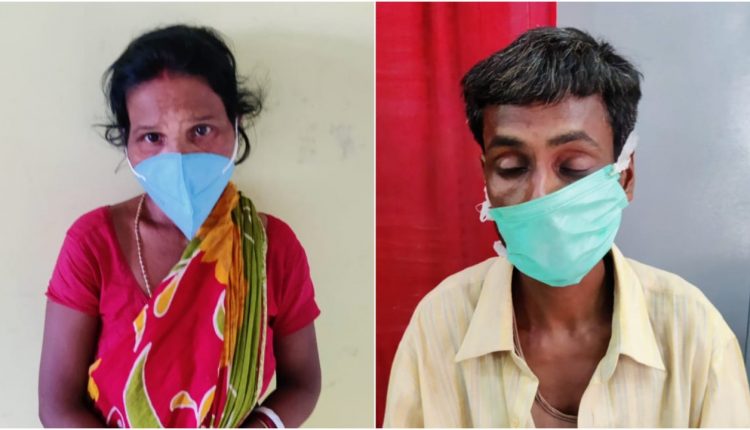 Tea Garden worker in Cachar kills husband out of anger by slitting his throat; Wife and brother arrested
A 39-year-old woman has been arrested by the police in Haltia Tea Estate of the Cachar district today on charges of killing her husband. According to the police, she had killed her husband by slitting his throat with a sharp weapon. At around midnight on Monday. A quarrel broke out between the husband and wife, and the latter, allegedly, in self-defense sliced open a portion of the husband's throat with a sharp weapon.
However, in the morning, the wife tried to sell a different story to her neighbours, by claiming that some unidentified men entered the house at night and killed her husband. The Police found in the preliminary investigation that there was sufficient evidence against the wife. When she was taken to the Police Station for interrogation, she admitted that she had attacked her husband's throat in anger. Police recovered the bloodied body of the victim from the house. Her brother-in-law Ajit Kayastha has also been arrested along with Sumitra Kayastha.
Sadar Police Station OC Ditumani Goswami said that a resident from the neighbourhood called them on Tuesday morning to inform them about the incident following which a team of police arrived on the scene immediately. After arriving, they found that a body of a man lying in a bloody state in his bed in the house. At first, when they listened to the wife's story, they initially believed and thought that maybe someone came from outside and did the job. The dead victim's wife claimed that the miscreants broke in and forced themselves in. But the police found no evidence of any break-in in the door. The wife's earrings with bloodstains were also found outside the house. After that, she was detained after several other pieces of evidence were also found against her. When the police interrogated her, she eventually confessed to killing her husband.
According to police sources, during interrogation, she said that her husband used to beat and physically abuse her under the influence of intoxication and due to that she was mentally devastated. On several occasions, her brother-in-law tried to stop their quarrel and save his elder brother's wife from further abuse. When Sumitra Kayastha slit her husband's throat out of anger in the middle of the night on Monday, the police suspect that Ajit Kayastha helped her in this effort. And that is why he too has been arrested.
Gouranga Kayastha and his wife Sumitra Kayastha are tea garden workers. Their financial situation has been deplorable since the lockdown started. They have four children, which is causing unrest in the family. People in the neighbourhood have witnessed Gouranga Kayastha beating his wife on several occasions.
Additional Superintendent of Police Partha Pratim Saikia said that the victim's wife and younger brother are still being interrogated. The police have gathered several pieces of evidence against him, and he will be arrested if it is proved that he was conspiring against his brother. After interrogation gets completed, the police will file a case against them.