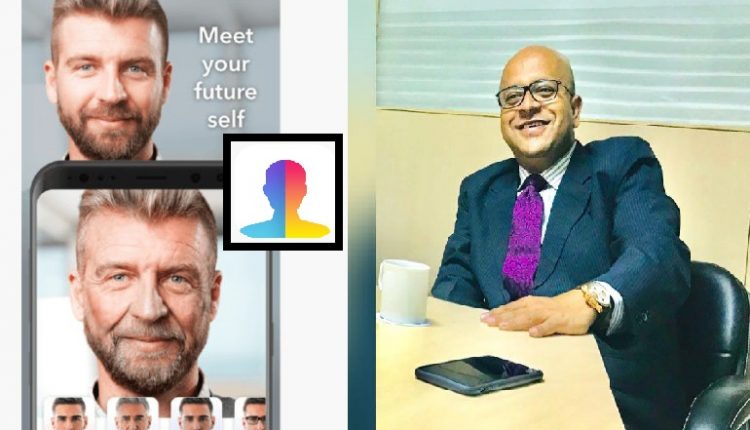 Terms and conditions that FaceApp makes a user sign is definitely worrisome: Subimal Bhattacharjee
In the age of social media, likes and reactions are certainly the currency that motivates millennials the most. Since last few days, a large number of netizens (more than 150 millions) have used FaceApp to have a sense of how they would look once they grow old. Russian Web developing company 'Wireless Web' FaceApp uses special effects to render an image and give the uploader a sense of how the person in the image would look once he or she grows old. Basically, it is an aging filter. One can upload their own images or even images of friends and foes. The fear of missing out ensured that it soon became a trend that everyone followed. 
The democrats in the US started demanding an FBI investigation as they felt the data fed in the app was unsafe since it was in the custody of Russia. Soon after that a counter-narrative to what seemed like just another innocuous Social Media trend started emerging thick and fast. Experts started brainstorming to figure out, what were the FaceApp users losing in order to get a few likes or reactions on social media.
The issue that got highlighted the most was a clause in the terms and conditions of FaceApp. It stated that users give FaceApp "a perpetual, irrevocable, nonexclusive, royalty-free, worldwide, fully-paid, transferable sub-licensable license to use photos they upload." This basically means that the app owners can do whatever they want to with the photo uploaded on the platform. 
Former country manager of General Dynamics and one of the most highly recognised experts in cybersecurity and data science, Subimal Bhattacharjee explains it further. He says, "Such apps definitely attract a lot of people and gather their photos. The terms and conditions that FaceApp makes a user sign are definitely worrisome."
He adds, "Our photo is captured and then with A.I (Artificial Intelligence) and also unscrupulous elements could spread/sell this and with facial recognition technology it adds to privacy concerns." 
Not only Bhattacharjee, Privacy International, an organisation that monitors apps and websites for privacy risks and violations too found FaceApp as a potential threat to privacy. In a statement, the research body said FaceApp could misuse the information it is gathering and there is very little that one could do about it. "In applying filters to peoples' photos, FaceApp will create a detailed biometric map of their faces–which can be as unique to them as their fingerprints or DNA," Privacy International said in its statement.
Now, this is worrisome, is there something the users can do now? Here is what Subimal Bhattacharjee suggests, "Those who have provided their photos to FaceApp should write to them so that the photos are deleted from their servers in 48 hours as they claim to do."
FaceApp is not the only threat, there are many such apps that reside on smartphones and keep collecting data about the users. In a world where data is the new oil, the apps use the data for various purposes, like target-marketing, analysis and few apps even go and sell the data to media planning agencies. Bhattacharjee suggests the less we use such apps the better it is, "Generally, third-party apps should be avoided but when popular apps are subscribed to, minimum and only pertinent information seekings apps should be signed to." He means one must not blindly sign in to all the apps, instead, should take a moment or two to read the terms and conditions. 
When asked, after knowing the terms and conditions of FaceApp and being an expert in the space, would he sign in to FaceApp, he said, "No, I would stay away."
Apart from getting hold of the uploaded photos, there were rumours that FaceApp gets access to the user's gallery and therefore all the other images in it. However, this is just a rumour because security researchers have not found any evidence of it.
The app did issue a clarification which read, "FaceApp performs most of the photo processing in the cloud. We only upload a photo selected by a user for editing. We never transfer any other images from the phone to the cloud. Most images are deleted from our servers within 48 hours from the upload date. We also accept requests from users for removing all their data from our servers."
If smoking is injurious to health, if drinking irresponsibly is hazardous, signing in to apps blindly is equally threatening. It does not pose a threat on the user only, but at stake are all the contacts, friends and family members' images and thousands of other important information that resides in the phone. Read the terms and conditions carefully before signing in an app as you would do before investing money on a fund.