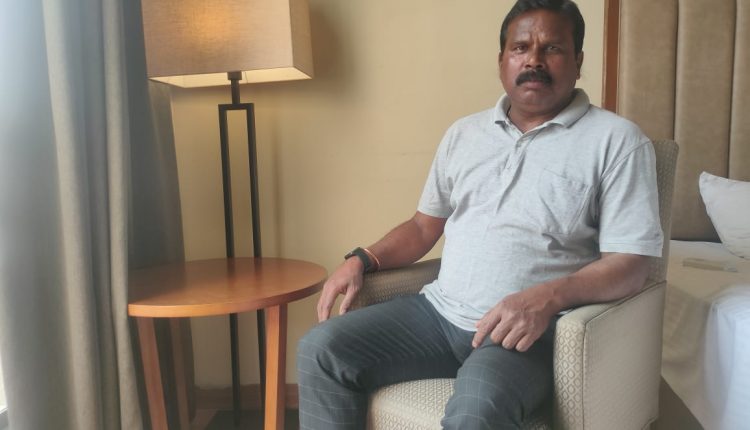 "To find talent like Hima Das, one needs to go to the fringes of rural India," Coach Nipon Das in Silchar
Sprinter Hima Das has been an exemplary figure in the athletic world for not just Assam, but the entire nation for that matter. The Dihing Express today, as she's popularly known, is getting world-class coaching from International coaches from different parts of the world, in hopes of fetching the much-coveted Olympic gold for her nation. But Hima's first coach, Nipon Das, thinks cricket-crazy urban youth don't dream about athletics. If they hope to find talent like Hima, they have to go to the fringes of rural India.
Nipon Das, who was instrumental in Hima's development during her formative years, recently came to Silchar to attend a government function. Before returning home after the conclusion of the function, he shared various aspects of Hima's life in an exclusive interview with Barak Bulletin. Also, his thoughts on the future of the state in the field of Olympics came up. While packing bags for his afternoon departure flight, he opened up on a lot of issues, but not without a tone of optimism.
Even though Hima is known for her express like speed in tracks, her first love was football. It was Nipon Das, who found her, convinced her and her family to make the switch from football to athletics, which has to be the turning point in her life. 'In rural areas like village, apart from Cricket, Football is the most popular sport there. However, there are a lot of other sports activities in those regions which help increase the chances of kids going towards athletics. They are not even aware that there are so many other types of sports available which could catapult them to international success, just like Hima did. Reaching out to them, we must first understand the talents, then provide adequate training for them'.
'A player does not suddenly become world-famous, he needs to improve his body for a long time, of course, it is almost impossible to suddenly become an athlete while playing cricket. There are many factors beyond this, the opportunity and the help of luck at that moment, success comes when all are combined. Hima used to play football, participate in various sports in the village, which has made her physically like an athlete.'
When it comes to sports infrastructure, Assam's Dihing district hasn't seen much improvement over the years. But there have been various sports activities at the government level, which is where Hima's talent and skill caught Nipon's attention. He himself went to Hima's house and after much persuasion, Hima decided to leave for Guwahati for coaching. The rest is history now.
Nipon Das believes that real talent is hidden in the village. He said, "Despite India being such a big country, we are satisfied with a handful of medals we fetch in the Olympics. The reason is that the government has not paid proper attention to the talent of the village. But this has changed in the past few years, especially with the advent of various initiatives like Khelo India Youth Games. This has made scouting of various sports talents available around us quite possible nowadays. Besides, the government is now willing to spend for the betterment of the players, they are not skimping on it. It is possible to provide quality training from the state now.'
"Usually, the success behind any athlete is mainly due to around 60% of physical strength and 40% of mental strength. But in case of Hima, it's quite the opposite, mentally she's quite strong" says the coach when asked about the secret behind Hima's success. Such is her stubbornness that once she sets a goal, she doesn't seem to stop until she achieves it. "Hima, who works much harder than others, spends a lot of time on the track and builds herself up and giver her best in the competition. This is where her success comes from. She is a role model for the new generation today. No matter how much we provide as a coach, Hima takes much more than that. We too learn a lot from her. "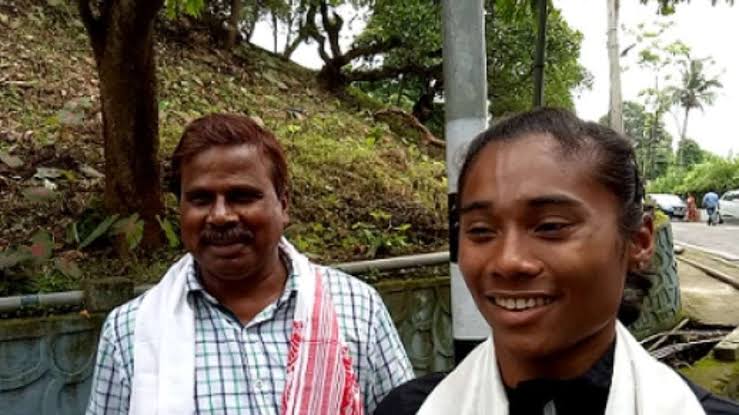 Hima Das was one of the brightest faces in India when the Olympics were scheduled to take place in Tokyo, Japan last year. Due to the outbreak of the Coronavirus, the Olympics got postponed by a year. Keeping in mind the current circumstances of Japan, it's not a distant possibility that the entire event just might get called off, which will mark the second instance of such right after the Second World War.
Athletes from all over the globe prepare for four years for the Olympic games, and Hima Das is no such exception in this regard. When asked about the possibility of the Olympics getting cancelled, the coach said, "Winning a gold medal in the Olympics is the biggest dream of an athlete's life, every athlete from all over the world prepares for this goal, Hima too is doing the same. But if the Olympics get cancelled for Corona, Hima will not be disappointed. Asian Games and Commonwealth Games are also around the corner, and winning a medal there is also no mean feat. Hima is currently preparing herself for the Olympics qualifiers. She may not play in all categories due to injury. The first goal is to qualify for the Olympics in the 200 metres category. She has pain in her abdominal muscles, which will make it difficult to run 400 meters."
"But that doesn't mean she won't participate at all. There are also rallies in the girls and mixed categories. The Indian team has already qualified for the Olympics in the team category. If Hima performs well in the individual category, she might qualify for the team category. For now, her sole focus is on performing well in the 200m category and snatching Olympic qualifications."
The Olympic qualifiers will be held from March 15th to 19th in Patiala, Punjab. The qualifying criteria this year is that in the 100 metres category, the girls will be able to qualify if they reach the target in less than 11.15 seconds. Similarly, the time limit of 200 meters is 22.60 seconds and the time limit of 400 meters is 51.35 seconds. Coach Nipon Das sounded pretty optimistic about Hima's qualification to the eventual world event.
The incumbent Chief Minister of Assam, Sarbananda Sonowal, was once the Sports Minister of the Union Government. There are more sports programmes and events in the state now at the initiative of the government. In this context, he said, "Not only in Guwahati but also in different parts of the state, large-scale sports events are now taking place, talented young men and women can easily take part in such events near home. When they take the field in the competition, their shortcomings are caught and if they perform well, they catch everyone's eye. If we keep on looking for talented young men and women in the right way, it won't be wrong to presume that many more such Hima Das will crop up from our neighbourhoods".