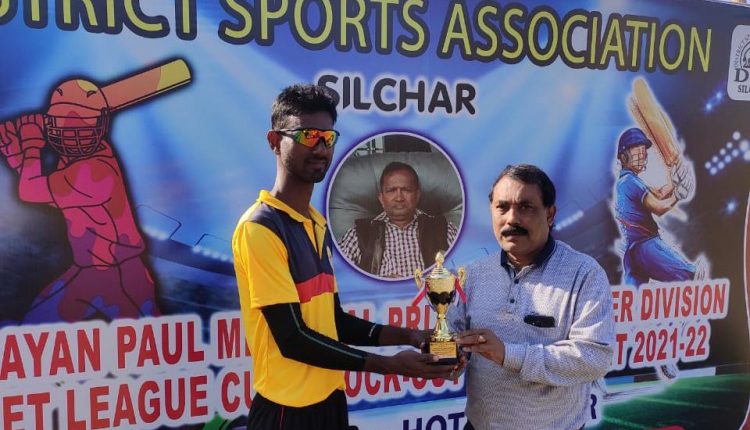 Town Club ends Itkhola AC's unbeaten run; Moves to Semis in style
Town Club remains unbeaten in the tournament as they ensured a comprehensive victory over Itkola AC by 9 wickets on Friday in their last match of the league stage. Itkhola AC remained victorious in the first four matches but they couldn't carry forward their momentum against Town Club. However, it is true that Itkhola AC didn't play this match with their best team combination but this doesn't demean the outstanding performance of Town Club. They have shown the depth of their team in this match.
Itkhola Captin Samik Das decided to bat first after winning the toss in the morning, but the decision came back like a boomerang as their batting order collapsed. Itkhola AC could only manage to score 106 in 34 over. Samik Das (19), Abhay Kumar Yadav (18), Iqramul Ali (14), Abdul Hasan Laskar (15), and Sudarshan Sinha (13) made significant contributions with bat for Itkhola. Anurag Sinha and Sourav Kumar Sinha picked up two wickets each.
The Town Club batting unit is in tremendous form in this tournament, so they chased down the score set by Itkhola with ease. Samik Das tried to push the Town Club line up by picking up one early wicket. Town Club chased the target within 13.1 over by brilliant batting of Left-Handed batter Mujibar Ali and Yasir Ali. Yasir played a blistering inning of 62 of 45 balls, he played some eye-pleasing shots in his innings. Mujibur remained not out at 34, Yasir was picked Man of the Match, Samar Ray handed over the memento to Yasir.
Tomorrow there will be a significant face-off between Tribeni and United Club, this is a do-or-die match for both teams. Tribeni will qualify for the semis as the third team if they can win the match, however, they can still qualify for the final four even if they lose the match. The same applies to United Club too; they will have a chance even if they got defeated. And if United Club wins the match they have to wait for the outcome of the match between India Club versus Jogajog Sangha. If Joajog wins their last match and if Tribeni beats United in the next match, three teams will be standing at 8 points each. In such scenarios, the Net Run Rate will decide who is qualifying for the semis.
India Club seems to be standing at the edge if we look at the point table of the tournament. India club has to win a big against Yogayog otherwise they may be eliminated for Net Run Rate.
The tournament is now reached an interesting stage where there are avenues open for many teams but there are too few chances left.