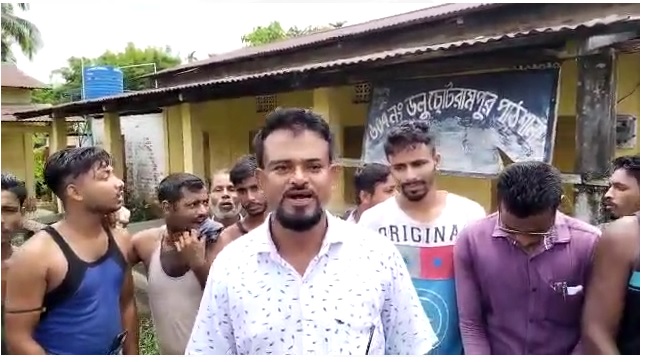 When Education Minister is in the district, Guardians of a school in Cachar gheraoed Gunotsav invigilator, demonstrated
Guardians of the students of 106 Doloo Chotarampur L.P. School in Shalchapra have boycotted the Gunotsav in that school. This came at a time when the Education Minister of Assam, Dr Ranoj Pegu is visiting the district for Gunotsav. The guardians along with locals have protested against the negligence of the Headmaster of the school and Block Officer of Shalchapra, on the premise of the school.
Highlighting the dilapidated condition of the school and the negligence of the Education Department, the locals and guardians have raised their voices. They also gheraoed the external invigilator for Gunotsav of that school. The reason behind this protest, the guardians said, "Since the last four years our children didn't get the facility of mid-day meal and even the uniforms are not distributed".
The school committee's President has highlighted the reason behind this being, "administrative failure". He has said, "Due to some departmental issues with the appointment of the headmaster, the bank account of the school was frozen. For this reason, money for mid-day meals or uniforms was not sanctioned for four years. I've sent multiple letters to the Deputy Commissioner and Inspector of Schools but the issue remains unsolved".
The ward member of that village, who was also present during the protest said, "This school doesn't have basic infrastructure like desk, bench and blackboards and above that the kids aren't getting their basic mid-day meals or uniform. We have visited the Deputy Commissioner time and again and the then DC, Keerti Jalli asked the Education Department to make sure this problem gets solved immediately. But it didn't happen. When I went to the bank to ask why this account was frozen, they said it is a court case and can't be solved without the Block Officer, but the Block Officer is unresponsive".
He further added, "Today when the Magistrate, the external invigilator and police have come to take stock of the situation, the Block Officer is missing from action". It remains to be seen whether the Education Minister intervenes in this matter, as he has will stay in Cachar tomorrow as well for visit to various schools.