While craving national media coverage, don't forget the local heroes; An ode to Cachar's "field journalism"
The river Barak was in a mode of destruction. It joined hands with its tributaries and the rising water level flooded into hundreds of houses forcing thousands of residents to seek refuge in relief camps. It was chaos and carnage. There was uncertainty and so there was curiosity. At such a moment, people turn to the news for information. But who sources them?
As soon as the natural calamity started hitting hard, social media was abuzz with complaints. "Why are the national media channels ignoring Barak Valley?" posts bombarded feeds. Visuals of devastation were shared by tagging the social media handles of news channels. The desperate attempts make one wonder if a minute of "Prime Time" coverage would end nature's furor. The cries and woes were left largely ignored. Channels like the Aaj Tak aired a five-year-old video from Indonesia saying a bridge in Dima Hasao is getting washed away. It was aired with the hashtag #AssamFloods.
Meanwhile, there were local journalists, who juggle many jobs to keep their houses running, and are on the ground bringing in meaningful updates. These are the people who hardly ever feature in bylines or pieces to cameras. They stay on the field, they sweat, their clothes get dirty, and they don't speak fluent English, let alone an accent. Basically, they aren't the elite class and so, they are never invited to speak at events on journalism and media. They are not invited to deliver guest lectures by Assam University's Department of Mass Communication. They are not considered for ceremonious scholarships. They aren't even celebrated on Social Media where "Kacha Badam" and "Dil O Ka Shooter, Hai Mera Scooter" win awards.
While they were running here and there to identify meaningful anecdotes that needed to be shared with the masses, they had water flooding into their own households. Their family members were under stress as roads to their houses got submerged. Bhola Nath, a field reporter who has a small kid called his fellow colleague and asked if DDMA can arrange a boat and rescue them. Water flooded into his house and the landslides dismantled the flooring. He left his wife and kid at one place, other family members at another, and the very next day, attended a minister visit. The minister and his team were all wearing life jackets, but the journalists… well, they are considered pro swimmers, so they don't need one.
Bhola Nath is just one example. Reporters of Cachar, especially Katigorah, Rongpur and other low-lying areas had to carry two sets of clothes while stepping out. One set to wear and cross the inundated parts of the road and another set to wear and interview the officials.
With the advent of digital publications, where there is a significant demand for minute-by-minute updates, the reporters were many a time, speaking on the phone, updating the desk while sailing across a deep water body.
All publications tried their best to keep the local residents updated on the chain of affairs. Be it the evacuation drive at Ditokcherra, the rising water level of Barak Valley, the condition of the Silchar – Shillong road, relief announcements of the government or the special flight rolled out by the government of Assam, information was available across various formats. What wasn't available was reasonable respect to the bravehearts bringing that valuable information.
These reporters, staying true to their core promise, kept the story as the lead instead of highlighting the behind-the-scenes. Nor did they exaggerate the extent of devastation to induce panic among the masses and garner viewership. There was no journalist swimming in knee-deep water. Basically, they did not make a mockery of flood coverage as done by the so-called, "National Media". And maybe, that is why the craving for national media coverage was left unserved despite such detailed coverage across all formats.
The concept of National Media in today's digital age itself needs a relook. News collected in Silchar was published by Barak Bulletin's member who is sitting in Mumbai and readers from Bangalore, Bangkok, Bahrain, Budapest, and more than a hundred other countries read them. Videos were viewed by millions spread across the country. Some of them even downloaded the videos and uploaded them with a different logo. It was not just Barak Bulletin, every other publication was serving the same purpose. So, what exactly is national media, and what is the major difference?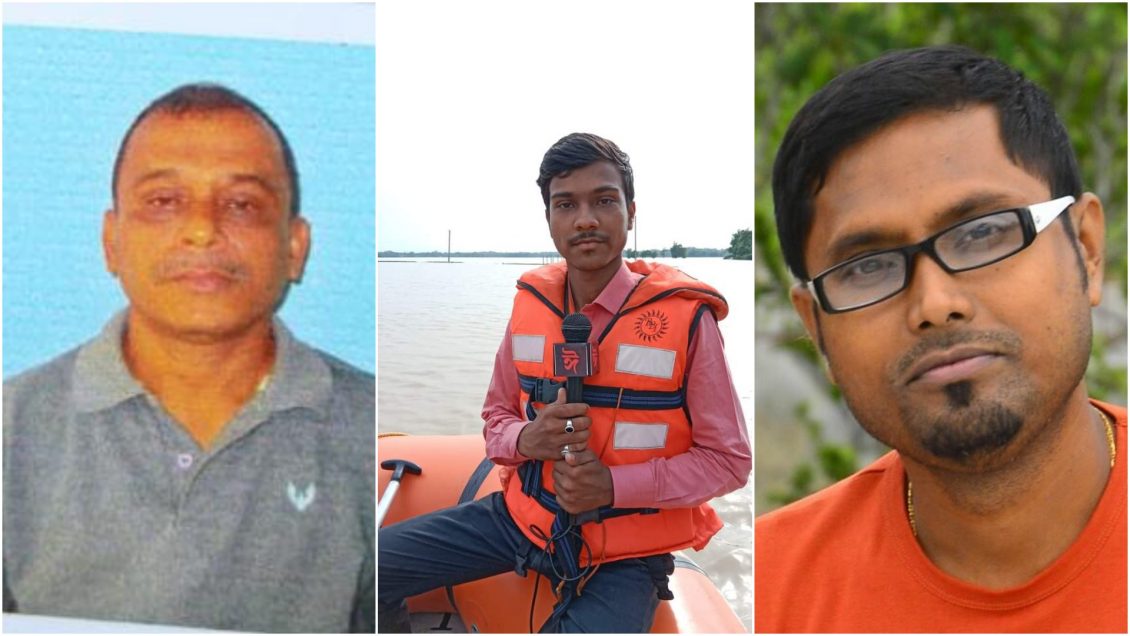 In news coverage and presentation, the lines are blurring. The differences have redefined themselves and in fact, it is well-established that the hyperlocal publications do a better job of highlighting local issues. However, the difference in the other end of the spectrum — "money" remains huge…
These reporters that you have seen in the photographs above and many others like them have very little in terms of security. They might be covering the news better, and presenting it in a better way, but they are not as much as the reporters who do a half-decent job but hold the "national media" boom.
They go to the Mizoram border to cover gunfire knowing that they don't have health insurance. They know that they don't have life jackets when they go to the depth of water sailing on a country boat. Their children are at risk of diarrhea, typhoid, and cholera-type post-flood diseases and they know that they will have to run from post to pillar in search of a medical bed. Despite knowing that this job does not give them back what they deserve, they continue without regret and with passion. This is an ode to them…