Who is Bharat Ratna Nanaji Deshmukh? - Advocate Dharmananda Deb decodes the Bharat Ratna's life and journey 
Chandikadas Amritrao Deshmukh also known as Nanaji Deshmukh, popularly known as  "Nana" (meaning grandparent), is a person who needs no introduction. His sharp intellect and extraordinary organising skills have put an indelible mark in Indian politics.
Born on October 11,1916 in a Maharashtrian family at Kadoli, a small town in Parbhani district, Nanaji had little money to pay for his tuition fees and books. But he had such a burning zeal and desire for education and knowledge that he did not shy away from working as a vendor and selling vegetables to raise money for realising his objective.
In 1940, after the death of Dr. Hedgewar, many youngsters inspired by him joined the RSS in Maharashtra. Nanaji was among those enthused youths who joined the RSS devoting their whole life in service to the Nation. He was sent to Uttar Pradesh as a Pracharak. At Agra he met Deendayalji for the first time.

As a person Nanaji had a tough exterior, but he was very soft by heart. Nothing was personal for him. He was just like an open book. Really Nanaji was a real 'Nana'.
Undoubtedly, Nanaji's appeal was very emotional. But it was not based merely on emotions. Actually, what he said on that day was the base of his life and prior to entering into politics as State general secretary of Jan Sangh in UP, he laid the foundation of many constructive projects in the field of education, journalism and rural development, etc. Nanaji also played an important role in the publication of Panchjanaya weekly, Rashtradharma monthly and daily Swadesh from Lucknow as their first Managing Director. Shri Atal Behari Vajpayee was first editor of Panchajanaya and Deendayalji was margdarshak. Later on, Rashtradhram Prakashan, Lucknow became a major publishing house for nationalistic literature.
In 1947, he was sent to Gorakhpur,U.P. as RSS Pracharak, where he not only strengthened the Sangh work but also established a Saraswati Shishu Mandir in 1950. It was the first school of the present day Shishu Mandir education system having numerous schools in its fold all over the country.Shishu Mandir was the result of his vision towards child education and its role in human's all round development—Manav ka sampurna vikas.
After Independence the Christian Missionary schools were seen as a big threat to our education system and the society. In those days there was no such organised effort for education and opening of a school was not so simple. He had to stay in a Dharmashala but had to keep on changing Dharmashalas as no one was allowed to stay there for more than three days consecutively. Ultimately, he was given shelter by Baba Raghavdas on the condition that he would also cook meals for him.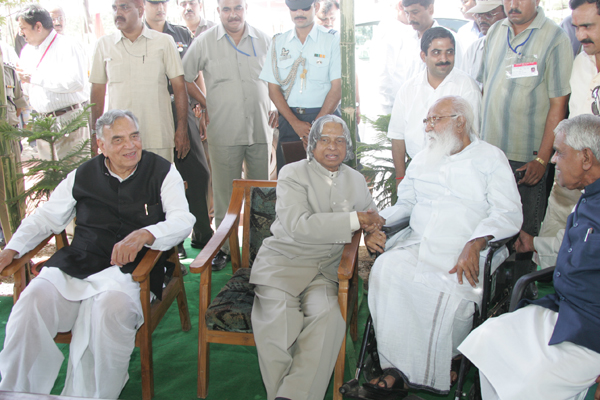 Within three years, his hard work bore fruits and almost 250 Sangh Shakhas cropped up in and around Gorakhpur. Nanaji always laid great emphasis on education. He established India's first Saraswati Sishu Mandir at Gorakhpur in 1950. It reflects Nanaji's love for education and knowledge. At present this is the largest chain of schools numbering more than 14,000 spreading all over India.
Mahatma Gandhi's assassination led to imposition of ban on the RSS and publication work came to a grinding halt. A different strategy was adopted keeping the ban in mind and Nanaji was the brain behind underground publication work by the RSS those days. When the ban was lifted and it was decided to have a political organization, Jana Sangh came into being. Nanaji was asked by Shri Guruji to take charge of Bharatiya Jana Sangh(BJS) in Uttar Pradesh as party Secretary. Nanaji had worked as RSS pracharak in Uttar Pradesh and his groundwork proved of a great help in organizing Bharatiya Jana Sangh at the grass roots. By 1957 Bharatiya Jana Sangh had established its units at each and every district in Uttar Pradesh and credit for this goes to the Nanaji who had extensively traveled all over the State.
Soon, Bharatiya Jana Sangh became a force to reckon with in Uttar Pradesh. In 1967 Bharatiya Jana Sangh became the part of United Legislature Party Government headed by Chaudhary Charan Singh. Nanaji played a crucial role in evolving the alliance as he enjoyed good relations with Charan Singh and Dr. Ram Manohar Lohia. He was successful in bringing leaders of different political background on one platform to give Uttar Pradesh its first non-Congress government.
A political giant, like Chandra Bhanu Gupta, had to face one of the biggest challenges of his life when Nanaji outwitted him not once but thrice. On one occasion, he planned a strategy to defeat the Congress nominee and CB Gupta's favorite in Rajya Sabha. When CB Gupta himself contested elections from Lucknow in 1957, Nanaji crafted an alliance with socialist groups and helped Babu Triloki Singh in registering an impressive win over Gupta. Shri Gupta faced another embarrassment when he was again defeated at Maudaha in Uttar Pradesh.
Work and Achievements : 
After the unfortunate death of Pt. Deendayal Upadhyaya in 1968, Nanaji established Deendayal Research Institute in Delhi to push the unfinished works of Deendayalji. The DRI conducted big research work, published a research journal Manthan and also started many social activities. It became a role model for rural and social development and encouraged a number of youth to join social work. It rehabilitated a village, Malapallam, in Andhra Pradesh affected by cyclone. That reconstructed village, named as Deendayal Puram was dedicated to local people on July 14, 1978 by the then Foreign Minister Shri Atal Behari Vajpayee and the then Andhra CM Shri Chenna Reddy.
Nanaji initiated a village development project 'Gramodaya Yojna' in Gonda District of UP and established 'Jayaprabha Gram' dedicated to Jayaprakashji and his wife Prabhavati.
The foundation stone for Gramodaya project was laid by the then President of India Shri Neelam Sanjiva Reddy on November 25, 1978. After retiring from active politics, Nanaji concentrated on his rural development work in Chitrakoot, Satna (MP). In 1991,he established a Gramodaya Vishvavidyalaya, first of its kind in country and initiated a project, Chitrakoot Project or the 'Campaign  for Self-Reliance'.
His emphasis in all these projects was on self-reliance and nation building. On the occasion of a three day convention of 'Gramodaya Sanyojaks' on October 1, 1978 in Balrampur (Gonda) Nanaji stressed that in the life of a person there should be a equilibrium among his personal life, family life, social life and professional life. He said due to lack of balance in them our life remains in distress.
Although Nanaji played an important role in national politics for about four decades, but after the age of 60, he was just an humble social worker not a politician. In April 1978, he was in Shimla (Himachal Pradesh) for a two day visit.
On April 15, he addressed a meeting of Janata Party MLAs at Himachal Bhawan. In that meeting some MLAs raised the issues of fulfillment of public aspirations, government policies and role of bureaucracy, etc. Nanaji expressed his firm opinion that Government should have its control over bureaucrats: Without its control neither can government implement its programmes and decisions nor the people can get their work done properly. The message is very much clear that the bureaucracy cannot be the ruler or master and people are supreme.
Positions held:
Nanaji was nominated by President of India to the Rajya Sabha in 1999 to 2005 in recognition of his services to the nation. A Padma Vibhushan awardee, Nanaji also established Chitrakoot Gramodya Vishwavidyalaya, India's first rural university and also served as its first Chancellor. Nanaji was also elected as Member of Parliament in the year 1977.
Role in JP Movement:
The then Prime Minister Indira Gandhi was hugely annoyed with the youth movement and she imposed Emergency on the night of June 25, 1975. On July 29, 1975, he was arrested from South Delhi during a surprise raid. Nanaji Deshmukh was under the police radar because a month earlier (June 25-26), he got together anti-emergency leaders like Subramaniam Swamy, ML Khorana, Ravindra Verma, Dattopant Thengadi, among others. Addressing them, Deshmukh gave a clear and simple instruction: take over the government. This was the start of "Operation Takeover" and it took Nanaji Deshmukh to different state capitals, until he was arrested on July 29, 1975.
After that when general elections were held in 1977, the nation, under the leadership of JP, voted the Janata Party to power. But due to some over ambitious leaders of Janata Party troubles started emerging within the government. At that crucial juncture when Nanaji Deshmukh, a close aid of JP and general secretary of Janata Party, realized that political leadership ignored the issues of youth following their political ambitions, he decided to quit politics and dedicate rest of his life to the cause of youth and constructive activities. At the age of 60 he announced the decision to retire from active politics and urged the fellow politicians follow him and give an opportunity to the youth.
In his two pages statement released on April 20, 1978, acknowledging the role of youth in JP movement, he said youth who were the carrier of 'Vote Kranti' are being ignored. He painfully said the youth enthusiasm could not be streamlined in a constructive manner and hence youth have again adopted the path of agitation. He said it is very much unfortunate that our whole social life is concentrated within the limit of politics only. Therefore he realized that the social problem cannot be solved through 'revolutionary slogans, destructive agitations, election politics and parliamentary activities'. He declared that now his aim would be constructive movement based on 'Yuva Shakti'
On 25 January, 2019, responding to the announcement of Bharat Ratna being conferred upon Deshmukh, Prime Minister Narendra Modi in a tweet said,
"Nanaji Deshmukh's stellar contribution towards rural development showed the way for a new paradigm of empowering those living in our villages. He personifies humility, compassion and service to the downtrodden. He is a Bharat Ratna in the truest sense!
He passed away on February 27, 2010 in Chitrakoot, at the age of 93. After his demise, his body was donated to the All India Institute of Medical Sciences (AIIMS), as per his wishes.