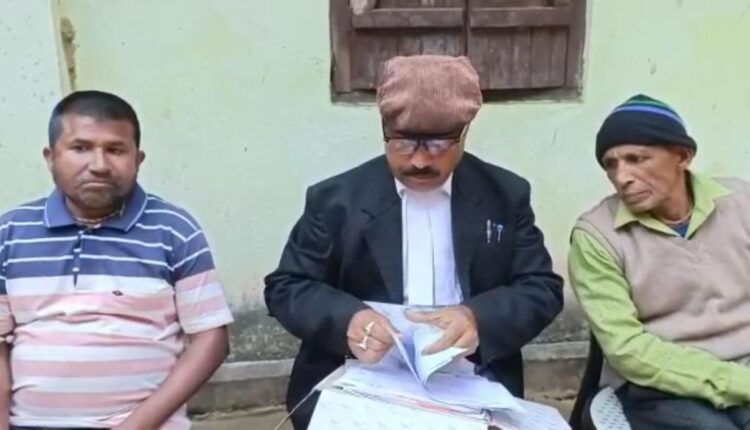 Youth files case against four police officers including SP for not submitting Form 54 regarding a road accident case
Dulan Das of Panibhora GP under Dholai Police Station filed a case against three police officers including Cachar Superintendent of Police Numal Mahatta in Silchar Court for not submitting Form 54 in a road accident case. On October 10 last year, Bappa Das, a resident of Panibhora, met with a road accident infront of Dholai Block Primary Health Centre. Bappa Das' brother Dulan Das filed an FIR at Dholai Police police Station on October 11 in view of this accident. But even after a long time since the accident occured, Dholai Police did not submit form 54 in the court due to which Bappa Das could not claim for accident insurance. 
Bappa Das and Ramakanta Paul, lawyer and public prosecutor, presented the entire information to the media on Thursday. They said that even after appealing to the OC of Dholai Police Station and Superintendent of Police Form 54 was not submitted by the police officials. Therefore, Bappa Das' brother filed a case in Silchar Court through senior lawyer Ansarul Haque on January 12. The case number is CR 11/ 2023. The accused in the case are Cachar Superintendent of Police Numal Mahatta, Inspector and OC Manoj Baruah of Dholai Police Station, SI Benzilal Chorai, Palonghat Police Out Post In-charge Dhaneshwar Das.
Speaking to reporters advocate Ramakanta Paul said, "It was a major accident. Even after spending for medical expenses the victim Bappa Das is still not fine yet. Despite many requests the Police officials did not provide form 54. On 12 January, 2023 a petition was filed in Silchar CJM Court under section 166A, 166, 109 and 34 of the Indian Penal Code against Numal Mahatta, Superintendent of Police; Manoj Baruah, Inspector and OC of Dholai Police station; SI Benzilal Chorai and Dhaneshwar Das, Palonghat Police Outpost In-charge. At present the case is pending in Additional CJM's court in Cachar."
Form 54 is the accident report that the police files giving details of the motor accident, that not only helps in insurance but is a necessary document while filing taxes.