Also read in
[multilanguage_switcher]
"How mindless people used Facebook to vandalise Srijato's event" writes Biprotosh Bhattacharjee
Srijato's event disruption was planned and executed by some mindless fanatics who think they can dictate free speech of people of Barak Valley. And unfortunately, social media platform "Facebook" was used by the culprits to mobilise the like-minded frenzy's who would help to shape it as a faceless mob popularly known as mobocracy!
The modus operandi of the mobocracy, in this case, is quite clear, the right-wing extremists would want to fulfill their vengeance against the Bengali author, lyricist, director – Srijato for his writings against Hindu God. Now the interesting fact is, Silchar was chosen as the spot of crime and social media – a tool to execute it. On the below paragraph, I would like to provide a time-based analysis of the sequence of events from planning to execution of vandalism via Facebook.
Sequence 1: Around 4:30 – 5 pm on January 12, 2019, some posts in Facebook starts appearing from Social Media in-charge of BJYM Silchar's profile, stating his displeasure on Srijato's Silchar visit.  The post was created intelligently providing the time and place details of Srijato's event.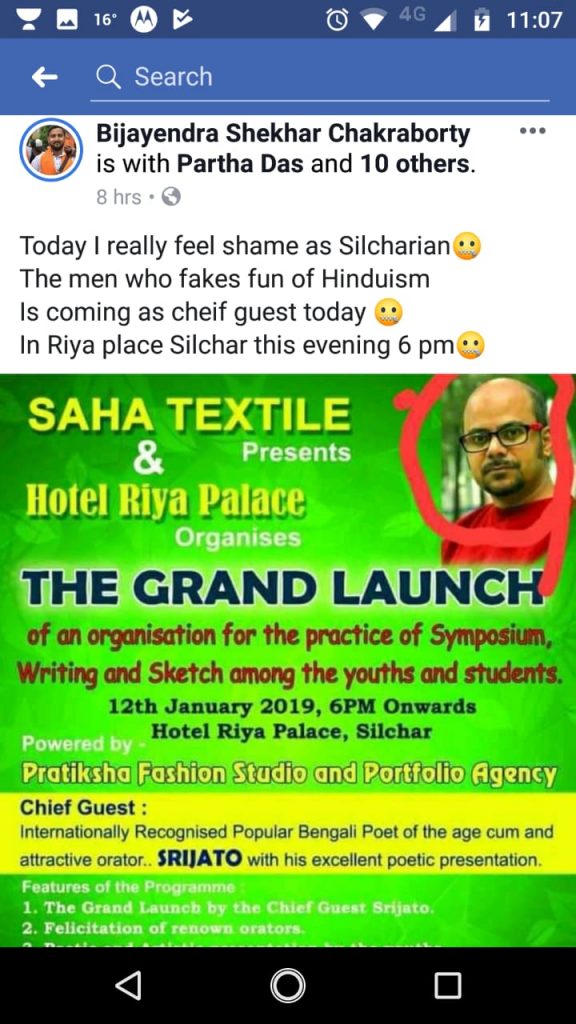 Sequence 2: Around 30 mins later, another update pops up from the same profile, this time the screenshot of Srijato's controversial poetry highlighted the words of displeasure.
Sequence 3: The above-mentioned posts already garnered some traffic and interest in the citing and it was time to bring in more supporters. Around an hour later, another person tags Social Media in-charges profile and posts similar post against Srijato. And this time the post started to receive assure of participation in vandalism along with defamatory remarks.
Sequence 4: The BJYM social media in-charge posts picture of a gathered mob in front of Riya palace Silchar, supporting it with the slogan of Lord Ram. A total time period of 1.5 – 2 hours of malicious camping gathered a crowd of that magnitude.
Sequence 5: This phase can be termed as credit for execution as we can see it in case of any extremist organisation. And this case it was no different. The BJYM's social media in-charge does it from his profile.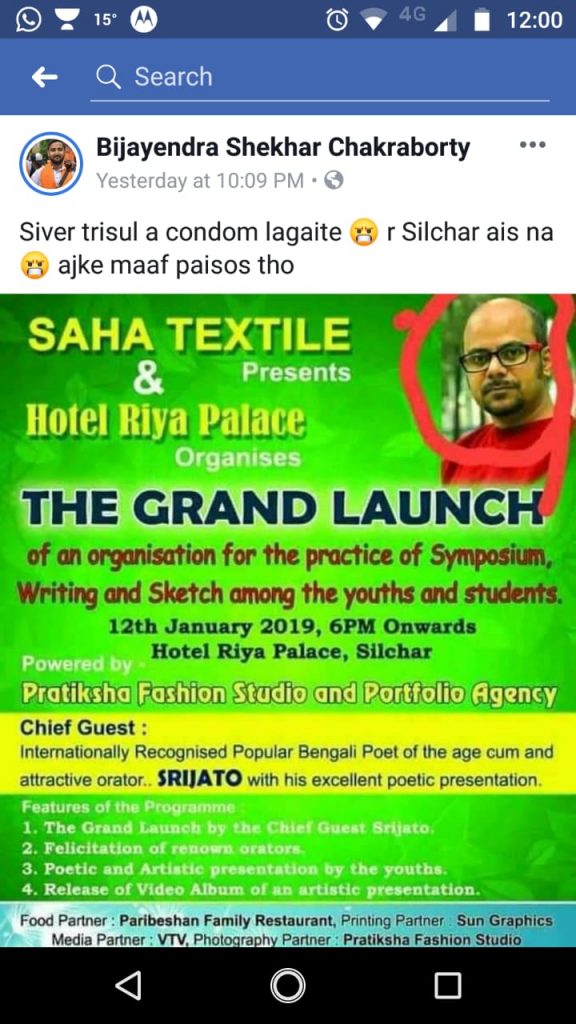 As a cybercrime analyst with experience of working with different law and enforcement agencies like CID Assam, Computer Forensics department Gandhinagar, State Forensics laboratory Kahilipara, Assam I can responsibly say,  the above sequence of events shows how a city like Silchar can fell prey to mobocracy culture and how easily some irresponsible social media handler of a party uses social media platform as a threat landscape to arrange the mobs in time bound manner.
And as a city, it threatens dangerous consequences that if your ideology or words doesn't incline to a party or its ideologies then you would rounded up by a faceless crowd who can mow you down if you don't have police protection or escape route.
The law and enforcement of Silchar should actively monitor social media platforms and disrupt such extremist's profile and bring them to justice even before it starts making the rounds. As a responsible citizen of Barak Valley we hope that the cachar administration would act it's part and ensures the free speech prevails in the city of Silchar.
The author of this article Mr. Biprotosh Bhattacharjee is the manager – Cyber Defense Center LMNTRIX, India. This is an op-ed and therefore it is his personal interpretation of the incident.