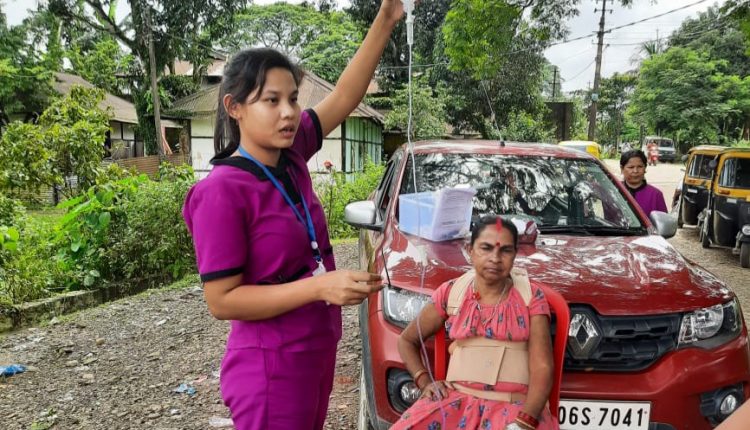 Also read in
[multilanguage_switcher]
"No chemotherapy on roads," Dr. Ravi Kannan; OPD shifted under trees as Cancer hospital is inundated
Silchar has suffered an unprecedented deluge. River Barak devastated most of the city and fatalities continue to grow. Bodies are floating at different parts of the Valley almost everyday. In such a scenario, the healthcare infrastructure has faced a major blow.
Cachar Cancer Hospital, located in Meherpur Silchar is inundated. There were cries for help from the Hospital authority a few days back. However, as water has started to recede, the Hospital has also opened its services.
Visuals of treatment under the sky in the open are being displayed on news channels headquartered in Delhi. Many of them are running tickers stating "Chemotherapy is being performed on the roads as district administration ignored the call of the Hospital management."
Padma Shri, Dr. Ravi Kannan, shared his reaction on the news. "No chemotherapy on the roads. Don't know how the story started."
He added, "The entrance to the hospital is inundated and we have arranged for a raft to ferry the patients who need admission. Meanwhile, the OPD has been shifted on the dry roads under the tree as it is not very safe to sail on the raft."
Dr. Kannan further explained, "Patients are consulting the doctors under the tree. Whenever needed, doctors are administering injections that does not mandate to keep the patient under observation. Chemotherapy is a detailed process and cannot be performed on the roads."
When asked if the administration made some alternative arrangement for the Cachar Cancer Hospital to check patients, Dr. Kannan said, the hospital management did not reach out to the administration with the request.
"I am finding it so difficult to run one single hospital and I can totally understand what the administration must be facing while managing the entire disaster. The administration is already overwhelmed and it won't be fair for us to reach out to them instead, we should all join hands and try to solve the issues ourselves. By doing so, we will be able to help the administration too," asserted Dr. Kannan.