A deep dive into professor Ganesh Nandi's book 'Charukolay Barak: Itihaas O Somokal'
A new book of professor Ganesh Nandi has been launched from the district book fair of Silchar. The book is titled : Charukolay Barak : Itihaas O Somokal (Fine Arts in Barak : History and Contemporary Times). This book offers a historical, chronological and chronosophical view of the history and the development of fine art and other folk art practices of Barak Valley. Professor Nandi in his new book tried to reach to the very root and earliest pieces of art forms from Barak Valley. The idea of the book germinated in his mind while contemplating about the lack of scholarly work available in the history and development of Fine and Folk Art in valley. There are many researches being done, many books have been written on various aspects of Barak valley, but, professor Nandi argues that there were no book which presented comprehensive historical development of folk and modern art in Barak valley, so his book, which is a result of research spanning across 15 years, he made an effort to shed light on this particular topic. The book has been published from Banga Sahitya Sangsad and was inaugurated at Silchar District Book fair on December 27, 2021.
On talking about the historical root of the fine art and folk art in valley, professor Nandi said, there's not much historical or archaeological evidences available to determine the exact dates of the dawn of art in valley, but the stone sculpture that was discovered from Bhuban Pahar, is believed to be from 10th century, (now preserved in Normal School) which makes it contemporary with the Pal and Buddhist Tradition of art in south east asia. According to the understanding of Professor Nandi, the folk art and cultural practices of Barak valley were largely a part of the greater Bengal. Citing the example of pottery as a form of traditional folk art form, professor Nandi said potters from Dhaka and Bikrampore area came to this valley, because they were experienced and skilled potters and they stayed back here. He said these traditional art forms were developed through generational lineage and is very closely tied with the livelihood and profession.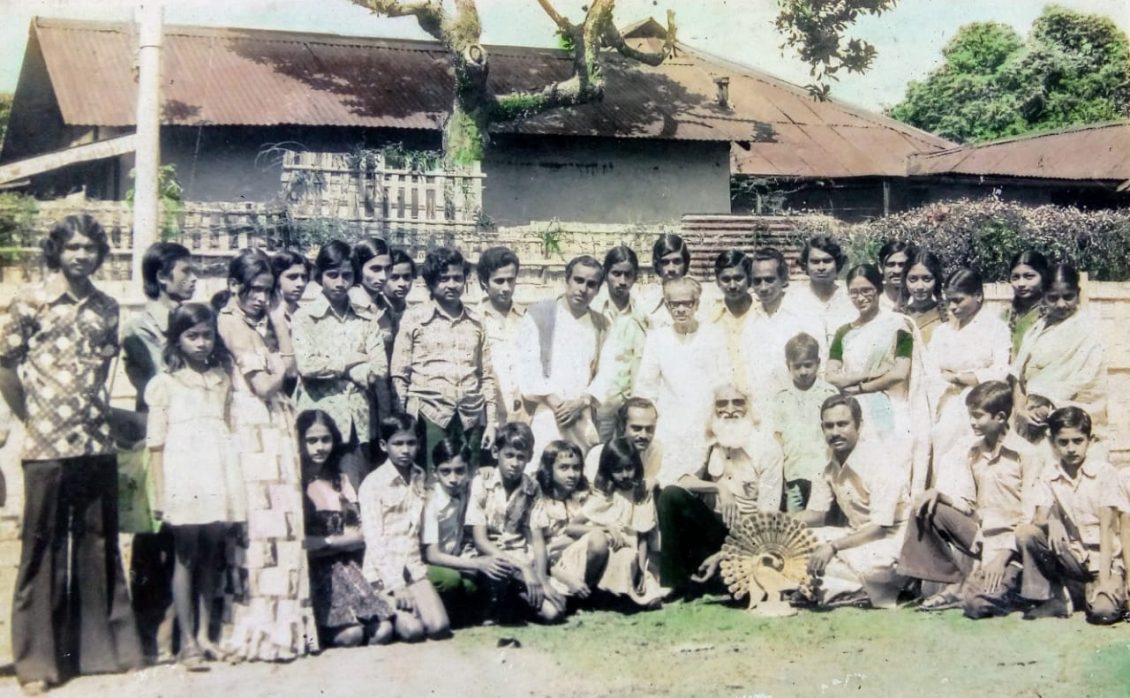 The Cultural and Art history of Barak Valley, as it is the natural dwelling space for more than 15 groups of indigenous and ethnic communities, has a composite nature to itself. Each of the tribes including Hmars, Naga, Kuki, Khasi, Dimasa have highly efficient and skilled bamboo crafting and weaving traditions. Nakshi Kantha – (embroidered quilt) was also developed as cultural artefact having its organic roots in this valley. Pata Chitra was also a part of folk culture in Barak Valley. According to Professor Ganesh Nandi, stories and scenes from the epic like Ramayana and Mahabharata were performed with scrolls of Patachitra.
Even the architecture of the valley, according to Professor Nandi, is a interface of both Tribal and non tribal cultures. Not only cross racial but also inter faith cultural influences have been observed in this valley, as the author claims that the bathroom (Snan mandir) of Khaspur Raaj bari actually reflects the Islamic influence in its structure.
Coming to the dawn of modern art in the valley, the book takes us back to the first decade of twentieth century (1907). Professor Nandi said, Normal School, which was established in 1907 offered drawing courses for the teachers so that they can teach the students how to draw maps and diagrams. This was the first such attempt of teaching drawings adhering to a particular pedagogical practice. There were many caligraphers, signboard artists in Barak Valley.
The knowledge of the history and development of fine art in Silchar is limited within the 1960s and 70s, there were no historical evidences available beyond 1960, so professor Nandi said his book tried to trace the development of folk and fine art in both institutional and individual level. The RDI hall in Silchar began offering course of fine art since 1910, even before the establishment of Shantiniketan and government art college. These historical facts are being unearthed in this book by Professor Ganesh Nandi.
The Normal School was established in 1907, Birendra Lal Bhowmik became the in-charge in 1921 and his tenure ended in 1935. Bhowmik's tenure could be considered as the dawn of the practice of modern art in Barak Valley, says professor Nandi. Ananta Bhattacharjee, Manoranjan Nandi were the contemporaries of Birendra Lal Bhowmik and Rabindra Nath Tagore had a big influence on them. The first solo art exhibition was held in Silchar in 1937-38 by Birendra Lal Bhowmik.
Shifting to the contemporary time or Somokal, Professor Nandi says he counted the contemporary time from 1967 onwards, because in that year Mukunda Debnath established an Art School, the school was formed by a group of Art enthusiasts called Cachar Shilpi Sangstha. This school played a instrumental rule in popularising fine art among the people. Later on many artists from the valley received recognition both nationally and internationally. Ram Lal Dhar had a solo exhibition in Paris France. This book also discusses contribution of Mainul Haque Barbhuiya who was believed to be the man behind the department of Fine arts in Assam University. From the 10th century Buddhist Influenced stone sculpture to the first digital photo exhibition in 2010 by View Finder Group, the book gives a comprehensive view about the historical development of Folk and modern art practices in Barak Valley.