Barak Valley's Sharmistha Deb on her third film Kadambari Ajo, creating a space for herself in the world of cinema

Hailakandi's Sharmistha Deb never wanted to be an actor. Her life always revolved around cinema, from an audience to an ace director in Tollywood. She started her career as a journalist, later an editor of a lifestyle magazine and the  a TV anchor. As she made connections with actors in Kolkata and it led to her entry into the film world. Fighting her way through nepotism and outsider treatment, Sharmistha has made her place and is soon going to release her third movie as a director. Her third movie, "Kadambari Ajo" is a Bengali modern drama with a hint of Kadambari Devi relating to Rabindranath Tagore.
The movie is all set to release on September 23 across West Bengal, Assam and Tripura and stars Ankita Chakraborty as the lead role, legendary actor Shabitri Chatterjee plays a supporting role in the film, along with Biswajit Chakraborty, Rumki Chatterjee, Amitabh Bhattacharjee, Srijani Mitra and Rajdeep Sarkar. Barak Bulletin spoe to Sharmistha Deb about her career in cinema and how she has made her way through many hurdles even after being treated as an outsider.
Here are the edited excerpts.
What is Kadambari Ajo about and why this name?
When I read Rabindranath in college, one name that particularly stayed with me was Kadambari Devi, other than Rabindranath Tagore himself. Kadambari's role in Rabindranath's life has particularly moved me as to how she would inspire Rabindranath even though she was married at a very early age and spent all her time at home. I think Kadambari is a brand for all women, as how a homemaker could inspire and push the legendary Rabindranath to outdo himself every time with his poems or other literary works. So, when I started working in the cinema, I thought about doing something around Kadambari Devi. But since a period drama becomes expensive production wise, I thought why not create a story about today's Kadambari and that's how the work started. Even though there's no direct connotation as to Kadambari Devi, many aspects of her character and emotion have been a part of the main character of the movie. In this film, Kadambari is a film director.
Did you see a shadow of yourself as a director in Kadambari?
No, not really. What I've tried to do with this character is directors can be as independent as a doctor, teacher or an engineer. I don't think there are many movies where a woman has been portrayed as a director and there are many wrong perceptions about them in real life as well. Even in my case there are many who say a "woman" is a director of a film in a negative tone and think that a woman who has had years of experience as an actress or who is too old for cinemas becomes a director. But that is not the case everytime and should not be generalised.
How is the initial reaction from people now that the poster and trailer have been launched?
In this line of work, nepotism does exist since I'm from this region and people in Kolkata don't know me or my work. But I have not faced this from the artists at all. Having said that, as a director when Kadambari Ajo has participated in the international film festivals, we have received great response from there. I have got two awards as a female director, first at Reels International Film Festival, Aurangabad and second at the Indo-France International Film Festival. It has also received official nominations in the France International Film Festival and Port Blair International Film Festival in the film category. I never thought I would win the two awards in the festivals, so I didn't even attend the events. But I'm grateful to receive their praises.  
Can you tell us a bit about the cast and crew involved in the film?
In this movie, we have Ankita Chakraborty in the lead role of Kadambari, legendary actress Sabitri Chatterjee plays an exciting role in the film and it is an absolute pleasure to work with such a veteran. Amitabh Bhattacharjee is also playing a very vital role in the film. Along with that, Indrajit Mazumder, Biswajit Chakraborty, Rumki Chatterjee, Srijani Mitra and Rajdeep Sarkar have done some phenomenal work in the film. The movie has been produced by Hirok Paul of Adya Maa Production, who is also from Hailakandi. We had a team of 70 people in the crew. Shiladitya Guha was my chief assistant, and also the script writer of the film. Ankit Sengupta was the Director of Photography. We have used Rabindra Sangeet in the film in the voice of Rupankar Bagchi and Sayani Palit with Adrita Jhinuk's music direction. Chirantar Benerjee gave the background score for the film. The shooting was completed in 15 days.
This was your third film as a director, how has been your experience starting from the initial days?
The first film where I worked as an Associate Director was "Pohela April" and back then I was very inexperienced. I would travel to and fro from Silchar to Kolkata for work. Later I had to shift to Kolkata before the lockdown began. The  we started the shooting for "Shorbobhuteshu" and this took the longest time due to the lockdown. Censor office was even shut and for those few days, when the lockdown was withdrawn, all the halls were shut and hence we couldn't release the film anywhere. After the lockdown was lifted, I started shooting "Ontomil" for another OTT and it got released. Shorbobhuteshu will soon come in an OTT.
How has been your journey from Hailakandi to Tollywood?
I belong from a very normal middle class background and my family's inclination was always towards education. I was always told to study well and get a job, like in the teaching profession. One thing interesting about my family while growing up was that girls were given more importance than boys, be it for studies or other activities for that matter. After I completed my education, I landed in a corporate job but my goal was always to work in the media. When I read "Shananda" during college, I also wanted to start my own magazine from Barak Valley which I started eventually as "Ichhedana" from Barak Valley and later it also got published from Kolkata.
Tell us more about the magazine Ichhedana and how it helped in your journey towards cinema?
After my marriage, I discussed the idea of this magazine with my husband and he said why not. Eventually I started working on it and in 2012, the first edition of the magazine came out. In that magazine, there was no compromise with the quality. Starting from photoshoots with boys and girls of Barak Valley for fashion to a housewife's column on recipes and everything. There were different stories and articles. Gradually we started a celebrity page in the magazine, where we interviewed different actors and published about their movies or life and work. Eventually when I started interviewing different actors and also from Tollywood, I started to make connections in that world. One person here deserves a special mention, film journalist Nirmal Dhar of Kolkata, he treated me like his daughter and also helped me publish Ichhedana from Kolkata. When I asked her if he would help me with getting some interviews of celebrities for the magazine, he readily agreed. With his reference I got interviews of Ranjit Mallik, Prasenjit Chatterjee, Soumitra Chattopadhyay, Lily Chakraborty, and many others. 
Directing a movie is difficult and requires technical knowledge. How did you learn that?
Cinema has always been an inner calling for me. I am a movie buff and earlier when I watched a film, I always waited for the credits and when the titles like "A film by Karan Johar" or "Sanjay Leela Bhansali Films" popped up on the screen, it fascinated me. I would dream of seeing "A film by Sharmistha Deb" on the screen one day, back then it sounded impossible and I'm sure people would have made fun of me, but today this is something I'm so glad about and I feel absolutely blessed. Talking about the directing part, I have learnt everything from observation and I trust my DOPs blindly. The DOP and their team looks after most of the technical part and I never talk above them, I give them independence. Since it is their expertise I give them the liberty. I look after the screenplay and that it should look nice to watch.
Did you face any difficulty as a Sylheti speaking person among those who speak Bengali there?
I didn't face any difficulty linguistically in the field and there are two reasons behind this. I remember it was in 2002, when I attended a workshop by Shaktipada Brahmachari at GC College. It was a Bengali Spelling Workshop and there he asked me not to speak Sylheti outside the threshold of my home. This impacted me, even though my college mates would make fun and say this is just style, in a mocking way. Later, I interviewed for a job as an anchor at Zee Bangla and that too helped me with that. But I'm still Sylheti and everyone in my family speaks Sylheti, rather I should say raw Sylheti.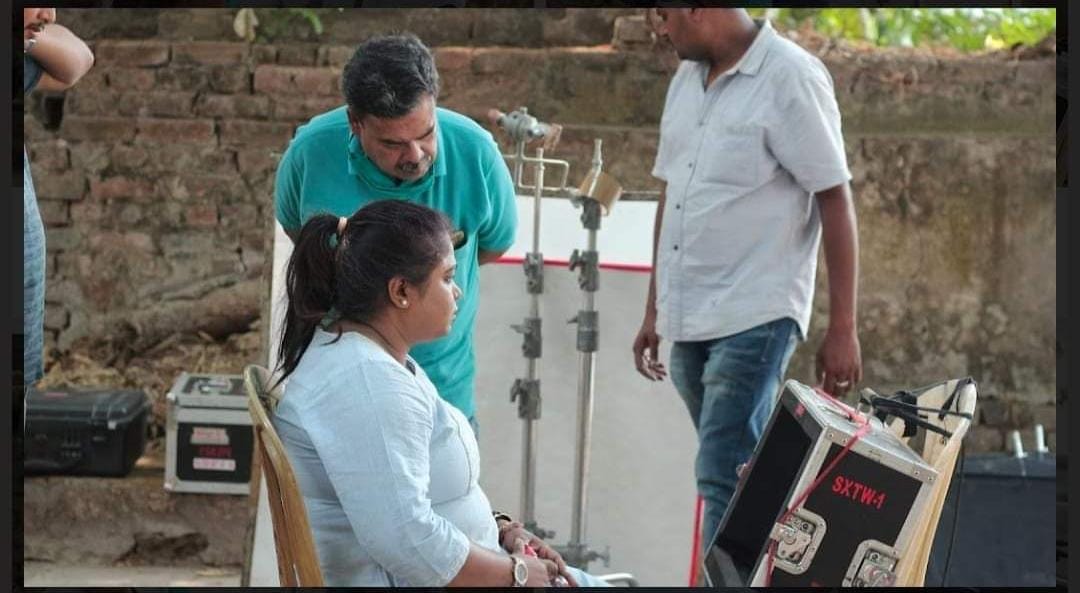 How did you make your place in the field, even when you are treated as an outsider?
No one will make place for you except you. You have to do that yourself. To make your place in a room full of audience, you have to sit first and then think about your comfort zone. I don't know yet whether I have reached my comfort zone, but I know that I have just found my seat and now I have to make my place. Even recently, when the posters of my movie were put up, another big movie was set to release. They tore my poster for the "big movie" and this will happen. I have faced this while working in the media as well. When I was the Barak Valley in charge of DY365, I had many differences with my seniors. But I don't fight them because it's pointless to fight with a crocodile in water. I do what I have to do and don't get bothered by this.
You have worked with many senior actors like Soumitra Chatterjee, Shabitri Chatterjee, Rajatabha Dutta, Biswajit Chakraborty, Sreelekha Mitra and many others. How is the experience of working with such stars?
I've seen one thing in life and this is not just in context with actors or celebrities. Success is directly proportional to them being grounded. Most of the successful stars are very grounded and very well behaved. When Shabitri Chatterjee came in, she greeted everyone with folded hands. I was sitting on the monitor, she called to greet me and addressed me as madam. I told her please call me Sharmistha, she replied, I still don't have the guts to address the director on a first name basis. Working with her was such a great experience. She wanted to change one line of her dialogue and she actually asked me whether she could change that. She is a legendary actress with such an amazing career, no one can question her abilities, but she respects everyone in the field. This is somewhat missing among some of the young actors of today's age. They have never treated me as an outsider and I always have a great time working with such legends.
What next after Kadambari Ajo, are you working on something new?
Yes, I'm working on a period drama, "Udbastu". This story is based on the Sylhet Referendum and the stories of partition of Bengal. This movie has cast and crew from Barak Valley and is being produced by Hirok Paul, who is from Hailakandi and a childhood friend. Shabitri di wanted to act in the film as she has personally faced the partition, but since it was based in Barak Valley, I couldn't risk her travelling here given the infrastructure. But artists from Barak Valley did a phenomenal job in this.
Any message for the independent artists from Barak Valley who are trying to make films?
I am very happy to see new people coming up and it is so great to see films coming up from Silchar as well. I remember during Pohela April I cast many actors from Silchar and one actor has particularly commented that it's no more Tollywood, it has become "Shiliwood" now. I believe Shiliwood is an absolute possibility and the directors or the producers have to think commercially otherwise, it can not sustain for long. There is talent in our place but we have to think monetarily, talent can't survive without monetary support.
In Barak Valley, Bengali cinemas don't sustain and mostly are not screened. Why do you think this is happening?
This has a very technical aspect and the reason lies with the downloading of the movies. The matter lies in which platform this has been downloaded and it also takes up some cost. Screening even one show takes an amount in the hall and if in a hall with capacity of 120 seats, only 15 tickets are sold, the show can not run. This will be a loss for the theatre. Everyone goes to watch a Hindi film but Bengali cinema has less audience. But I've talked to Manish Bhaiya (Manish Baid of Gold Digital Cinema, Silchar) and he has always been very supportive. He has assured to give space for Kadambari Ajo and we expect people of Silchar will buy tickets to watch the movie in large numbers.