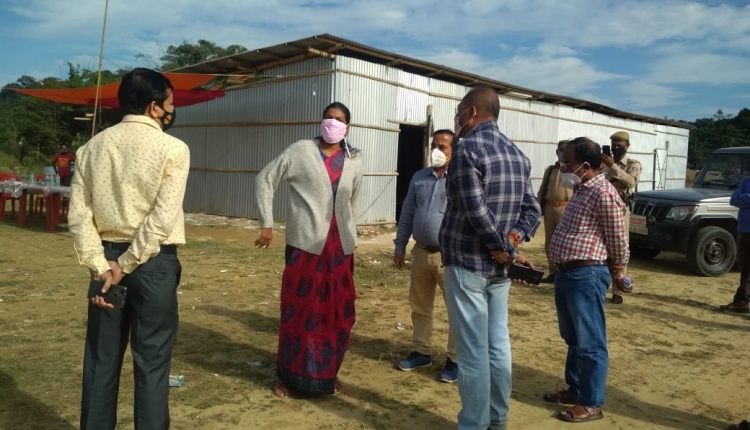 DC Cachar, OSD to CM visit Mini Secretariat to assess progress of work
Deputy Commissioner, Cachar Keerthi Jalli and Officer on Special Duty to Chief Minister, Shekhar Dey visited the Mini Secretariat at Srikona here on Friday to assess the progress of work. 
Executive Engineer, PWD Building, Ganesh Bora and SDO, Ranabir Paul also accompanied them during their visit.
After conducting joint inspection, Deputy Commissioner, Jalli expressed her displeasure over the tardy progress of work and strongly instructed the officials to complete the earth filling work and construction of boundary wall of the Mini Secretariat by December.
It is pertinent to mention that the state government has already sanctioned Rs 4 crore for earth filling and construction of boundary wall of the Mini Secretariat. Akash Enterprise of Silchar has been awarded the contract.
OSD to CM, Shekhar Dey also expressed his dissatisfaction over the construction work of the Mini Secretariat. Sharing his reaction, Dey said, "The contractor was allotted the work in September 2019 but it seems that he is less Interested to complete the work within the stipulated time frame. There was no progress of work from the very beginning and the construction company Akash Enterprise didn't pay any heed even after receiving strict instructions from the then Chief Secretary, Kumar Sanjay Krishna."
Meanwhile, Chief Minister, Sarbananda Sonowal was also apprised about the slow progress of construction work of the Mini Secretariat.
Following the directive of the Chief Minister, both Deputy Commissioner, Jalli and OSD to CM, Dey inspected the site and gave strict instructions to contractor Arindam Pal of Akash Enterprise to complete the allotted work by December this year.