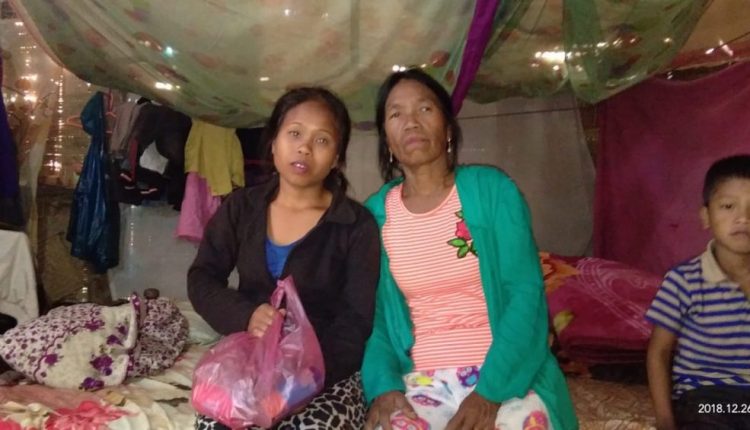 Tribal Vendors' Assault: 'One More Girl' Was Involved, Says Gracy Hmar; No Trace Of Durba, Sagnick Yet
In a sensational revelation, Gracy Hmar, one of the tribal woman vendors who was assaulted in Silchar on November 24, has said that one more girl, apart from the three accused Durba Paul, Priya Mazumder and Sagnick Gupta, was involved in the assault on that day.
Two woman vendors Gracy and Lalmounpui Hmar, residents of Hmarkhawlien village under Lakhipur constituency in Cachar district, were brutally beaten up at a roadside market at Jail Road in Silchar on November 24 for allegedly stealing a stray dog to sell its meat. An FIR was lodged with Silchar Sadar Police Station on December 5 following a video of the assault surfaced on social media.
The video, which drew vehement reactions from various quarters, features Durba Paul, Priya Mazumder and Sagnick Gupta, all residents of Silchar. Durba was seen abusing, threatening and assaulting one of the vendors, while Priya and Sagnick were present at the spot. All of them disappeared after the FIR was lodged.

Priya was arrested from a house at Kali Mohan Road, Tarapur on Friday night. She was produced before a court in Silchar on Saturday and sent to judicial custody.
Speaking to Barak Bulletin at her house at Hmarkhawlien on Wednesday, Gracy said another girl, besides the three accused, had assaulted her, but she could not identify her (as she was not present in the videos which had gone viral). Another youth was also present with them, but he did not assault her, she said.
"One of the girls tied up my hand with a rope, held my neck tightly and hit on my face. One of them kicked me from behind. There was a huge gathering," said Gracy, who suffered a miscarriage few days after the assault.
She is recovering; however, some pain near her stomach is still there, she added.
Gracy's mother claimed that her daughter suffered the miscarriage because of the assault. She demanded stern action against all those involved in the crime.
Lalmounpui said she still shudders thinking about the incident. "They (assailants) suddenly came there and created a hullabaloo. They beat us up mercilessly while we pleaded for help. Nobody came to our rescue," she said.
On Wednesday morning, members of two groups – Silchar Youth Members and Stand for People's Group visited the house of Gracy and Lalmounpui, inquired about their health condition and spoke to their family members.
Surprisingly, not a single political leader has visited any of the vendors' houses so far. This has resulted in anger among different organisations and local residents.
Lalsiemthar Hmar, vice-president of the Barak Valley Hmar Students' Association, said the police authority must take prompt measures so that the culprits are arrested. "We are not going to remain silent over the matter. Massive protests will be staged if all those involved are not held soon," he said.
He also expressed his dissatisfaction over the political leaders of Barak Valley, especially local MLA Rajdeep Goala, for not visiting the vendors' house till date.
Rupam Nandi Purkayastha, adviser to the All Cachar Karimganj Hailakandi Students' Association, stressed that all those involved in the assault be apprehended at the earliest. "Perhaps, the accused are getting help from some political elements for which they are still able to remain out of the grasp of the police," he said.
Fanjowbam Lokenath, secretary general of the Manipuri Youths' Front Assam, speculated that the unidentified girl (about whom Gracy said) had perhaps kept herself away from the camera while the video of the assault was being recorded.
He said the police should probe the matter thoroughly so that any other person, if involved in the assault (apart from the accused), is arrested.
Cachar superintendent of police Rakesh Roushan told Barak Bulletin on Wednesday evening that the accused were absconding and police were in search of them. "Police are trying their best. Hopefully, they will be held soon," he said.
When informed about Gracy's statement regarding the involvement of one more girl (apart from the three accused) in the assault, he said the matter was being thoroughly investigated and action would be taken against each and every one found involved in the incident.