What it takes for a Barak Valley boy to win an election in Cotton: Decoding historical journey of "Political Prgamatist" Akash Bhattacharjee

In the recently concluded Cotton University Students' Union elections, Barak Valley boy Akash Bhattacharjee made it big by bagging the post of 'Boy's Common Room Secretary'. The first such feat achieved by a student hailing from Barak after Cotton was accredited the status of University. Akash, who originally is from Hailakandi town's Ashram Road likes to call himself a political pragmatist. He did his schooling from Maharishi Vidyamandir, Silchar, and completed his higher secondary from Don Bosco, Silchar where he topped in the Arts stream in the entire Barak Valley region back in 2019.
Bhattacharjee who's presently a 5th Semester B.A. Political Science Honors student had figured out in 2020 that he wanted to be involved in student politics. Nominations to the 16 posts of office bearers of the University began on 28th December 2021. Votes were subsequently cast on 4th January and results were declared on 5th January.
In conversation with Barak Bulletin's founding member Adwoy Purkayastha, Akash Bhattacharjee talks about his journey from Ashram Road to winning it big in the CUSU elections. Here are the edited excerpts:
First of all, did you ever think that you would become the Boy's Common Room Secretary of Cotton University someday? When did you realise you were getting closer towards your goal?
To be honest, when I first took admission to Cotton University, I wasn't so much involved in the political sphere. However, it was when I was in 3rd semester, i.e., in 2020, that I started aspiring to involve myself in the union elections. Seeing the absence of a Boys' Common Room in the university had affected me personally, it was sort of an easy decision for me to be involved with that position. With regards to getting closer towards my goal, it was in late 2021, around a month before the elections, when I started feeling that I will have a real shot at the elections. It was after many discussions with my friends and seniors from Rajanikanta Bordoloi Boys' Hostel, commonly called RKB or Cosmopolitan, that I decided to pursue this. They were very supportive all throughout the election process, and I must say that I owe my victory to them. I shall also mention that the boarders of Padmashri Nalinibala Devi Girls' Hostel were also very supportive of me throughout this journey.
What do you take your inspiration from? Who are your role models?
I don't take inspiration from political leaders, as I feel that university elections are a completely different thing than active politics. However, with regards to the university elections, I must name three people who really inspired me during the elections : Jintu Thakuria da and Deepjyoti Das da, both former General Secretaries of the Union, and Homen Saikia da, who was like a big brother to me during the elections. They inspired me and motivated me to be where I am today. I must also mention Pranjal Sonowal da and Diganta Baishya da who stood like rocks with me during the elections. They have inspired me a lot and I will continue to take inspiration from them in the future.
You're the first Bengali resident of Barak Valley to be the Boy's Common Secretary after Cotton College was transitioned to University. How does it feel to be a Hailakandi boy who achieved this rare feat?
Although I don't have the data in hand right now, but as far as my memory goes, yes I'm the first Secretary, Boys' Common Room in CUSU who originally hails from Barak. Hailing from a small town like Hailakandi, I never thought that I'll be involved in the politics of this esteemed institution in any way, let alone win the elections. So for me, it was beyond my wildest dreams. With regards to the question of me being a Bengali, I must say that the environment in Cotton University is so good, that I never felt the distinction between a Bengali and an Assamese. Even during the elections, it never became an issue. All my supporters, juniors, seniors and batchmates never made me feel like I was any different. With that being said, I must also add that I am very proud to represent my community and my region.
What were your parents' initial reaction after they came to know about your victory?
They were delighted. They knew how hard I had worked for the elections, and seeing me emerge victorious was a dream come true for them.
Were there any obstacles when you decided to contest in the elections?
I didn't face any obstacle as such, but yes one of the obstacles I faced was that physically I found it very hard to campaign for the long hours, since I recently had a major surgery. However, nothing big ever comes without some pain. And hence I worked through my pain, because I was focused towards my goal. Another small issue I faced was that since I hail from Barak Valley, naturally my Assamese speaking skills weren't that great. However, I have a great family of friends and seniors who helped me refine my language skills, and by the time I reached the elections, it was no longer an issue for me.
Do you think students should join politics? Often many parents don't want their wards to get involved with college and university elections. What would like to say to them?
Yes I believe that students must join politics. There's a notion that student politics is a dirty game. I don't believe in that. I believe that capable people should come forward and try to take their institutions towards the right path. Elections should be seen as an avenue through which you can do some good. Hence, I will motivate my juniors to involve themselves in college/university elections.
"Socially, I see myself somewhere in the left. Economically, I'm centre-right. So you can say that I'm more of a pragmatist, rather than believing in one ideology," Akash Bhattacharjee
What was the best moment for you in the entire election process?
Many people would think that the best moment for me in the election process would be when I got the election results. But no, the best moment for me was when I exited the MCB building, which is the main administrative building of Cotton after submitting my nomination papers. I remember all my supporters of the RKB-NBD family screaming my name, and my friend Uddipta Raj Gautam lifting me on his shoulders, and then hugging two of my closest friends : Madhurjya Mandit Deka and Akshyat Das. Those 2-3 minutes brought tears to my eyes. The euphoria I felt in those few moments is beyond explanation. The adrenaline rush was on a completely different level. I was humbled by the love and support that I saw at that moment.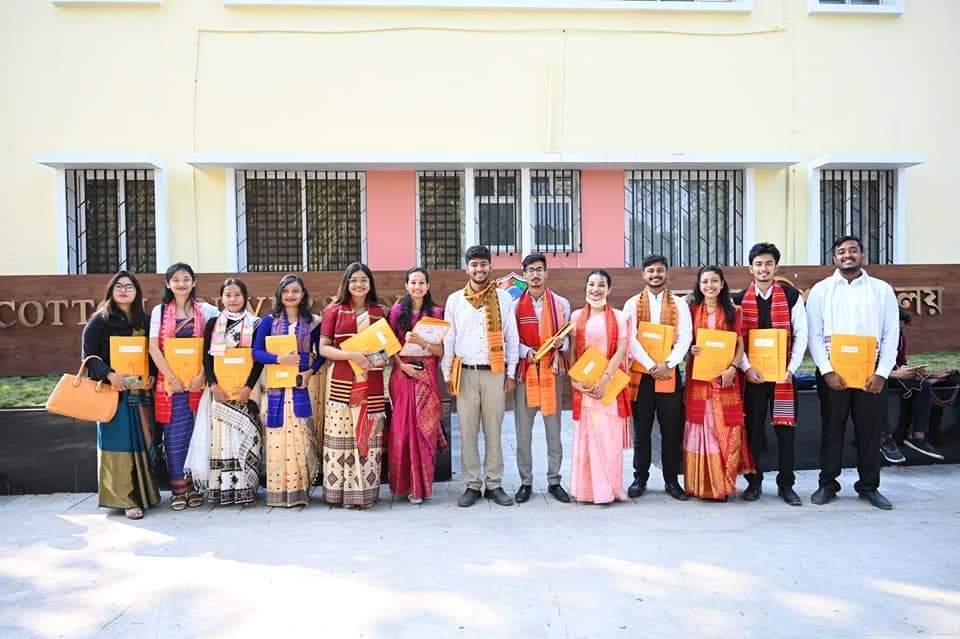 Should students contest in elections under the banner of political parties or is it better for them to remain independent candidates sustaining individualism? What's your preference?
I believe that it is always better for student politics to be kept away from the sphere of active party politics. With that being said, I believe that ideology is very important, be it active politics or be it student politics. So I believe that student organisations should involve themselves in student politics. However, this should not take the way of how political parties use money and manpower to manipulate voters. In Cotton University, we often see that the dominant political parties don't find a place in the university politics, and I believe that this is good for the environment of the university, because we have seen from many reputable institutions what happens when the big and dominant political parties decide to involve themselves in student politics.
On the political spectrum, where do you consider yourself aligned to?
Socially, I see myself somewhere in the left. Economically, I'm centre-right. So you can say that I'm more of a pragmatist, rather than believing in one ideology.
What are the qualities that you think are needed to make a great leader?
First of all, I don't see myself as a leader. I am a representative. I don't lead other students. They lead me towards what I should do. And I believe that the only quality needed for that is a willingness to work for the good and bring positive change.
What are the developmental activities that you wish to undertake in your University campus after winning the elections?
I had made three electoral promises, that I will provide refreshment, relaxation and recreation. This involves providing clean drinking water, proper resting facilities, particularly for the differently abled students, and wifi facilities for the students, and I will strive to provide all these things by the end of my tenure.
Is/Are there any person(s) whom you would like to give credit for your electoral success?
I would like to thank everyone from the RKB-NBD family. As I have mentioned previously, I would like to thank Jintu da, Deepjyoti da, Homen da, Pranjal Da, Diganta da. I would also like to thank Abhilasha Neog didi, former AGS of the CUSU. I would also like to thank my friends Madhurjya, Uddipta and Akshyat, whom I have also mentioned previously. Other than that, I would like to give a special mention to two department juniors of mine : Lisha Medhi and Bandita Sarma. They worked day and night, and to be honest they worked harder than I myself did in this whole election process.
What would be your message to the youths of Barak Valley who desire to contest in Students' Elections?
I will motivate students from Barak Valley to involve themselves in student politics. I have seen that there is a trend of Barak Valley students distancing themselves from University politics due to fear of discrimination. I want to tell them that I never faced any discrimination in my journey. And you cannot complain that Barak is not being represented properly if you yourselves refrain from representing Barak. I think that the students of Barak Valley who go outside the Valley to study should break this artificial barrier that they have built around themselves. We should not isolate ourselves politically. If we don't give ourselves a voice, nobody will come to listen to us. We should stop seeing ourselves as the "other", and try to involve ourselves more in the sphere of student politics, be it somewhere in Guwahati or even beyond.