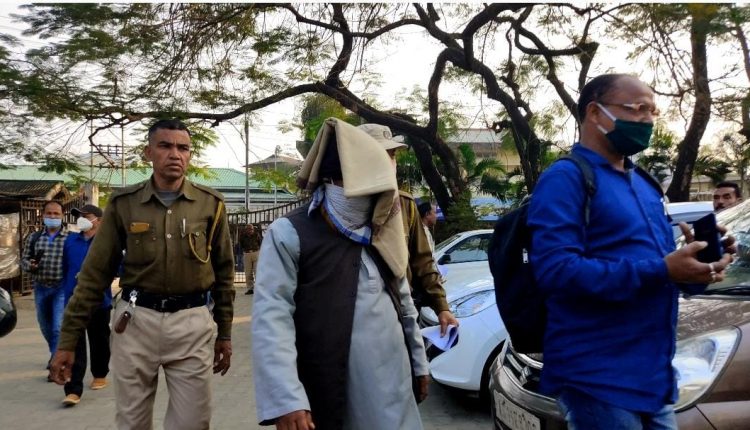 Police arrests Moulvi from Silchar for allegedly molesting his minor student
A woman sent her six-year-old daughter to Moulvi for religious lessons, where the latter tried to molest the child. The woman, who was not afraid of being frowned upon by society, stood by her daughter and filed a case in the name of the accused Moulvi. After that, the Moulvi named Samsuddin Barabhuiyan was on a hideout for about two months. The police were keeping an eye on his house, which is located in Panchgori Lane in Meherpur. Then after he reappeared home on Sunday night, he was arrested the following day. As it is a case of child abuse, he was produced in court on Monday.
The mother of the six-year-old victim filed a case with Silchar Sadar Police Station on December 6 last year, after which the Moulvi fled. The accusation against Moulvi Samsuddin Barabhuiyan was that he tried to molest a 6 year 7 months old girl. The woman filed the case directly with the police after discussing it with her family members. According to her, the purpose behind this case is to reveal the accused's true colour and so that the teacher can't do this with any child in the name of religion in the future. Hence, she filed a case with the police station and informed every person in the vicinity about it.
"The Moulvi used to come to my brother's house to teach Islamic lessons to his children. My youngest daughter is now studying in KG-2. I thought she needed some religious education too, so I talked to my brother," the mother said. "My brother talked to the Moulvi and asked me to take my daughter there. Following their instruction, I took her to study there and went on to converse with the family members in the next room. The moment my brother went to make tea for us in the kitchen, suddenly my daughter came out of the study room screaming and crying."
"At first we panicked and tried to console my daughter. When we calmed her down and asked her about the whole thing, she said that the Moulvi wanted to touch different sensitive parts of her body. When refused, the Moulvi tried to impose. After that, it didn't take us long to understand the whole incident, and we rushed immediately to stop the Moulvi. But by then he had already fled and switched off his phone. Even his family could not locate him."
She then went on to say, "Moulvis are our religious scholars. It is our job to send children to them and feel secured about it. But the accused has insulted the title of Moulvi. So I immediately became vocal about it. The family members said that the Islamic laws have their own punishment for such misdeeds, but the punishment is very violent & harsh and it isn't admissible in India. So we approached the police. We want to ensure that the accused person can no longer do such things in the future. We hope that the police will take strict action in this regard."